Why Laris From Star Trek: Picard Looks So Familiar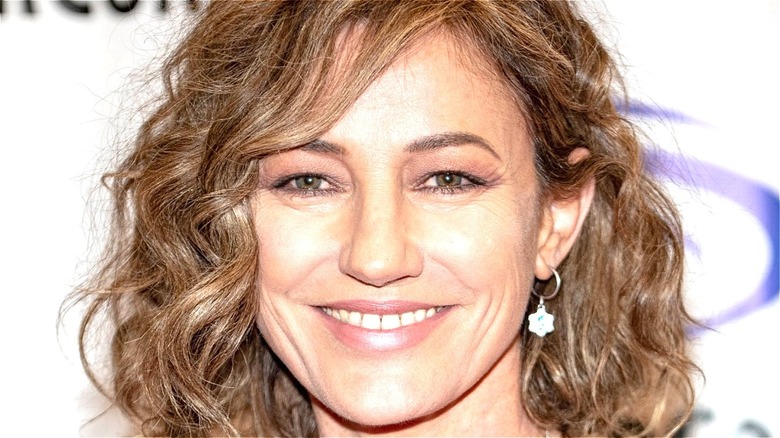 Eugene Powers/Shutterstock
Season 1 of "Star Trek: Picard" was a huge event for fans of the long-running space franchise, who have missed the likes of Jean-Luc Picard (Sir Patrick Stewart) and his crew since "Star Trek: The Next Generation" concluded their voyages with a final movie in 2002. Almost 20 years later, "Picard" picks up its eponymous character's story, though obviously things are quite different: Picard himself is older, and at the beginning of the series, he is still endeavoring to live a peaceful life alongside his Romulan housekeepers Zhaban (Jamie McShane) and Laris (Orla Brady).
If something strikes you as oddly familiar about the latter character, though, you aren't alone. It may be hard to tell with the eyebrow prosthetics, but Orla Brady is quite the accomplished actress, and the chances are high that you have seen something that she has been involved in. However, if the actress' name alone can't jog your memory, then allow us to refresh your memory in regard to some of the major shows and films that Brady has been a part of.
Orla Brady had a busy beginning to her acting career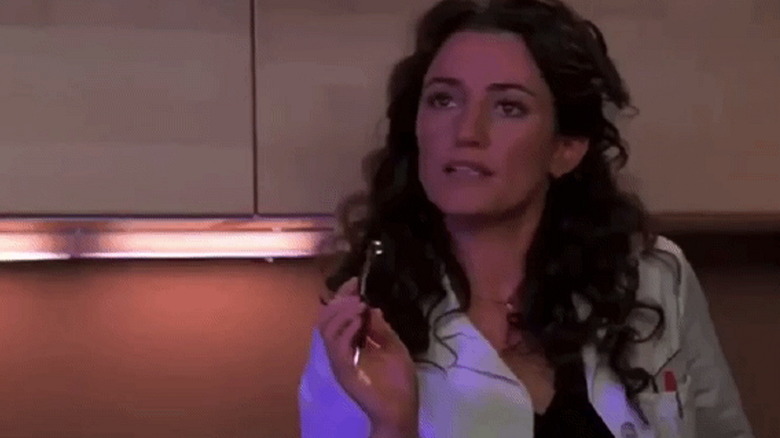 FX
Though she's currently famous as a TV star, Orla Brady has been acting for far longer than her IMDb makes it seem. Her first credit on the site is in 1991, when Brady was already 30, in the TV series "So You Think You've Got Trouble." Before that, though, the actress worked her magic on actual stages, working with various theater productions in her homeland of Ireland, and later on other productions in England and France. "I remember going to London and being very terrified of it," Brady said in an interview with the Irish Times. "And everyone manages to come up to you and go: 'Ah, Jesus, you know, such and such went there. Never heard from her again.' I call it the actor's ghost story."
However, Brady would persevere through the uncertain stages of her early acting career. In time, her attention turned more towards TV and movies. She appeared in a two-part episode of the series "Dangerfield," became a regular on the BBC crime drama, "Out of the Blue," and starred in a made-for-TV adaptation of "Wuthering Heights." In 2001, she moved to LA, where she appeared in series such as "Family Law" (where she played Naoise O'Neill), and "Nip/Tuck." By the mid-2000s, she had established quite the resume for herself in both TV and theater. Still, her biggest and best roles were yet to come.
You can't miss Orla Brady on Mistresses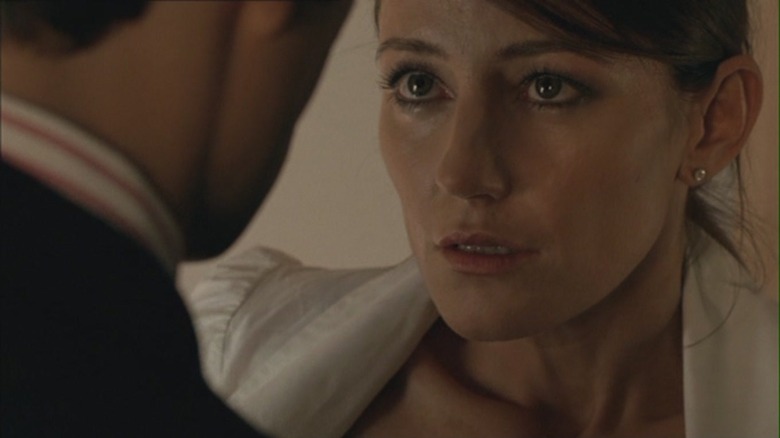 BBC1
The British series "Mistresses" may not be Orla Brady's first long-term foray into a TV series (that title belongs to "Out of the Blue"), but it is one of her most significant. It is the first time she served as a main character on a series that lasted multiple seasons. In it, she plays Siobhan Dhillon, a busy lawyer and wife who, aside from trying to get pregnant, is also looking to further her career before getting embroiled in a steamy workplace affair. The role also earned her two separate IFTA Award nominations for Best Actress (per IMDb).
"Mistresses" ended after just three seasons, but the overall success of the series meant that it would continue on in other ways. 2013 saw the rise of an American version of "Mistresses" starring Alyssa Milano. This version, though it lacked Brady as a cast member, would eventually outlive its counterpart by running for four seasons. As such, the influence of Brady's work on the franchise as a whole would extend beyond her time on the series.
On Fringe, Orla Brady played two people in one role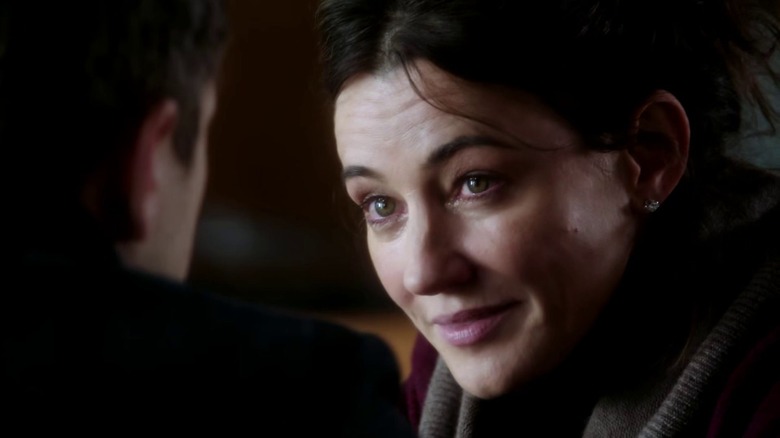 Fox
On top of dominating Britain's saucy soap dramas, Orla Brady also dipped her toe into the realm of TV science fiction. Beginning in its second season, Brady appeared as a regular in the JJ Abrams' 2010 creation, "Fringe." Far from the romance-laden stories of her previous roles, "Fringe" explored a variety of high science fiction concepts, especially that of parallel universes. This concept afforded Brady a unique opportunity among actors: the chance to play two versions of the same character — in this case Elizabeth Bishop, the wife of mad fringe scientist Walter Bishop — from completely different timelines.
Though "Fringe" would hardly be Brady's final foray into sci-fi, this story element certainly made it one of the most unique performances she's ever pulled off. Her exceptional acting didn't go by unnoticed, either, as it earned Brady a nomination for a Saturn Award for Best Guest Performer on Television (via Collider). As impressive as "Fringe" was, however, Brady's next sci-fi endeavor would be of an altogether different pedigree.
Orla Brady was an alien on Doctor Who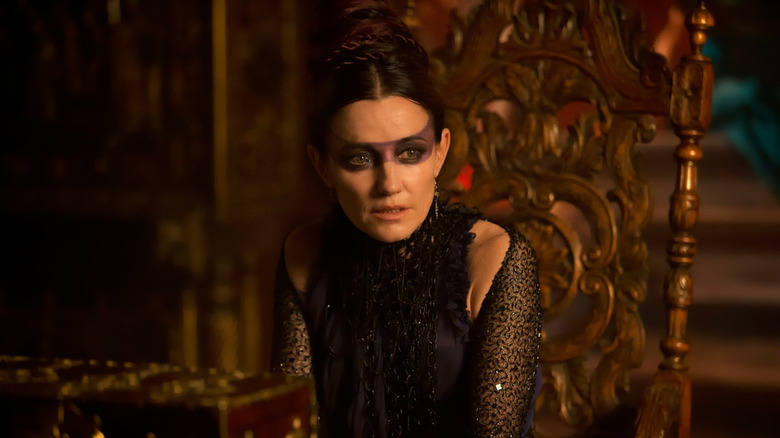 BBC
Few, if any, sci-fi shows are as long-lasting, legendary, or beloved as "Doctor Who." As such, appearing in the series, even for just an episode, is a huge deal. In Brady's case, it's made even more huge thanks to the importance of the episode in question. 
The 2013 Christmas special episode, "The Time of the Doctor" was a monumental moment in the "Doctor Who" franchise. Not only was it the final appearance of the Eleventh Doctor (Matt Smith) before he was replaced by Peter Capaldi, the episode — which was the series' 800th — resolved a variety of important plot threads, including the salvation of Gallifrey.
At the center of all this intergalactic, wibbly-wobbly, timey-wimey mess was Orla Brady as Tasha Lem. Despite only appearing in this episode, Tasha proved an enigmatic figure with a deep history with the Doctor. Described by head writer and executive producer Steven Moffat as "[The Doctor's] first girlfriend" (via Toby Hadoke's Who's Round), the two's fond memories soon give way to conflict as she reveals herself to be a villain. Thankfully, she eventually turns back to the side of good, inevitably helping the Doctor as he passes from one regeneration to the next.
Brady goes Into the Badlands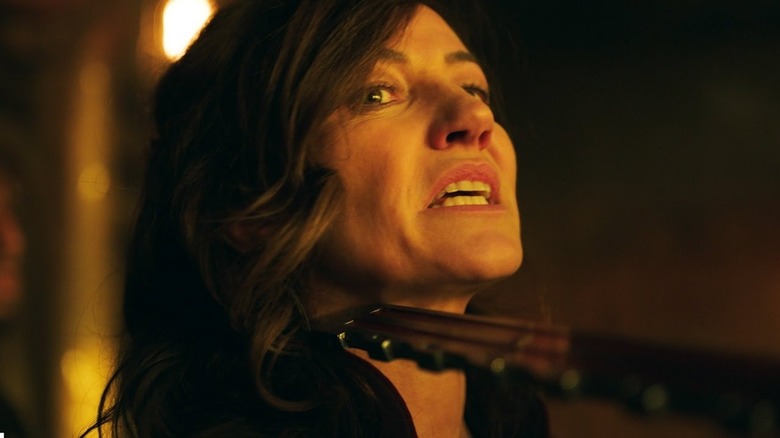 AMC/YouTube
Science fiction continued to be a comfort zone for Orla Brady even after she finished her part in "Doctor Who." In 2015, after some brief stints in short-lived series such as "Banished" and "American Odyssey," Brady became a major cast member in the post-apocalyptic AMC drama, "Into the Badlands." In it, she plays Lydia, the first wife of the Baron, Quinn, and one of his best allies and advisors.
"Into the Badlands" ran for three seasons before being canceled. In that time, Brady's character underwent some major transitions. After getting exiled by her husband, Lydia became a Viceroy to another Baron known as The Widow. Unfortunately, that would be all she wrote for Lydia ... but thankfully, it wouldn't be the end for Brady. Instead of her next major role being another science fiction property, though, she instead opted for something on the spooky side.
Orla Brady played Karen Hopple in American Horror Story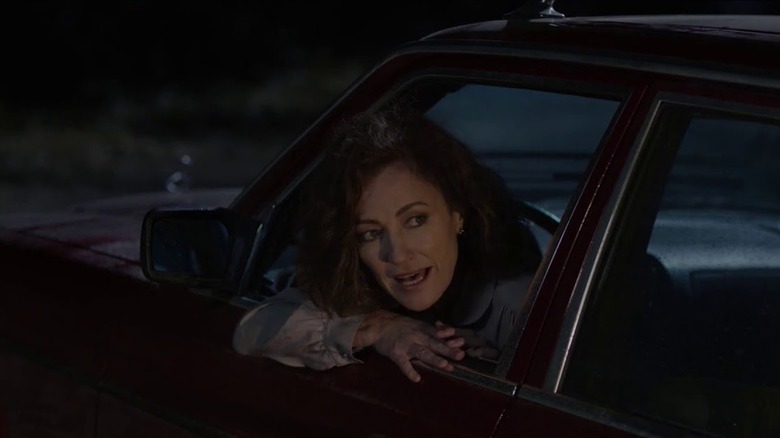 FX/Youtube
In 2019, the world's favorite horror anthology show, "American Horror Story," took advantage of Brady's old TARDIS-hopping days to rewind its setting to the ancient times of 1984. In the midst of this period of questionable fashion and George Orwell references, "American Horror Story: 1984" tells the story of five camp counselors who come face-to-face with a serial killer straight from "Friday the 13th."
And who do we have to blame for the creation of this mass murderer? Why, none other than Orla Brady's character, Dr. Katherine Hopple, a mild-mannered Chief of Psychiatry who relentlessly tortured the killer, Benjamin Richter (John Carroll Lynch), after he was wrongfully framed for a previous string of killings 14 years prior. Hopple proves herself to be a memorable and ruthless villain, the kind of psychiatrist who doesn't really care about the mental state of her patients (obviously). This leads to an overwhelmingly satisfying end for the character after Richter gets his sweet revenge.