The Batman Action Scene That Surprisingly Used No CGI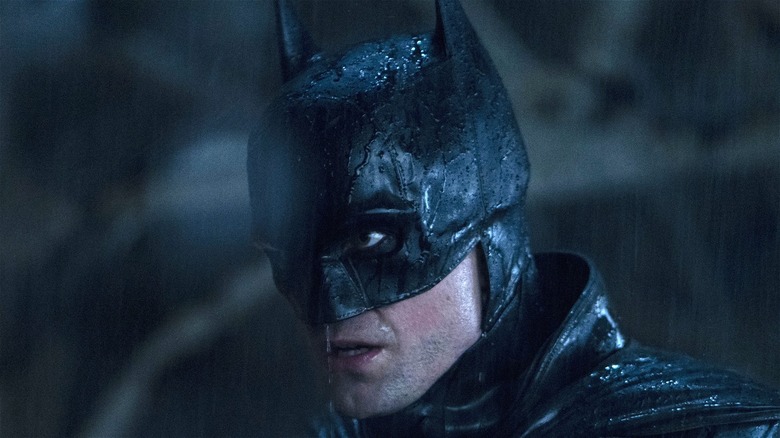 Warner Bros. Pictures
It's almost time for the new Batman movie. While the Caped Crusader did share top billing with the Man of Steel in 2016's "Batman v Superman: Dawn of Justice," and has made several appearances in DC films like "Zack Snyder's Justice League," the last time we had a standalone Batman film was in 2012, with the conclusion to Christopher Nolan's "The Dark Knight" trilogy, "The Dark Knight Rises." That will change when "The Batman" premieres on March 4, 2022.
This time around, Robert Pattinson will be donning the black cowl as Batman/Bruce Wayne. The story takes place early in Batman's career, just two years after he began crime fighting, when he faces his first big test: the emergence of the Riddler (Paul Dano) and the Penguin (Colin Farrell), which forces him to team up with a duplicitous new ally, Catwoman (Zoe Kravitz), as well as Police Commissioner Jim Gordon (Jeffrey Wright). 
Like the "Dark Knight" trilogy, "The Batman" is packed with death-defying stunts and action setpieces. Also like Christopher Nolan's Batman films, "The Batman" accomplishes these visuals by using practical effects, not CGI.
Here's one scene from the upcoming superhero thriller that didn't need computer effects to pull off something spectacular.
Matt Reeves made the Batmobile fly through the air into fire
Director Matt Reeves shared a tidbit in an interview with Brandon Davis of ComicBook.com. Davis asked Reeves about immersing the cast in the film's set, which brought out the performances he wanted. A big part of that process was performing actual stunts that the actors could react to.
In one sequence, Batman chases the Penguin through the streets of Gotham City, at one point jumping the Batmobile through a wall of flames. Reeves explained that this was a real stunt.
"We actually did jump the Batmobile through the fire. Like, that shot's real," Reeves told ComicBook.com. "That's not a CG shot. That's one of those things I always assume that people will see it and they're gonna go, 'Oh, you know what? That's just a CG shot. Cool, whatever.' But that shot, when you're looking in the Maserati and that sort of side mirror, and the Batmobile's coming through flames, we did that."
Using realistic stunts is always a great way to up the intensity for an action film, so details like this should make "The Batman" a worthy successor to the franchise.