The One Lord Of The Rings Prop Andy Serkis Walked Away With After The Movies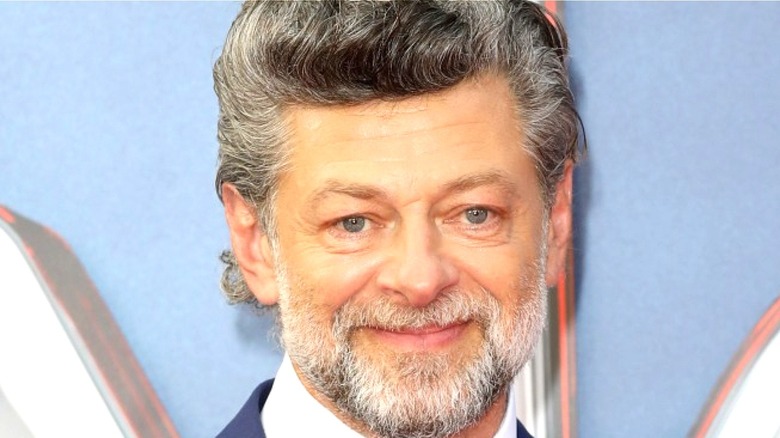 Tristan Fewings/Getty
Andy Serkis rose to prominence as a Hollywood star for his part in the "Lord of the Rings" trilogy, in which he voices and provides motion-capture movements for the pivotal antagonist character Gollum. Since "The Lord of The Rings" captured the minds of a generation in the early 2000s, Serkis has grown into a highly successful actor and director. He provides similar motion-capture acting work for characters like the chimpanzee Caesar in the "Planet of the Apes" trilogy and Supreme Leader Snoke in the latest "Star Wars" trilogy. Outside of motion-capture acting, Serkis appears in live-action Marvel Cinematic Universe movies "Avengers: Age of Ultron" and "Black Panther," and he directed the 2021 superhero sequel "Venom: Let There Be Carnage."
Serkis has carved an excellent career out for himself in franchise films over the years, and he's taking on another fan-favorite role in Matt Reeves' upcoming "The Batman." Serkis will play Bruce Wayne's butler, Alfred Pennyworth. According to /Film, Serkis' Alfred is a bit younger than past iterations of the character, and he actually starts "The Batman" on bad terms with Bruce Wayne in his vigilante life as Batman. Naturally, Serkis has been part of the film's recent press tour to drum up excitement about the new movie, and in a recent interview, Serkis mentioned a particularly precious prop he got to keep after filming "The Lord of the Rings" so many years ago.
Andy Serkis says he has one of the rings from The Lord of the Rings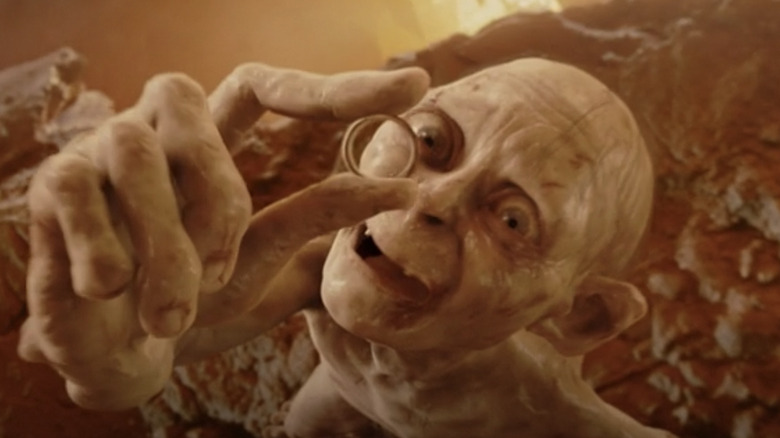 New Line Cinema
In a promotional interview for "The Batman," Andy Serkis revealed to journalist Tara Hitchcock that he actually has one of the rings used as a prop for the One Ring in "The Lord of the Rings." The 57-year-old actor declined to specify to Hitchcock who specifically gave him the ring, but he described the person as "a very great friend of a director" during the interview. "So the precious came to me, and that was a pretty special gift," Serkis said.
New Zealand jeweler Jens Hansen crafted the One Rings used as props for Peter Jackson's "Lord of the Rings" and "Hobbit" trilogies, including one extra-large ring used specifically for close-up shots and scenes with the ring in the foreground. Gifting Serkis one of the rings used for shooting seems particularly appropriate given Gollum's corrupting obsession with the One Ring throughout the story, frequently referring to it as "my precious."
It's not exactly clear how many prop rings were made for the "Lord of the Rings" movies, but Serkis isn't the only actor who walked away from the production with one. Elijah Wood, who portrays lead character Frodo Baggins in the trilogy, showed off the prop ring gifted to him in a 2015 interview with Conan O'Brien and said he believed there are about ten prop rings made specifically for those films in existence.