What The Cast Of Vikings: Valhalla Looks Like In Real Life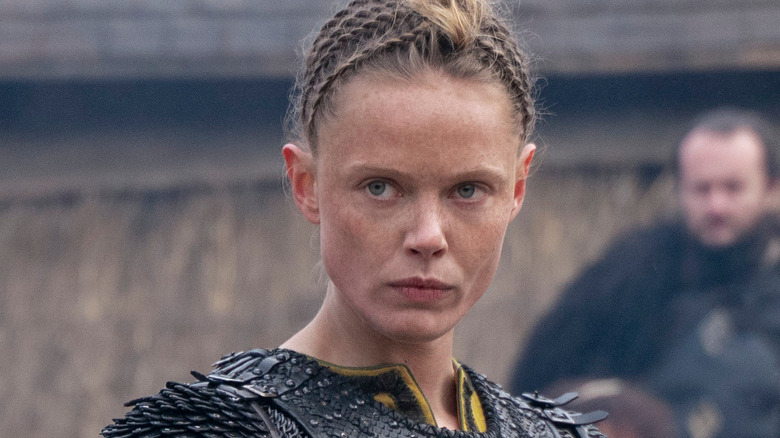 Netflix
Set more than 100 years after the end of History's "Vikings," which followed the saga of legendary Viking warrior Ragnar Lothbrok (Travis Fimmel) and his descendants, "Vikings: Valhalla" returns to the brutal and mysterious world of the Vikings with an all-new cast. Premiering on Netflix in February 2022, "Vikings: Valhalla" centers around three main characters: explorer Leif Eriksson (Sam Corlett), his sister Freydis Eriksdotter (Frida Gustavsson), and Nordic prince Harald Sigurdsson (Leo Suter).
The official synopsis for the series reads, "As tensions between the Vikings and the English royals reach a bloody breaking point and as the Vikings themselves clash over their conflicting Christian and pagan beliefs, these three Vikings begin an epic journey that will take them across oceans and through battlefields, from Kattegat to England and beyond, as they fight for survival and glory." Like the original series, "Vikings: Valhalla" features a large ensemble cast in addition to its central characters, and intricate hairstyles and costumes meant to transport viewers back to the 11th century. Of course, that means that many of the actors in "Vikings: Valhalla" will look very different on the show from how they appear normally. Here is what the main cast of "Vikings: Valhalla" looks like in real life.
Sam Corlett (Leif Eriksson)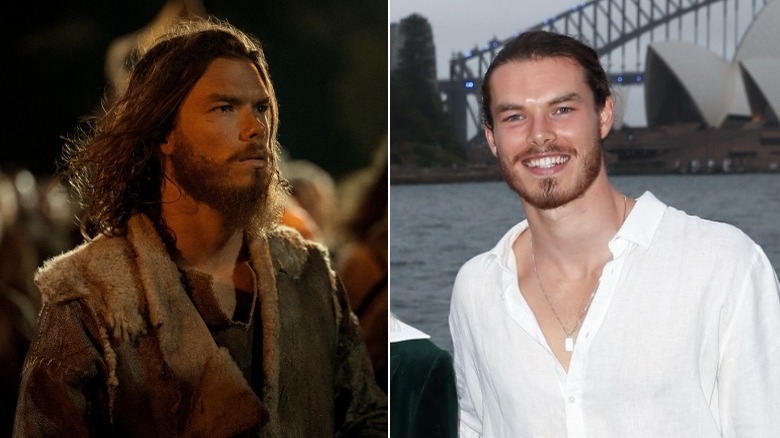 Netflix, Brendon Thorne/Getty Images
Australian actor Sam Corlett portrays the legendary explorer Leif Erikson, the Norseman who is thought to have been the first European to have set foot in North America, centuries before Christopher Columbus. In a promotional packet provided to the press, Netflix describes the Erikson of "Vikings: Valhalla" as "a Greenlander raised on the outer fringes of the known world," who "comes from a tightly-knit family steeped in pagan beliefs." It goes on to say that although Leif is "an intrepid sailor and physically tough," that he is also "thoughtful and often quiet, and new to the Viking world — which is in the throes of violent change."
When Corlett was a teenager, he actually watched the original "Vikings" with his father, so it's fitting that he would go on to star in its spinoff. The real-life Corlett still has the long hair and facial hair of his Viking counterpart, but keeps it much more neatly trimmed and styled than Erikson. On set, Corlett — who is vegan — was costumed in vegan leather armor to honor his personal convictions, another distinct difference between the actor and the character he'll be portraying.
Frida Gustavsson (Freydis Eriksdotter)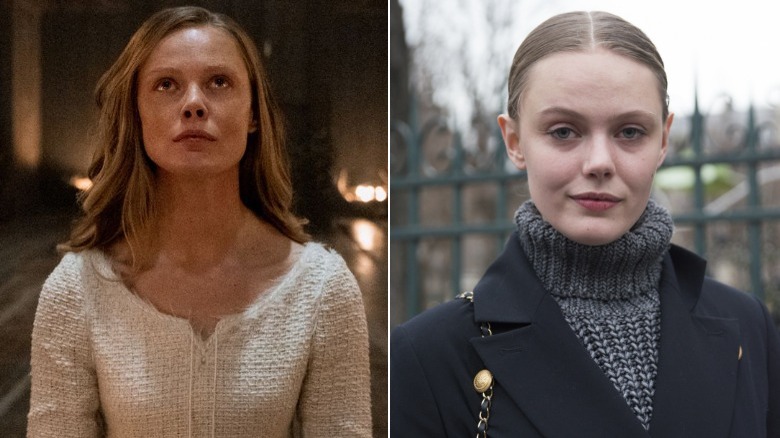 Netflix, Kirstin Sinclair/Getty Images
One of the most beloved characters on "Vikings" was the shieldmaiden Lagertha (Katheryn Winnick), so viewers are likely eager to see another female Viking warrior rise up in the "Valhalla" character Freydis Eriksdotter. Netflix's description for Frida reads, "Fiery and headstrong, Freydis is a staunch believer in the old gods and a fierce pagan. Like her brother Leif, she reaches Kattegat as an outsider but becomes an inspiration to those of the old ways."
Freydis will be portrayed by Swedish model Frida Gustavsson, who has had an impressive career walking in shows for some of the world's most celebrated designers, including Louis Vuitton, Marc Jacobs, Oscar de la Renta, Dolce & Gabbana, and Versace, among many others. As one might expect of someone with Gustavsson's professional background, her real-life look is much more polished than the armored and intricately braided Freydis. In what feels like a cosmic coincidence, Gustavsson's real-life nickname is also "Freydis," and her actual father and brother are also named Erik and Leif, just like those of her character in the show.
Leo Suter (Harald Sigurdsson)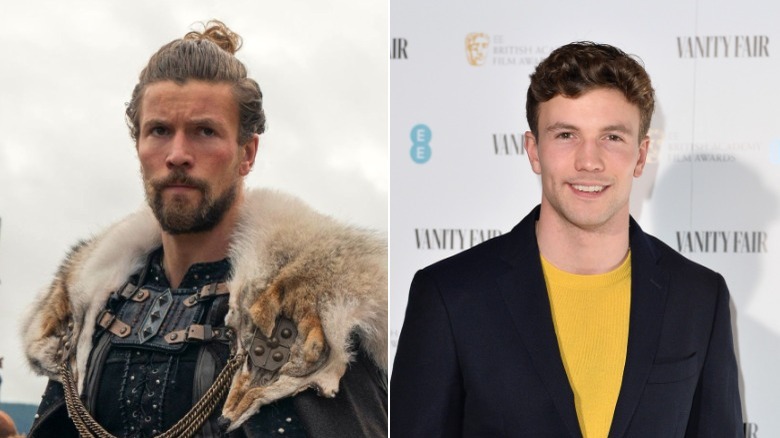 Netflix, Jeff Spicer/Getty Images
"Vikings" viewers will remember King Harald (Peter Franzén), who appeared in seasons four through six of the series as a leader determined to be crowned king of all Norway. "Vikings: Valhalla" will follow one of his descendants, Harald Sigurdsson, who carries the same ambition as his ancestor. His Netflix bio reads, "Born into Viking nobility, Harald is one of the last Viking berserkers and a Prince of Norway intent on becoming King of Norway. Charismatic, ambitious, and handsome, he is able to unite both Christian and pagan Vikings."
Harald will be portrayed by English actor Leo Suter, who bears very little resemblance to his Viking character. While Harald sports the typical Viking look of a full beard and long hair, Suter typically tends to prefer going clean-shaven and keeping his hair cropped fairly short — just long enough to see a hint of its natural wave. In "Valhalla," note that if the wristband Harald wears looks familiar, it's for good reason — it's the same one Franzin wore as King Harald in the original "Vikings" series.
Bradley Freegard (King Canute)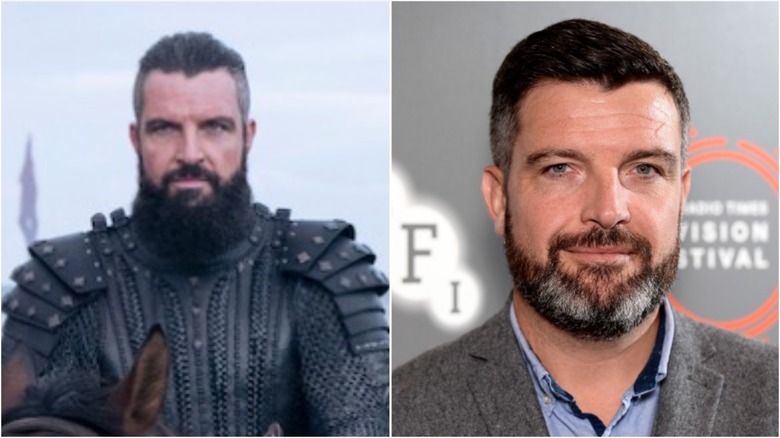 Netflix, Jeff Spicer/Getty Images
Some actors need to undergo greater transformations than others for their roles in "Vikings: Valhalla," and actor Bradley Freegard may be one of the least altered for his role as King Canute. The King of Denmark, the Netflix press materials describe Canute as "a wise, savvy, and ruthless Viking leader. He keeps his friends close and his enemies closer. Canute's ambitions will mold the course of history in the 11th century and make him a defining figure of the Viking Age."
In real life, Welsh actor Freegard doesn't look too remarkably different from his character. Both have close-cropped dark hair and full beards, although Canute's beard is fully black while Freegard's is lighter, with touches of gray. Freegard also keeps his beard trimmed to a much shorter length than Canute's. Canute's family play a central role in "Vikings: Valhalla," with his wife and father also vying for power as Canute works to make sure Denmark remains on top of the political hierarchy.
Jóhannes Haukur Jóhannesson (Olaf Haraldsson)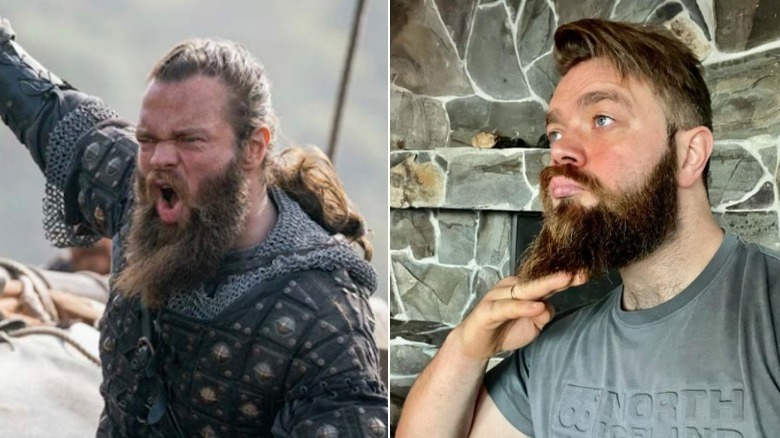 Netflix, Jóhannes Haukur Jóhannesson/Instagram
It wouldn't be a "Vikings" story without feuding siblings, and "Valhalla" promises that in spades. Icelandic actor Jóhannes Haukur Jóhannesson portrays Olaf Haraldsson, Sigurdsson's older half-brother and Prince of Norway. Olaf is first in line for the Norwegian throne, which we imagine will be a point of contention between him and Harald. Olaf's Netflix bio reads, "Ambitious, unforgiving, and a physical force to be reckoned with, Olaf is also an extremely devout Christian Viking." "Vikings" viewers will remember that the former priest Athelstan (George Blagden) was the first practicing Christian to live among the Vikings, although the conflict between his beliefs and those of his Viking neighbors ultimately led to his death. It will be interesting to see how those dynamics have shifted over a century later.
In real life, Jóhannesson has kept the long, full beard of his character (although he keeps it much more neatly trimmed), but not his long hair, preferring instead a style that is cut close on the sides and slightly longer on top. In addition to being one of the main cast members of "Vikings: Valhalla," Jóhannes Haukur Jóhannesson is also an accomplished chef, and the Netflix press kit mentions that he was frequently known to bring in homemade baked goods for the stunt crew during rehearsals.
Caroline Henderson (Jarl Haakon)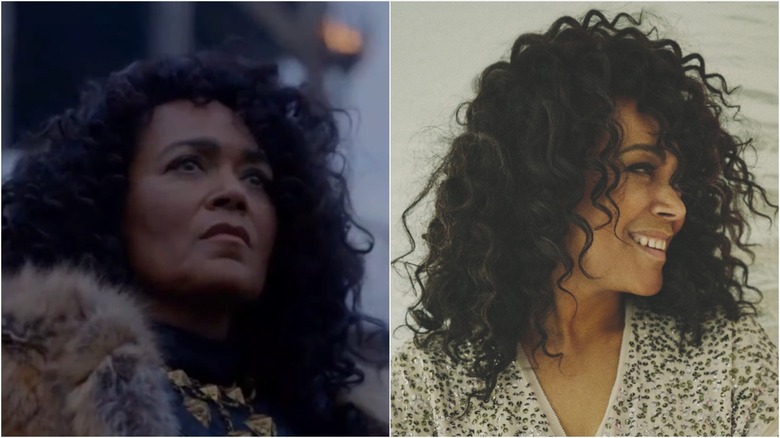 Netflix, Stunt Records
Of the Viking leader Jarl Haakon, Netflix's press packet reads, "A great warrior and tolerant leader, Haakon rules Kattegat with a steady hand. Though pagan, she has managed to keep Kattegat a city open to all faiths in a challenging time. She will become a powerful mentor to Freydis, who is drawn to her wisdom." Of course, we know from watching Ragnar's struggles in "Vikings" just how difficult it can be to maintain peace between people of different faiths in Kattegat, so it will be interesting to see how Jarl Haakon manages to pull that off — if such a thing is even possible.
Jarl Haakon will be played by Danish-Swedish singer Caroline Henderson, who is known primarily for her more recent jazz albums after previously singing mostly pop. Jarl Haakon is one of very few Viking women we've seen in promotional materials who seems to wear her hair loose more often than not, making her normal appearance not quite as drastic of a shift from her Viking look as some of her castmates.
Laura Berlin (Emma of Normandy)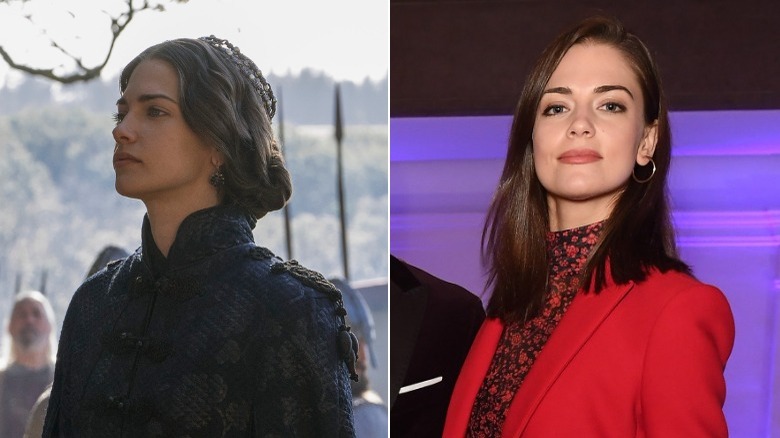 Netflix, Matthias Nareyek/Getty Images
We were first introduced to Alfred (Ferdia Walsh-Peelo), who would go on to become the King of Wessex, in Season 4 of "Vikings" as the illegitimate child of Queen Judith (Jennie Jacques) and Athelstan. Now, "Valhalla" will feature the family of one of his descendants, King Aethelred II, including Aethelred's wife, Emma of Normandy. This is what the Netflix press packet has to say of Emma: "The young, ambitious Emma of Normandy is from the Norman court in France, and of Viking blood. She is now married to King Aethelred II, the current King of England. Politically astute and one of the wealthiest women in Europe, Queen Emma is a sharp and capable leader."
Emma seems to follow in a long tradition of shrewd queens on "Vikings," and is portrayed by German actor and model Laura Berlin. On "Valhalla," Emma's hair is a dark brown, but in real life, Berlin's hair color has run the full spectrum of colors, from dark to light, and even a vibrant purple at one point. Berlin has worked as a model since she was a teenager, making her no stranger to the intricate costumes she needs to wear as Emma. Emma will be seen in a number of high-necked dresses in "Valhalla," which Netflix's press packet says are meant to reflect her regality, while also acting as her own form of armor.
David Oakes (Earl of Godwin)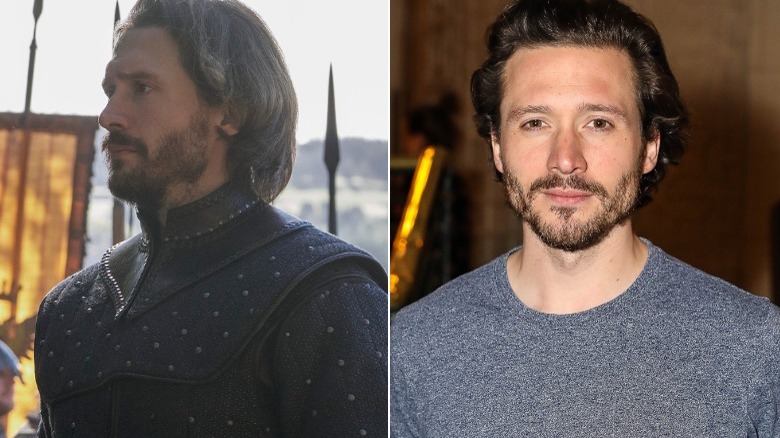 Netflix, David M. Benett/Getty Images
Described in Netflix's press materials for "Vikings: Valhalla" as "the ultimate survivor," David Oakes' character, the Earl of Godwin, serves as chief counselor to the King of England, Aethelred II. Of Godwin's character, the description reads: "Godwin was born on the political fringes and is haunted by his late father's mistakes. Cunning and savvy, he knows how to make powerful allies."
Godwin's portrayer is English actor David Oakes, who is no stranger to historical dramas thanks to his work on shows such as "The Borgias," "The White Queen," and "Victoria." Oakes grew up riding horses, giving him the skills to do all of his own riding in "Vikings: Valhalla." In real life, he looks very similar to his character in the show, wearing his hair and beard only slightly shorter than Godwin's. When he's not acting, Oakes is also a dedicated environmental activist, acting as an Ambassador for the Woodland Trust since 2019, and for The Wildlife Trusts since 2020.
Louis Davison (Prince Edmund)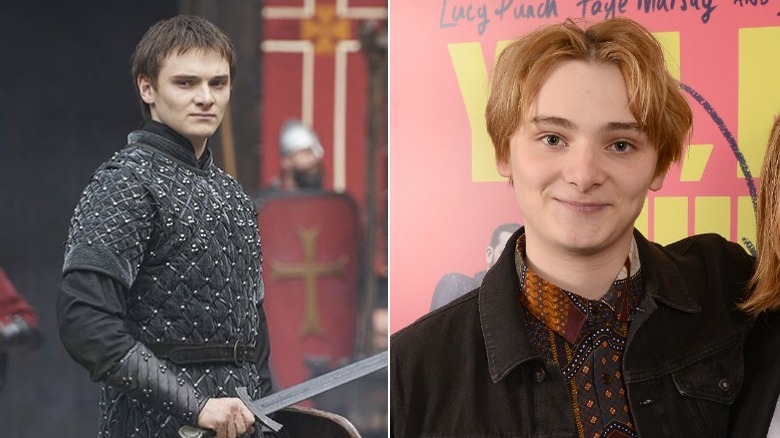 Netflix, Dave J Hogan/Getty Images
"Vikings" introduced us to the complicated world of English royal succession, and "Vikings: Valhalla" continues that theme with Prince Edmund, played by English actor Louis Davison. "King Athelred II's son with his first deceased wife and now Emma of Normandy's stepson, Edmund is first in line to inherit the English throne. Edmund is nervous to lead, but will play a vital role in deciding England's future," the official Netflix bio reads.
Davison is still a relative newcomer to the world of television, first appearing on the small screen in 2016 with a recurring role on long-running British medical drama "Holby City." He then went on to play significant roles in "Poldark" and "Find Me in Paris" before landing the role on "Vikings: Valhalla." In real life, Davison's hair is much lighter than Edmund's dark color, and although it is still not long, he tends to wear it much more loosely than Edmund's severe style.
Bosco Hogan (King Aethelred II)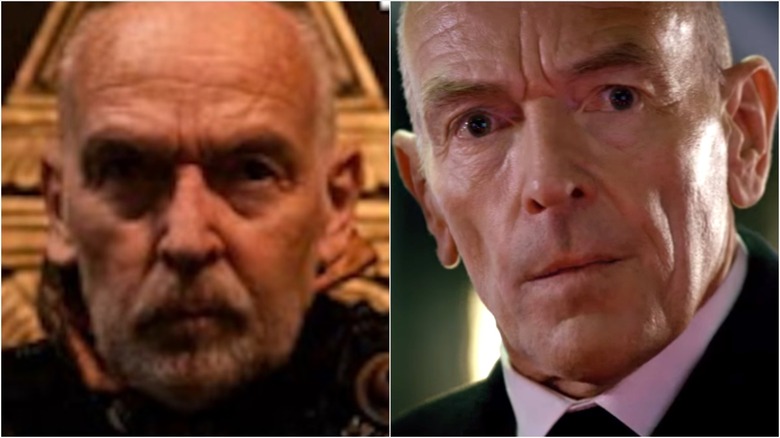 Netflix
Season 4 of "Vikings" introduced us to Æthelred (Darren Cahill), the legitimate son of King Æthelwulf Ecberting (Moe Dunford) and his wife Judith. Unfortunately for Æthelred, Judith liked her younger son more, and poisoned Æthelred rather than allowing him to assume the throne. "Vikings: Valhalla" picks up a few generations down this dysfunctional family lineage, with Alfred's descendant Aethelred II now on the English throne. All Aethelred's Netflix bio tells us is that he is "the sitting King of England, who makes a grave decision that will forever change the dynamic between England and the Vikings."
Portraying Aethelred II on "Vikings: Valhalla" is veteran Irish actor Bosco Hogan, who previously appeared in Season 5 of the original "Vikings" series as the Lord Abbot at the Lindisfarne monastery in the episode "Full Moon." Hogan's look for "Valhalla" won't be tremendously different from his real-life appearance, with the addition only of a trim gray beard — and, of course, a royal wardrobe.
Asbjørn Krogh Nissen (Jarl Kåre)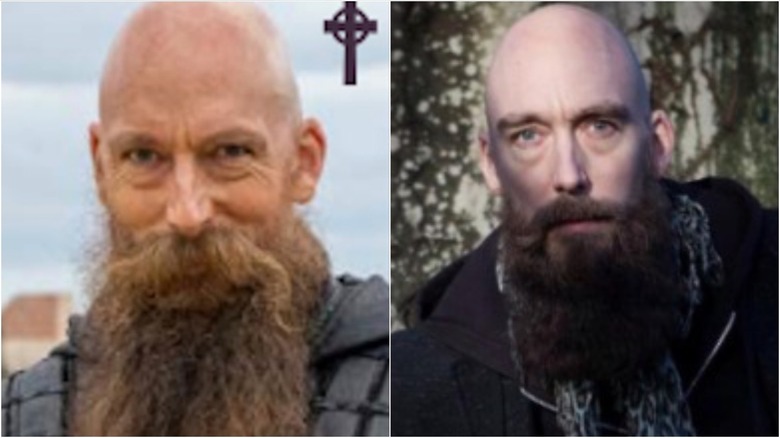 Netflix, Malene Lauritsen/Instagram
It wouldn't be a "Vikings" show without some religious extremism, and in "Valhalla," it seems that box will be checked by Jarl Kåre. His Netflix bio reads, "A mysterious and chilling figure, Jarl Kåre is a murderous Christian zealot who presents a very real threat to the old pagan ways." This sounds almost as though Jarl Kåre will act as a kind of reverse spiritual successor to Floki (Gustaf Skarsgård), the devout "Vikings" character whose spiritual convictions led him to eventually murder Athelstan, whose Christian faith he saw as a threat to his own community's pagan beliefs.
Playing Jarl Kåre is Danish actor Asbjørn Krogh Nissen, who has actually played in the Viking sandbox once before. In 2019, Nissen starred in the film "Valhalla – The Legend of Thor," in which he played the Norse god Odin. In real life, Nissen still has the bald head and long, thick beard that Jarl Kåre sports in "Valhalla." However, Nissen's actual hair color is significantly darker than Kåre's sun-bleached dirty blonde, and it also looks like he takes much better care of his beard than his Viking counterpart.
Pollyanna McIntosh (Aelfgifu of Northampton)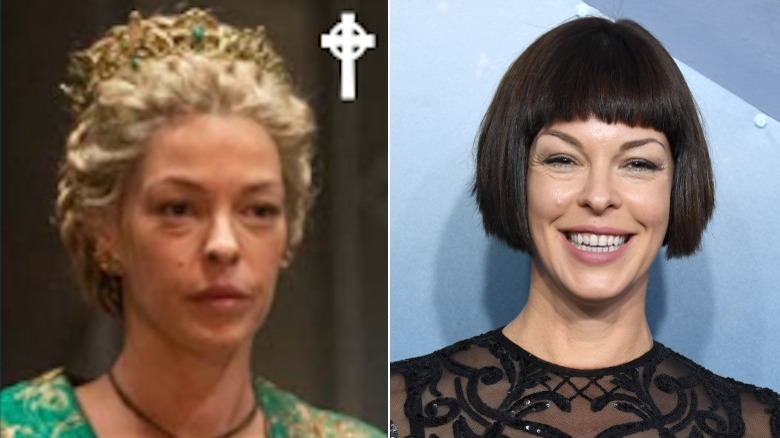 Netflix, Jon Kopaloff/Getty Images
"Calculating and ambitious, Queen Aelfgifu of Denmark has a hand to play in the political power struggles unfolding in Northern Europe," Netflix's press packet reads. "She uses her charm and guile to great effect as she promotes the interests of her Mercian homeland and tries to assert herself in her husband King Canute's growing power structure." This sounds about right for a queen on a "Vikings" series, where the smart women who weren't societally allowed to take up their shields and fight alongside the men have always had to wield their wits as swords instead.
Scottish actress Pollyanna McIntosh takes on the role of the formidable Queen Aelfgifu, whose look on the show sees her donning elaborately coiffed blonde tresses. This is a big step away from McIntosh's look in real life; although the actor has indeed been blonde before, she is currently a brunette, and has recently been keeping her hair cut extremely short for her role as Jadis in "The Walking Dead" and "The Walking Dead: World Beyond."
Soren Pilmark (King Sweyn Forkbeard)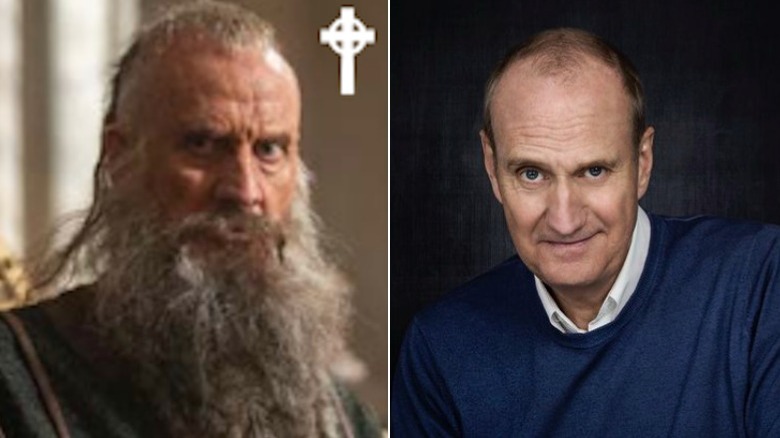 Netflix, Søren Pilmark/Instagram
The final member of the main "Vikings: Valhalla" cast, Danish actor Søren Pilmark plays King Sweyn Forkbeard, who Netflix describes in their press materials as "King Canute's father, who is far less diplomatic than his son. He will do whatever it takes to protect his family's place of power, and has no tolerance for traitors or those who question his authority." Of course, when it comes to "Vikings," we have a feeling that "less diplomatic" tends to mean "ruthless and violent," so it will be interesting to see how far the Danish king is willing to go in his quest to hold onto his power.
Pilmark has had a long and impressive stage career, with leading roles in everything from "Hamlet" to "My Fair Lady" over the course of more than four decades. In "Vikings: Valhalla," he's nearly unrecognizable as King Sweyn Forkbeard, whose graying hair is long and wild, looking as though he's forgotten to comb it since, well, ever. Contrasted to Pilmark's real-life appearance, in which the actor is typically clean-shaven and short-haired, Pilmark's role may be one of the most dramatic transformations among the cast of "Vikings: Valhalla."