Steven Yeun, Felicia Day To Co-Star In Animated Stretch Armstrong Series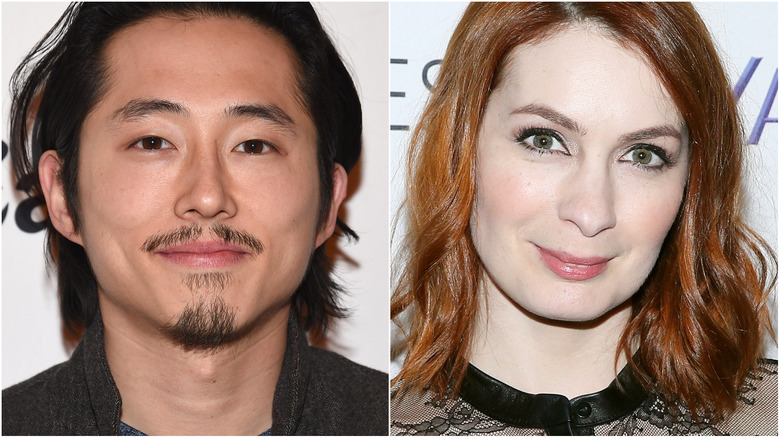 Getty Images
The '70s toy Stretch Armstrong is coming to TV and he'll do it with an all-star cast.
According to a press release on Business Wire, Hasbro will team with Netflix for Stretch Armstrong and the Flex Fighters, a new animated series based on the bendable character, but the superhero will be reimagined as a high school student. Check out an image below.
The series follows Jake Armstrong (voiced by Scott Menville of Teen Titans Go!) and his two best friends Nathan Park (Steven Yeun of The Walking Dead) and Ricardo Perez (Ogie Banks of Ultimate Spider-Man) who are accidentally exposed to an experimental chemical that transforms them into unlikely heroes who embark on a series of adventures.
Felicia Day (The Guild, Supernatural) will co-star as Erika, Wil Wheaton (Star Trek: The Next Generation) will play Rook, Keith David (Adventure Time, Rick and Morty) will voice Kane, Kate Mulgrew (Star Trek: Voyager, Orange Is the New Black) will play Dr. C, and Walter Koenig (Star Trek) will voice Mr. Savic.
Stretch Armstrong and the Flex Fighters will be the first Hasbro brand to receive a Netflix original series order. "We have been waiting for just the right moment to re-imagine Stretch for a new audience and our friends at Netflix got it right away; they have been a tremendous partner," said Stephen Davis, executive vice president of Hasbro. "We have hit a superhero sweet spot, and with Netflix's global reach, kids across the world will fall in love with its fun characters and action-packed storyline."
The first season will consist of 26 episodes and be available on Netflix beginning later this year. Meanwhile, take a look at more TV shows that will blow everyone away.