Blue Bloods Actors You Might Have Forgotten Were Soap Opera Stars
With so many options to choose from in the police procedural genre, "Blue Bloods" stands out for its family-centric premise. The CBS series follows multiple generations of the Reagan family, all of whom work in different areas of law enforcement and bring unique perspectives to the table.
The family is comprised of NYPD Commissioner Frank Reagan (Tom Selleck) and his children, Detective Danny Reagan (Donnie Wahlberg), Assistant District Attorney Erin Reagan-Boyle (Bridget Moynahan), and Sergeant Jamie Reagan (Will Estes), as well as their grandfather, former Commissioner Henry Reagan (Len Cariou). Regardless of what is going on in their professional lives, the family comes together for their weekly Sunday dinners.
The cast of "Blue Bloods" comes from all areas of entertainment, the most surprising being Wahlberg's involvement in a boy band and Cariou's decade-spanning career on Broadway. Many of the actors were also soap opera stars before joining the show.
From soap operas to Blue Bloods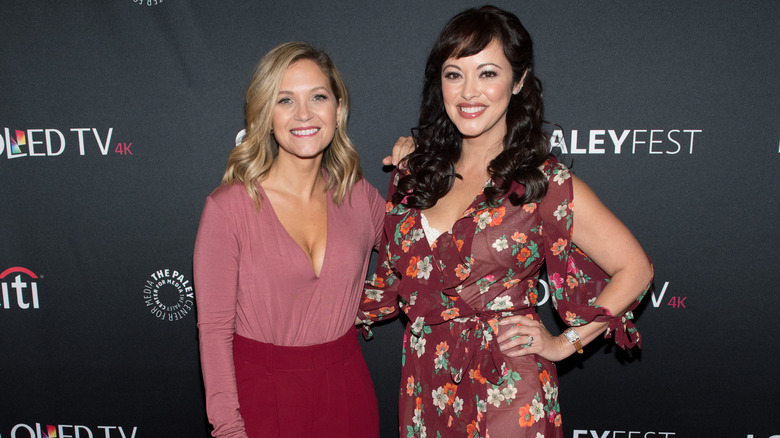 Noam Galai/Getty Images
If there's one genre more sprawling than police dramas, it's soap operas — and five cast members of "Blue Bloods" know this firsthand. Vanessa Ray, who portrays Jamie's wife, Officer Eddie, starred as Teri Ciccone for more than 50 episodes of "As the World Turns" from 2006 to 2010. The show aired from 1956 to 2010 and focused on upper-class families in the Midwest.
Amy Carlson, who portrayed Danny's wife Linda, starred as Josie Watts in almost 100 episodes of "Another World" from 1993 to 1998. Like Ray's soap opera, this long-running series focused on a Midwestern community, and it aired from 1964 to 1999.
Marisa Ramirez, who plays Detective Maria Baez, has the most experience with soap operas. Her first TV role was Gia Campbell in "General Hospital," starring in more than 100 episodes between 2000 and 2002. The popular show focuses on a whirlwind community in upstate New York and has been airing since 1963.
Ramirez also starred in nearly 80 episodes of "The Young and the Restless" from 2006 to 2007, where she portrayed Carmen Mesta and Ines Vargas. Since 1973, the series has followed the ongoing feud between two wealthy families in the Midwest.
Additionally, Sami Gayle, who portrays Nicky Reagan-Boyle, had a minor role as Hayden Lawson in "As the World Turns" from 2009 to 2010, and Robert Clohessy, who portrays Sid Gormley, starred as Gil on "Guiding Light" in 2000. This soap opera aired from 1952 to 2009 and, if you couldn't guess by now, followed a middle-class family in the Midwest.