Peacemaker Just Beat Euphoria In One Key Category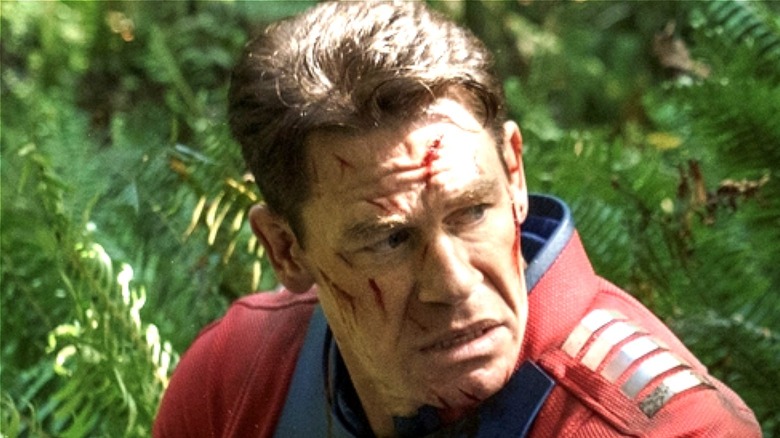 Katie Yu/HBO Max
When you are willing to kill anybody for peace, it shows that your character may have some inner conflict and cognitive dissonance. "Peacemaker" is a hilarious and bombastic show from HBO and "Guardians of the Galaxy" director James Gunn. Written by James Gunn during his efforts on "The Suicide Squad" movie and spun directly from the actions that take place in said movie, "Peacemaker" follows the titular character, played by John Cena, as he once again is tapped by Amanda Waller (Viola Davis) to engage in another black-ops mission involving aliens. 
"Euphoria" is another popular television series from HBO. It stars Zendaya as the teenager Rue, and her hedonistic and sadistically care-free lifestyle and friends. Their lives are drama and drug-fueled, with betrayals and backstabs aplenty. With both shows earning heaps of praise and involving untrustworthy parties, it might come as a surprise that "Peacemaker" has been able to gain the upper hand in terms of performance when it comes to "Euphoria."
Peacemaker beat Euphoria in social media engagement
According to Variety, the finale episode of "Peacemaker" took the top spot for trending television on the week of February 14 to 20, with the series earning a staggering 700,000 engagements across Twitter, which drove the TV show from the ninth spot in the previous week to the very top, beating out the engagement for "Euphoria," which only had 461,000 hits on Twitter.
Celebrating their victory on Twitter, writer/director James Gunn tweeted that the show had the biggest single day performance for an HBO Max original, with the final episode of the first season up 44% over its premiere episode. John Cena also couldn't contain his enthusiasm and pride, and tweeted about the success of the show and thanked the cast for their hard work and those that watched the show, while also saying that he couldn't wait for Season 2. Luckily for fans of the brutal anti-hero, a second season has already been greenlit (via The Hollywood Reporter), so we should be seeing Peacemaker, Vigilante (Freddie Stroma), Harcourt (Jennifer Holland), Economos (Steve Agee), and Abedayo (Danielle Brooks) deal with the fallout of the attempted global takeover by the Butterflies, and the ramifications of the exposure of Amanda Waller and her secretive Task Force X program.