Tom Holland Has One Regret About His Time Filming Uncharted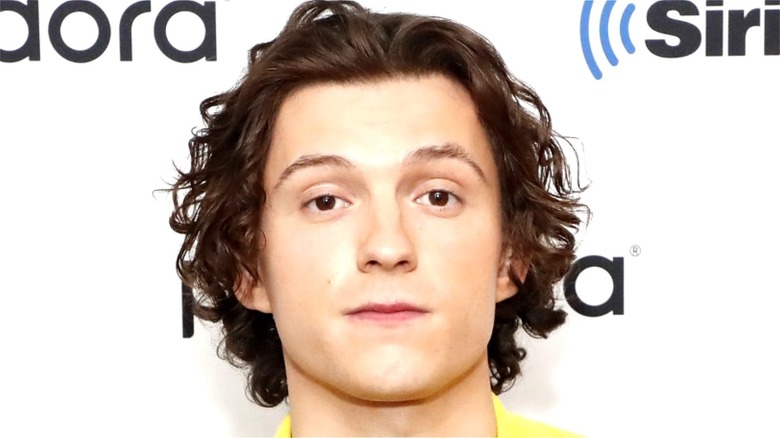 Astrid Stawiarz/Getty
On February 18, the Tom Holland-led film adaptation of the "Uncharted" series of video games premiered in theaters. Plans for an "Uncharted" film date all the way back to 2010, so its release marks the realization of an idea publicly proposed more than a decade prior. Naturally, as with virtually all filmic video game adaptations, there are a few notable differences between the "Uncharted" movie and its source material. For instance, the relationship between protagonist Nathan Drake and his treasure hunting partner Sully (played by Mark Wahlberg in the film) no longer resembles a father/son dynamic, but functions as more of a partnership.
Fortunately for fans of Holland's youthful take on Drake, shortly after the movie's release, Sony determined that it earned enough at the box office to justify turning it into a multi-film franchise. While by that metric "Uncharted" is an unqualified success, Holland nevertheless revealed in an interview one aspect of the movie he would change, were he given a chance to do it over under different circumstances.
Tom Holland wants Nathan Drake to travel the world
Following the release of "Uncharted" in theaters, Tom Holland spoke to Buzzfeed in a video interview shared to the Buzzfeed Celeb YouTube channel, answering interview questions while surrounded by puppies. Partway into their interview, Buzzfeed asked Holland what he might want to happen to Nathan Drake in a — merely hypothetical at the time the interview was filmed — second "Uncharted" movie.
"What would I like to see?" Holland replied. "I'd like to travel the world some more, you know? Obviously with this film, because of COVID we weren't able to travel everywhere we wanted to go. So it'd be nice to make another movie and just travel some more, you know, and get to see the world and make a movie."
From the sound of it, then, Drake's adventures in the "Uncharted" movie were once going to take him across the globe, but ended up becoming restricted to a limited number of filming locations in response to COVID-19 safety precautions. That said, as he suggests, those circumstances leave plenty of room for a second "Uncharted" to deliver on the globetrotting storyline Holland and co. had seemingly planned Drake's silver screen debut.