It Producers Considered Tilda Swinton As Pennywise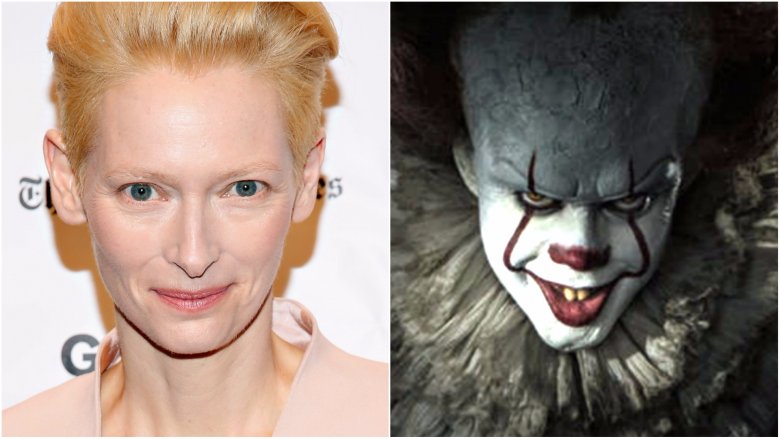 Getty Images/Warner Bros.
Pennywise could've looked very different in the upcoming It movie, but actually, not all that different.
According to Arrow in the Head, producer Barbara Muschietti said during a set visit that Oscar winner Tilda Swinton was a contender for the role of the villainous clown in Andres Muschietti's Stephen King adaptation.
"We auditioned literally hundreds of potential Bob Grays or Pennywises and it was an amazing process," Muschietti said. "We got to audition people that don't audition anymore and a huge gamut of talent; women, younger age, older age, we really went through the spectrum of actors."
However, Swinton had a schedule conflict and didn't audition. "She wasn't available," Muschietti said. "No, no I swear to god. She was not. We had a slot to shoot the movie and she wasn't available, so she didn't even audition. But of course, we all thought about it."
While it might have seemed like unconventional casting, it wouldn't have been the first time Swinton played a traditionally male role. She portrayed the Ancient One in Doctor Strange, and that character was a man in the comics.
It producers eventually cast Bill Skarsgard (Hemlock Grove) as Pennywise, and from the trailer, all indications are that they made a great choice. We'll find out for sure when the movie floats into theaters on Sept. 8. 
Meanwhile, take a look at other future reboots and remakes that will blow you away.