25 Shows Like Gilmore Girls You Can Watch Next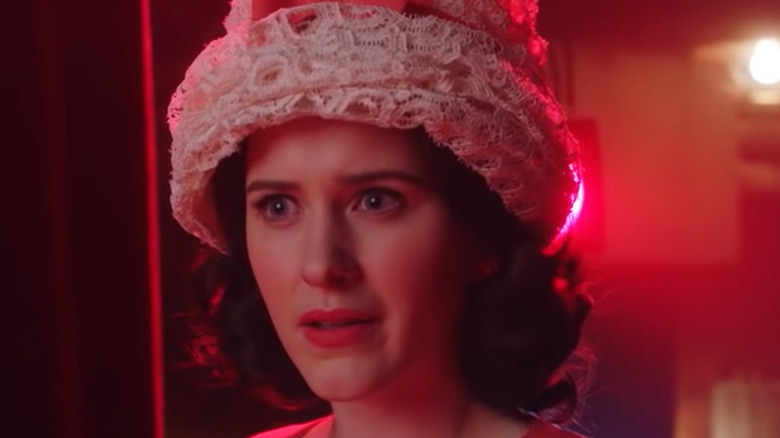 Amazon Prime Video/YouTube
Every so often, a TV show becomes so beloved, it braids itself into viewers' actual lives. "Gilmore Girls" is one such show. Fans love Lorelai (Lauren Graham) and Rory (Alexis Bledel) like their own family, having watched this mother-daughter pair make their way through life in Stars Hollow, Connecticut, for years. The titular Gilmore girls are utterly relatable, yet also highly entertaining — a blend few viewers can resist.
The only problem with a show becoming this adored is that audiences end up wanting more of it. Though the series ended in 2007, viewers received a four-part sequel in 2016 when "Gilmore Girls: A Year in the Life" hit Netflix. But you can't hit replay forever. Eventually, you have to watch something new — and luckily, there are plenty of shows out there that offer that classic "Gilmore Girls" magic. Some are about small towns, some are about family relationships, and some are simply hilarious. What unites all 25 of these shows is the fact that they're ideal watches for "Gilmore Girls" fans — and best enjoyed with a Luke's Diner-style mug of coffee, of course.
Bunheads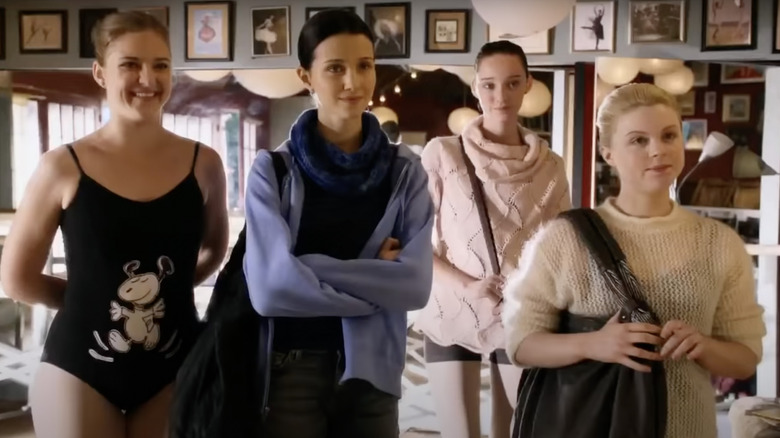 ABC Family/YouTube
Comedy-drama "Bunheads" is a natural choice for "Gilmore Girls" fans for one big reason: These two shows share a creator in Amy Sherman-Palladino. "Bunheads," which takes its title from a nickname for ballerinas, follows Michelle Simms (Sutton Foster), a Las Vegas showgirl who marries admirer Hubbell Flowers (Alan Ruck) to leave her glitzy-but-frustrating life behind. Unfortunately, things don't go smoothly from that point on, as Hubbell promptly bites the dust after the knot is tied. Michelle is left utterly adrift, but this surprising loss has its upsides. Chief among them is the fact that it lands Michelle in the small coastal town Hubbell spirited her away to, where she begins to teach ballet with her mother-in-law, Fanny Flowers (Kelly Bishop).
Though "Bunheads" only aired for one glorious season, it received almost uniformly positive reviews. Come for Michelle's life getting turned upside down, stay for the relationships she builds at Fanny's dance studio.
Charmed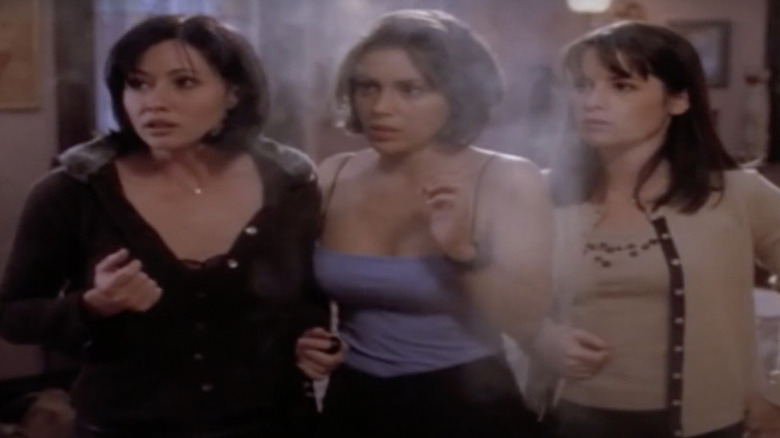 The WB/YouTube
Though the spooky meter is raised a notch in "Charmed," the main characters' bond is refreshingly similar to the one that ties Lorelai and Rory together on "Gilmore Girls." This fantasy drama follows three sisters — Prue (Shannen Doherty), Piper (Holly Marie Combs), and Phoebe (Alyssa Milano) — who discover they're powerful witches, known as The Charmed Ones. No matter what supernatural nonsense the women of "Charmed" encounter, their relationship is never broken — the "Power of Three" is just that strong.
Though the differences between these series are obvious, "Charmed" and "Gilmore Girls" handle drama in a remarkably similar way: Romance, family, and betrayal are very much the focus of both productions. If you fancy watching witches balance such emotional experiences with stopping evil, spending some time with these spellcasting sisters is definitely worth it. "Charmed" was also a notably successful production, running for eight seasons and 178 episodes in total. It even spawned a 2018 reboot series of the same name.
Dash & Lily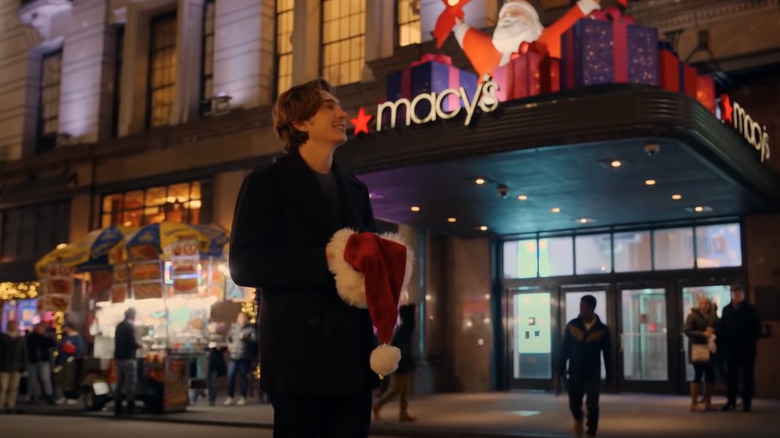 Netflix/YouTube
"Dash & Lily" is best served during the holidays with a hot cup of cocoa, as it's heavily sprinkled with festive elements. But if you're looking for something new to watch in July, don't hold off — this series is so good, it really should be celebrated all year round. A romantic comedy, "Dash & Lily" follows two completely different teenagers who eventually fall for one another. The big twist? Dash (Austin Abrams), who is cynical and hates Christmas, and Lily (Midori Francis), who is upbeat and loves Christmas, have never formally met. Their paths cross when Lily leaves a notebook at a bookstore for someone to find — Dash is the lucky person who picks it up. The two build a relationship in its pages.
Like "Gilmore Girls," "Dash & Lily" is a cozy show that doesn't skimp on emotion. It's a winter wonderland worth walking through — especially if you also enjoy outstanding shots of New York City, the place so many romantic comedies thrive within, decked out in full Yuletide splendor.
Friday Night Lights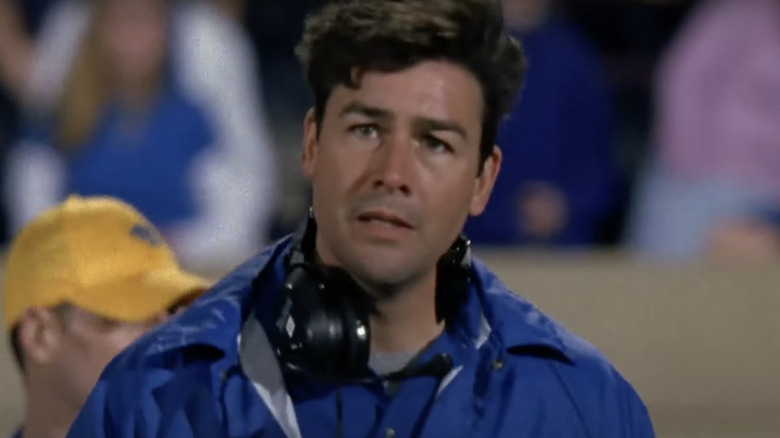 NBC/YouTube
"Friday Night Lights" might be a sports-centric TV series, but its small-town enchantment is ideal for "Gilmore Girls" fans. This drama follows the Dillon Panthers, a high school football team led by the one and only Coach Eric Taylor (Kyle Chandler). Over the course of five seasons, "Friday Night Lights" explores the trials and tribulations of growing up in its fictional Texas town, as well as the stress and pressure that accompany playing for one of the best high school football teams in the country. 
Though Kyle Chandler and Connie Britton (who plays Coach Taylor's wife, Tami) offer especially outstanding performances, "Friday Night Lights" is chock-full of incredible acting. It's so good, in fact, that the series earned spectacular reviews, and has secured a place in the TV hall of fame. Really, it's worth anyone's time, but "Gilmore Girls" watchers will especially appreciate its nuanced focus on small-town life.
Friends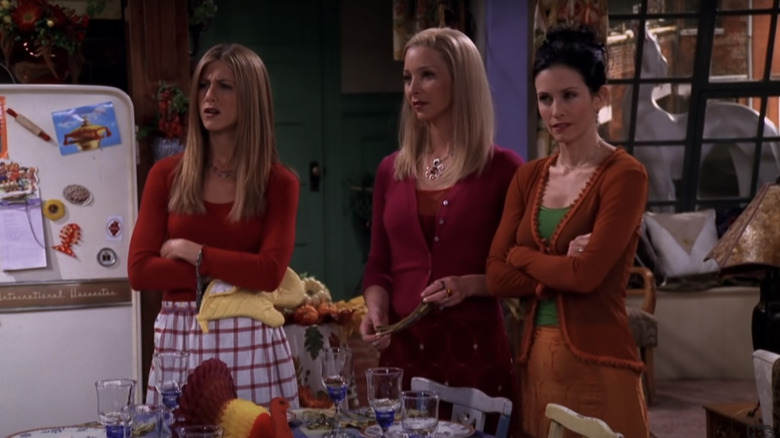 NBC/YouTube
"Friends" doesn't really need an introduction –– it's that much of a classic. This well-known sitcom, which spans 10 wonderful seasons, follows six close friends living in New York City: Rachel (Jennifer Aniston), Monica (Courteney Cox), Ross (David Schwimmer), Phoebe (Lisa Kudrow), Joey (Matt LeBlanc), and Chandler (Matthew Perry). Together, they make their way through their 20s and 30s.
"Friends" focuses on the type of social group so many people wish they could be part of. The six BFFs all live, at one point or another, in the same apartment complex, spend a good amount of time together, and never appear to get tired of each other's company. Did we mention they live in one of the liveliest cities in the world, in apartments they could never afford in real life? The show is, without a doubt, sprinkled with TV magic, but that doesn't make it any less fun to live vicariously through its characters. If you'd like a fast-paced contrast to Stars Hollow, "Friends" is what you're looking for.
Ginny & Georgia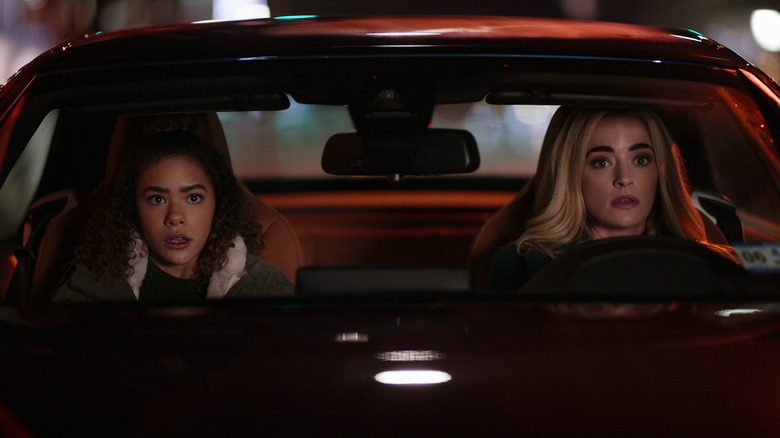 Netflix
If you crave more portrayals of the sort of mother-daughter bond "Gilmore Girls" focuses on, "Ginny & Georgia" is a must-watch. This comedy-drama follows teenager Ginny (Antonia Gentry) and her mother Georgia (Brianne Howey) as they adjust to life in the New England town they've just moved into. 
Though there's much to love about this series, the dynamic between the titular characters is reason number one to push play. Georgia might be the parent, but Ginny tends to act with more maturity — sound like another fictional mother-daughter pair you've heard of? This resemblance is so remarkable, Georgia even compares herself and Ginny to the titular Gilmore girls. That said, "Ginny & Georgia" is a lot more chaotic than "Gilmore Girls," and also features a little brother in 9-year-old Austin (Diesel La Torraca). But it's very much a roller coaster ride worth taking. If you burn through the first batch of episodes too fast, rest assured: Season 2 of "Ginny & Georgia" is already on the horizon.
Gossip Girl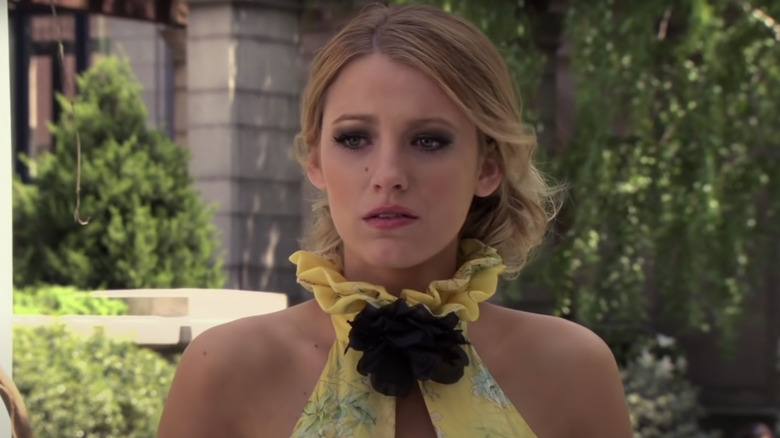 The CW/YouTube
"Gossip Girl" puts Upper East Side New York and all the wealthy characters who dwell within it on full display. This teen drama chiefly follows glamorous teens Serena van der Woodsen (Blake Lively) and Blair Waldorf (Leighton Meester), who get into all kinds of shenanigans, romances, and high-priced scandals. All the while, an apparently omniscient blogger known as Gossip Girl uncovers their secrets for a ravenous audience. 
You might not think you need a show about spoiled, wealthy teens getting into trouble in your life, but their ongoing chaos is too intriguing not to watch. "Gossip Girl" is one part mess, one part luxury, and, crucially, one part genuine emotion. That's the hook for "Gilmore Girls" fans — NYC sure isn't Stars Hollow, but its denizens often feel fascinatingly similar. Plus, if you find yourself craving more "Gossip Girl" after you've finished all six seasons, then you can dive into the 2021 sequel series of the same name.
Hart of Dixie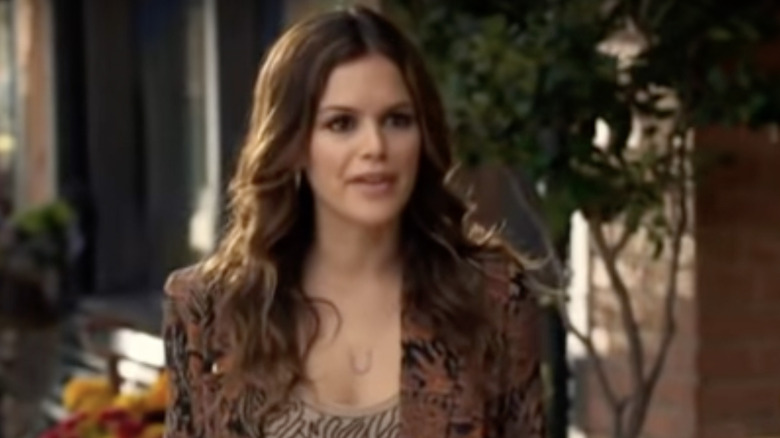 The CW/YouTube
"Hart of Dixie" follows Dr. Zoe Hart (Rachel Bilson), a New York City dweller and aspiring surgeon whose plans falls through when she fails to snag a coveted fellowship. She finds herself accepting a position in small-town Alabama after a kindly stranger leaves her his chunk of a medical practice. Upon arrival, Zoe discovers this mystery man was, in fact, her biological father.
Though Zoe isn't a bona fide small-towner like "Gilmore Girls" favorites Rory and Lorelai, she learns to love Bluebell and its residents as she makes her new circumstances work. Moreover, as a comedy-drama, "Hart of Dixie" provides audiences with countless laughs and crying jags. Zoe grows into a person she couldn't have imagined, had her picturesque NYC life worked out — and that turns out to be a good thing.
Heartland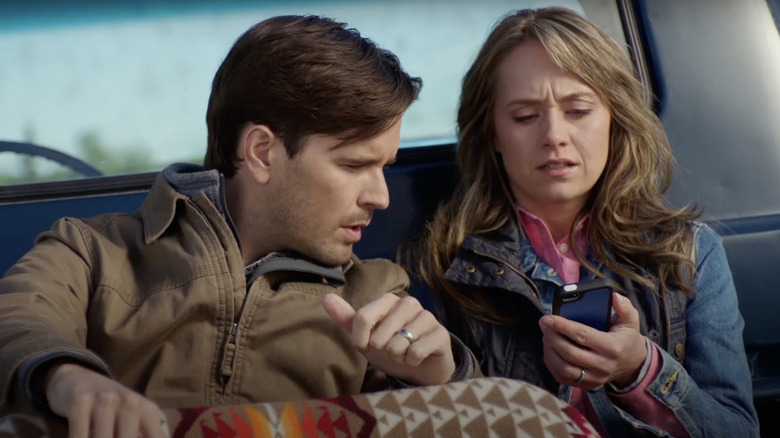 CBC/YouTube
Another comedy-drama that focuses on life in a small town, "Heartland" takes viewers to a ranch in Alberta, Canada, where the Flemings — father Tim (Chris Potter) and daughters Amy (Amber Marshall) and Lou (Michelle Morgan) — live with their grandfather, Jack Bartlett (Shaun Johnston), and a farmhand named Ty Borden (Graham Wardle). Life on a ranch isn't for the faint of heart, however, especially after tragedy strikes — which happens a lot, given the show currently spans 15 seasons.
"Heartland," which is based on the book series of the same name by Lauren Brooke, is perfect for the whole family. It's also an ideal show to follow up "Gilmore Girls" with, especially if you're looking for something with similar themes but a very different setting. Alberta isn't New England, but humanity endures in much the same way there.
Insecure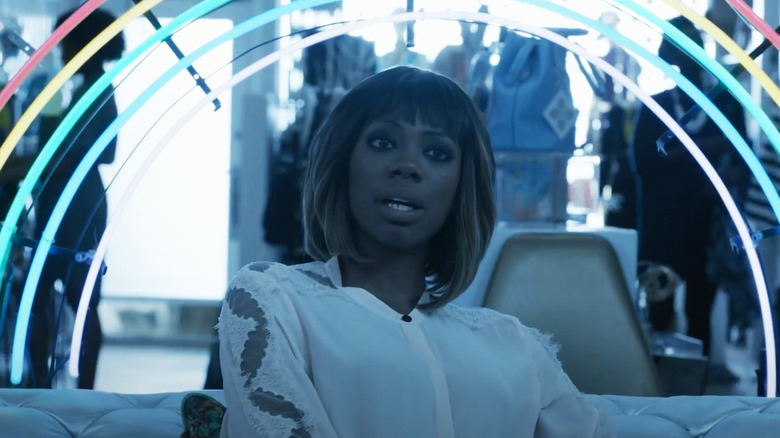 HBO/YouTube
This renowned HBO comedy-drama follows Issa (Issa Rae) and Molly (Yvonne Orji), two young Black women making their way through romance, career upheaval, and an ever-changing city. Issa, who works for a non-profit, is struggling in her relationship. Molly, in contrast, is a successful lawyer who's frustrated with her dating life. Together, they try to have it all ... if that's even possible. 
"Insecure" takes place in the energetic city of Los Angeles, as opposed to a small town. Though this is a major departure from "Gilmore Girls," the show's focus on Molly and Issa's bond is sure to satisfy fans of Rory and Lorelai. It's also committed to telling bold stories about women, as Rae elucidated in a 2016 interview with IndieWire. "Black women right now are always portrayed like flawless or fierce or superhuman in a sense," Rae remarked. "I feel like that's not real right now. I wanted to see a story about a girl who doesn't have it all together, who isn't that, who's on her journey to that and what that means, what that looks like."
Jane the Virgin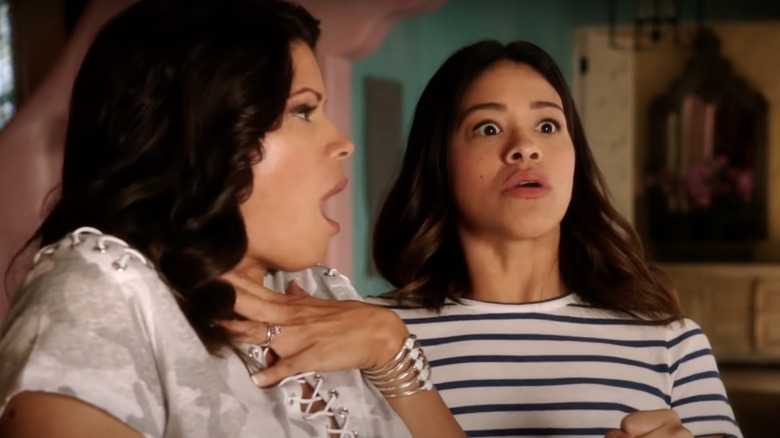 The CW/YouTube
"Jane the Virgin" follows Jane Villanueva (Gina Rodriguez), a young Miami woman who is "saving herself" for marriage. But when a doctor mixes up operating rooms and artificially inseminates her, Jane's life is thrown off-track. This charming series received fantastic reviews and plenty of awards over the course of its five-season run.
Much like "Gilmore Girls," "Jane the Virgin" has a strong mother-daughter relationship at its core. But this bond is actually just one part of an intergenerational relationship between daughter Jane, mother Xo (Andrea Navedo), and grandmother Alba (Ivonne Coll). There are a plethora of reasons to love this show, from its jaunty tone to its love of telenovela conceits. But Rodriguez's performance as Jane shines especially brightly — she is simply fantastic as the pious, dauntless, and adorable heroine.
Mom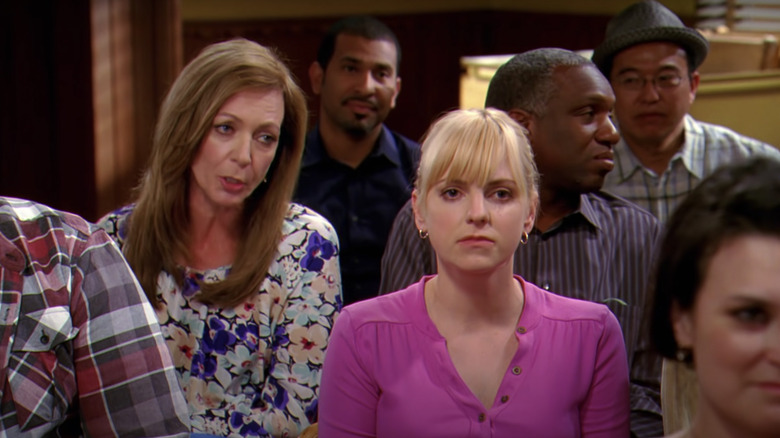 CBS/YouTube
"Mom" is similar to "Gilmore Girls" in that it revolves around a mother-daughter bond, but said bond isn't anywhere near as neatly packaged. Christy Plunkett (Anna Faris) is a newly sober mom trying not to make the mistakes her own mother, Bonnie Plunkett (Allison Janney), made with her. But Bonnie is still part of Christy's life — in fact, the two attend Alcoholics Anonymous together in Napa, California, Christy's new home. There, they build a loving support system that rounds out the show.
"Mom" is a sitcom through and through, yet it manages to navigate tough real-life issues like addiction, teen pregnancy, and abuse. Christy and Bonnie's relationship might be flooded with mayhem from time to time, but the two characters are really just trying to do their best every single day. Laughter abounds as much as darkness does over the course of the show's magical eight seasons.
New Girl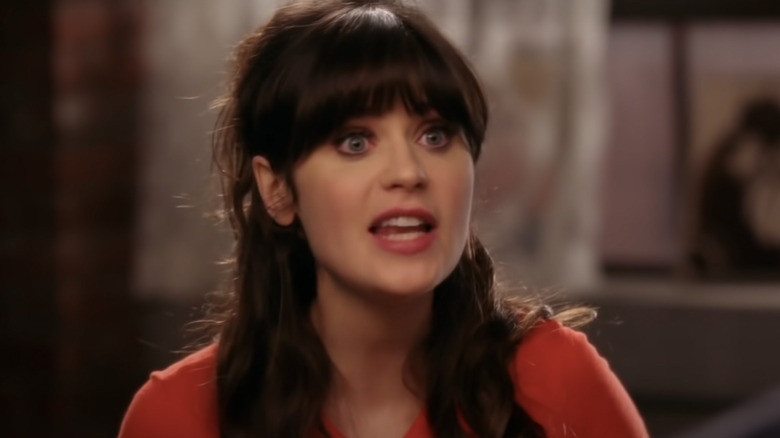 Fox/YouTube
"New Girl" begins with Jess Day (Zooey Deschanel) moving into a loft inhabited by three very available men: Nick Miller (Jake Johnson), Winston Schmidt (Max Greenfield), and Winston Bishop (Lamorne Morris). Yes, there are two Winstons, which is an entire thing in and of itself. Like so many sitcoms of past and present, "New Girl" proceeds to follow these young adults as they navigate relationships and careers in the big city. Most episodes will leave you feeling upbeat and optimistic, much like installments of "Gilmore Girls." But life is never entirely easy on "New Girl" — romances end, jobs don't work out, and friendships are tested. Luckily, all of this is much more manageable with a supportive group of friends around.
Parenthood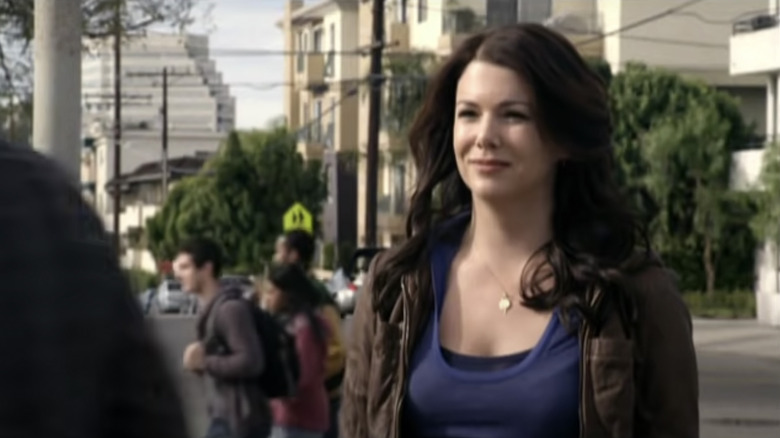 NBC/YouTube
Lauren Graham, who "Gilmore Girls" fans know and love as Lorelai, plays Sarah Braverman on "Parenthood," a series loosely adapted from Ron Howard's 1989 movie of the same name. Sarah is a struggling mother who's just trying to do what's best for her kids. Indeed, the entire Braverman family is grappling with everyday life in California, from Sarah's aging parents to her siblings and the families they have spawned. 
Like all worthwhile sitcoms, "Parenthood" will have you chuckling one moment and reaching for the tissue box the next. It encompasses six seasons, and was met with praise from critics and audience members alike. Though Graham is likely the biggest draw for "Gilmore Girls" enthusiasts, there are plenty of other characters to fall in love with on "Parenthood," who boast all the warmth and personality of any Stars Hollow resident.
Parks and Recreation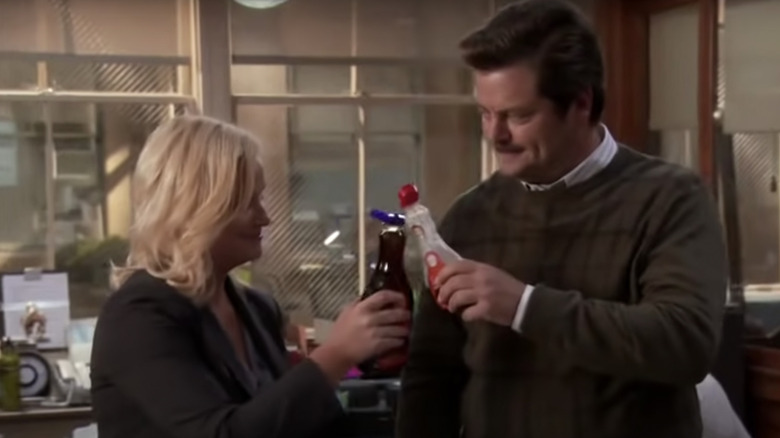 NBC/YouTube
"Parks and Recreation" is often compared to "The Office," as they're both mockumentary-style sitcoms. Plus, Leslie Knope bears a passing resemblance to Michael Scott, especially in Season 1. But the show blazes its own trail over the course of its seven-season run, to the point that it recalls "Gilmore Girls" as readily as any other series. 
"Parks and Recreation" takes place in a small Indiana town called Pawnee, which is positively bursting at the seams with quirky characters. Amy Poehler shines as Leslie, whose unquenchable love of Pawnee (the greatest city in the world, according to her) is matched only by her devotion to local government. She's not the only stand-out performance: "Parks and Recreation" features brilliant turns from Adam Scott, Aubrey Plaza, Chris Pratt, Nick Offerman, Rashida Jones, Retta, and Rob Lowe, among others. The stakes of this show might seem small — how much do playgrounds and small-town raccoon problems matter, after all? But as on "Gilmore Girls," they're made huge through emotional weight.
Pretty Little Liars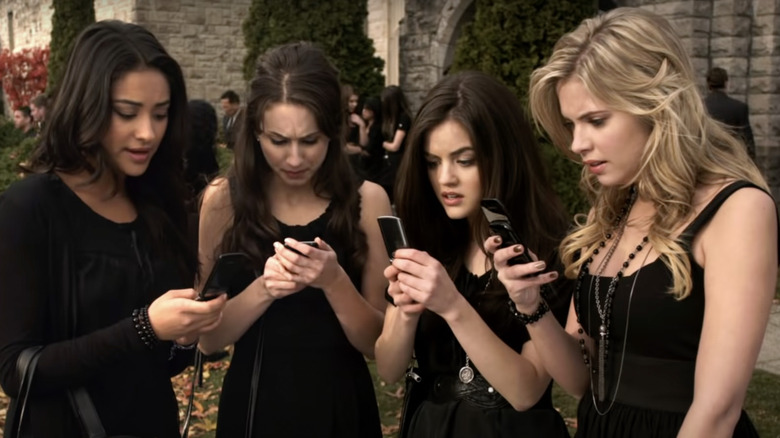 Freeform/YouTube
"Pretty Little Liars" centers around four teenage girls: Spencer Hastings (Troian Bellisario), Aria Montgomery (Lucy Hale), Hanna Marin (Ashley Benson), and Emily Fields (Shay Mitchell). Once a tight group of friends, they grew apart after the fifth of their number, Alison DiLaurentis (Sasha Pieterse-Sheaffer), disappeared. But after an anonymous individual named "A" threatens to out their biggest secrets, they must work together to uncover what happened to their missing queen bee.
This teen drama leans into its mystery and thriller aspects, which might not seem like a perfect fit for "Gilmore Girls" fans. But there are more similarities between these shows than you might expect. For one thing, both series were shot in the same locations, though "Pretty Little Liars" is set in the suburbs of Pennsylvania and "Gilmore Girls" takes place in Stars Hollow, Connecticut. For another, "Pretty Little Liars" and "Gilmore Girls" both lean into the intensity of small town life. "Pretty Little Liars" also offers a whole lot of content for fans in need of a major binge: It spans seven seasons, and spawned multiple spin-offs.
Schitt's Creek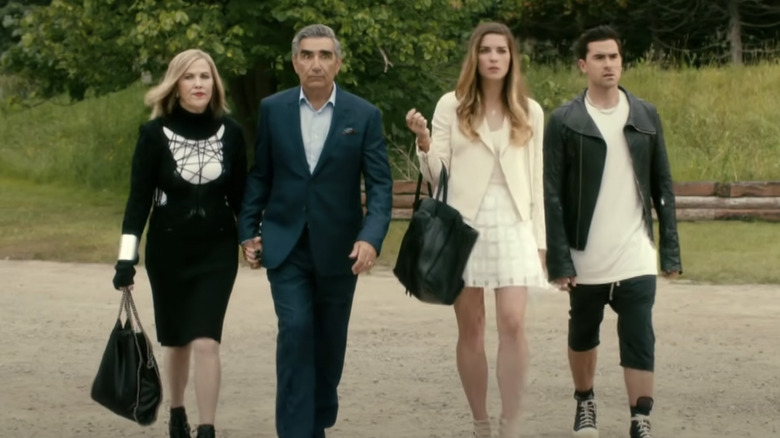 CBC Television/YouTube
"Schitt's Creek" follows the quirky, posh Rose family, which consists of parents Johnny (Eugene Levy) and Moira (Catherine O'Hara) and grown children David (Dan Levy) and Alexis (Annie Murphy). After losing their fortune due to a corrupt business manager, they're forced to move to a small town they once purchased as a joke. This clan is ridiculous, and the residents of Schitt's Creek are just as eccentric.
Though this might sound like an ideal horror movie setting, "Schitt's Creek" is actually a hilarious and heartfelt sitcom that's garnered praise from fans and critics alike. Sure, everyone involved is absurd — but they're also people you can't help but root for, especially as they grow into more mature and well-rounded versions of themselves. Fans of Stars Hollow and its many colorful denizens will find much to love about this unfortunately named community.
Sex and the City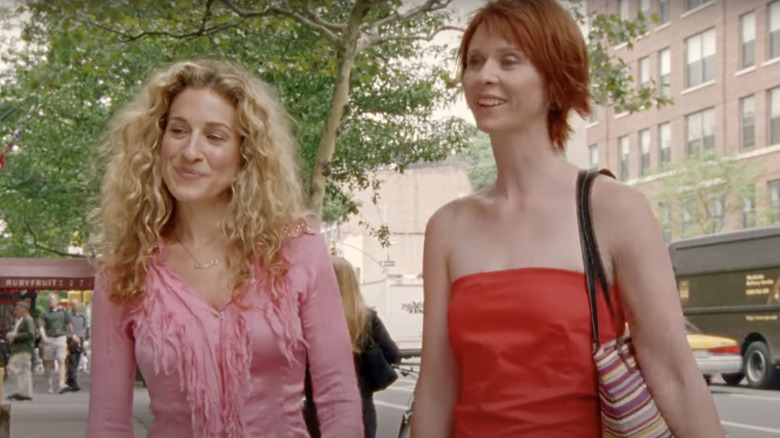 HBO/YouTube
"Sex and the City" shines its light on four single, 30-something women who make New York City their playground. These characters have become so famous, fans often describe themselves as being either a Samantha, a Miranda, a Carrie, or a Charlotte. Though their approaches to romance and career diverge wildly — Charlotte (Kristin Davis) wants nothing more than to be a wife and mother, while Samantha (Kim Cattrall) would rather die than tie the knot — their friendship is ironclad.
This romantic comedy-drama triumphed on HBO for six splendid seasons. It also spawned two movies, a teen-centric prequel, and, most recently, a sequel series. Sarah Jessica Parker, Kristin Davis, and Cynthia Nixon reprise their roles as Carrie, Charlotte, and Miranda in 2021's "And Just Like That...," though Kim Cattrall does not return. Major differences certainly separate "Sex and the City" from "Gilmore Girls," but both shows are entirely rooted in women's lives, and make plenty of room for both laughter and tears.
Supernatural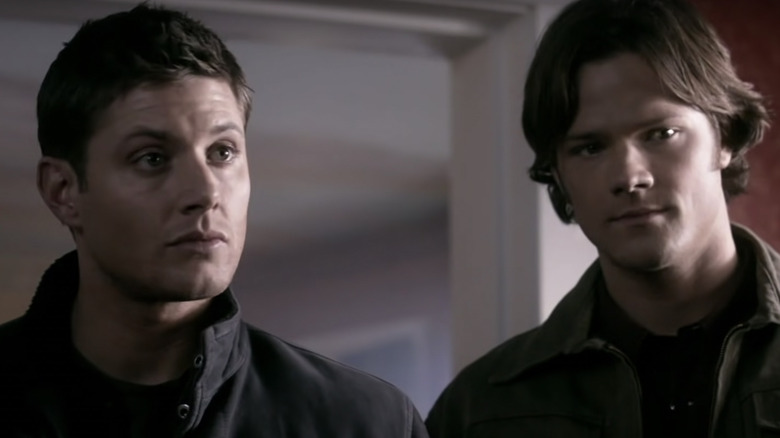 The CW/YouTube
"Supernatural" is, on the surface, nothing like "Gilmore Girls." This dark fantasy drama follows the Winchester brothers as they hunt all things evil, from vampires to gods. However, Jared Padalecki stars in both series: He plays Dean Forester on "Gilmore Girls," and Sam Winchester on "Supernatural." Moreover, the Winchesters' bond is reminiscent of Rory and Lorelai's on "Gilmore Girls." Sure, the brothers live in a universe that's an all-out nightmare, while the Gilmores have never met a demon in their life, but family bonds are forever on both series.
"Supernatural" enjoyed a whopping 15-season run, thanks to its enthusiastic fanbase. This show will make you laugh, cry, shiver, perch on the edge of your seat, and, most importantly, empathize with the Winchester brothers. And really, who doesn't want to see Dean Forester take on angry ghosts?
Sweet Magnolias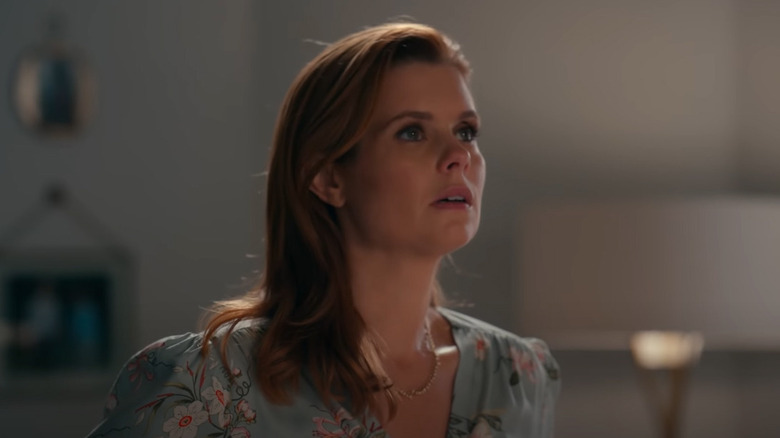 Netflix/YouTube
"Sweet Magnolias" follows Maddie Townsend (JoAnna Garcia Swisher), a recently separated woman who pushes the restart button on her life. Throughout the ups and downs that ensue, she has her two best friends by her side: Dana Sue Sullivan (Brooke Elliott) and Helen Decatur (Heather Headley). They call themselves the Sweet Magnolias. If you name your friend group, then you know it's the real deal.
If you've ever found yourself in desperate need of a new beginning, then you'll likely relate to the core sentiment of "Sweet Magnolias." It also has serious small-town-life vibes, much like "Gilmore Girls," thanks to the show's South Carolina setting. "Sweet Magnolias" proves that relationships are the ultimate cheat code in life: A caring and supportive group of loved ones can help people get through virtually any of life's problems. Or, at the very least, they can make events bearable — a fact Lorelai and Rory know well.
The Marvelous Mrs. Maisel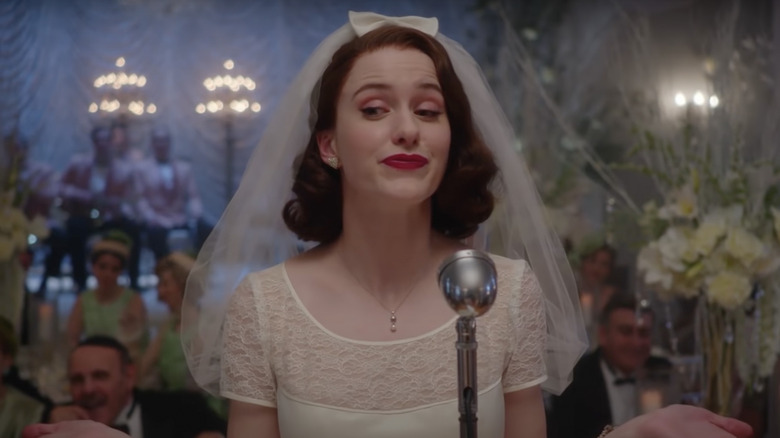 Amazon Prime Video/YouTube
Like "Gilmore Girls," "The Marvelous Mrs. Maisel" is an Amy Sherman-Palladino creation. Both shows also feature Alex Borstein: She stars as Midge's cantankerous manager, Susie Myerson, in "Mrs. Maisel," while "Gilmore Girls" fans will remember her as Sookie St. James, Drella, and Miss Celine.
This midcentury comedy-drama follows Miriam "Midge" Maisel (Rachel Brosnahan), a Jewish housewife and mother of two whose life has been a pretty spectacularly charmed one thus far. Though her husband Joel (Michael Zegen) is supposed to be the comic of the family, his jokes lack authenticity. One particularly bad performance at a downtown club leads him to come clean about the affair he's been having and his overall dissatisfaction with life. This event springboards Midge into a career in stand-up, which she's a whole lot better at than her husband. Brosnahan is indeed marvelous as Midge, but there are plenty of other spectacular performances to be found on "The Marvelous Mrs. Maisel." It's also full of the rapid banter that made "Gilmore Girls" famous — albeit a whole lot more R-rated.
The O.C.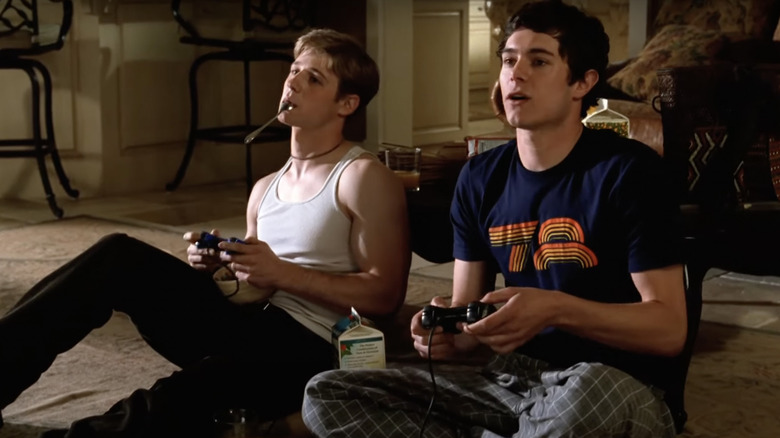 Fox/YouTube
"The O.C." follows Ryan Atwood (Ben McKenzie), a teenager with a dark past who finds himself living with a wealthy family in Newport Beach after his mother kicks him out. Though moneyed Orange County might seem like a better influence on troubled Ryan than his previous environment, he finds out soon enough that it has its own dark side. Together, Ryan and his foster brother Seth (Adam Brody) must navigate life within this rich and complex bubble.
Newport Beach certainly isn't Stars Hollow, for a whole bunch of reasons. But like "Gilmore Girls," "The O.C." locates its heart in its relationships. Ryan and Seth prove, despite their differences, that they're going to be there for each other, no matter what. They aren't the only tight pair featured on "The O.C." either: Summer Roberts (Rachel Bilson) and Marissa Cooper (Mischa Barton) give them a run for their money. 
This Is Us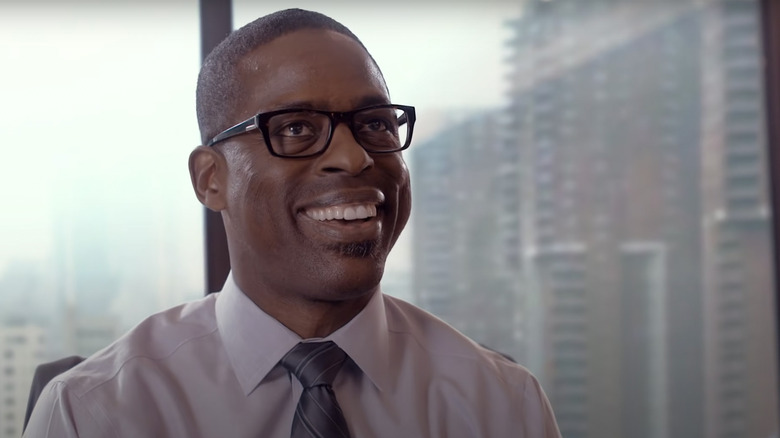 NBC/YouTube
"This Is Us" has a little bit of everything, from laugh-out-loud moments to scenes that will turn the waterworks on full blast. Like "Gilmore Girls," it's a drama with a strong family theme, though it's distinguished by its use of a nonlinear narrative to tell its story. "This Is Us" revolves around siblings Kate (Chrissy Metz), Kevin (Justin Hartley), and Randall (Sterling K. Brown) and their loving parents, Jack (Milo Ventimiglia) and Rebecca (Mandy Moore). As the years go on (and sometimes bounce backward), they weather loss, have children of their own, and pursue careers. The show's complex approach to the family's timeline makes everything all the more intense.
"This Is Us" has earned dazzling reviews and viewer loyalty, thanks to its emotional storytelling. If that's not enough to tempt you, consider this: Jack is played by the same actor who portrays Jess Mariano on "Gilmore Girls." 
Veronica Mars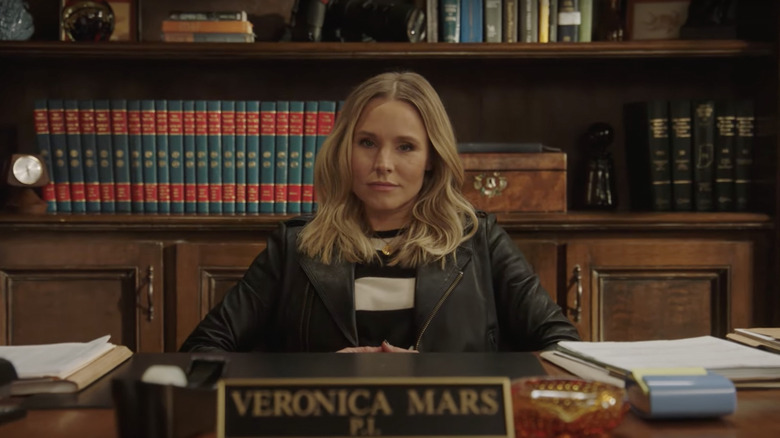 Hulu/YouTube
"Veronica Mars" is a mystery drama that's overflowing with the sort of quippy sarcasm "Gilmore Girls" fans love. Young Veronica's (Kristen Bell) life is thrown into disarray after her best friend is murdered. Yet this event is also the launchpad for her career as a private investigator. Eventually, Veronica moves up to solving the biggest mysteries in the fictional town of Neptune, alongside her father, Keith Mars (Enrico Colantoni).
Though the series' first run lasted just three seasons, "Veronica Mars" eventually made its way to the big screen in 2014. Season 4 was released in 2019. This series might be a mystery drama, but the show's strong daughter-father bond is very reminiscent of Rory and Lorelai's relationship on "Gilmore Girls." Plus, Bell's performance as Veronica is brilliant.
Virgin River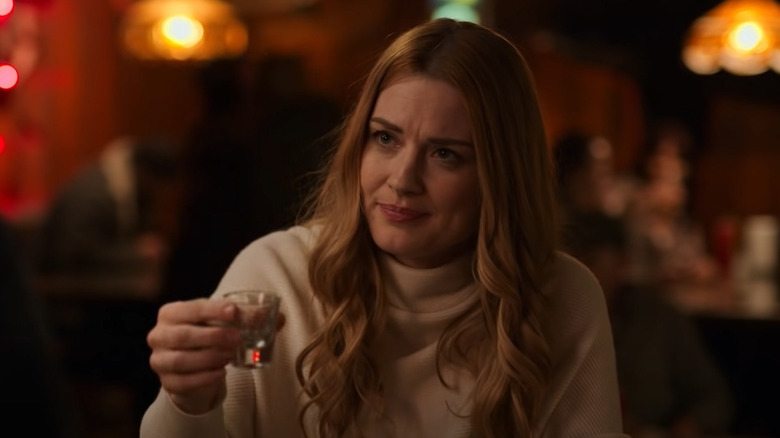 Netflix/YouTube
"Virgin River" follows Melinda "Mel" Monroe (Alexandra Breckenridge), a woman who sells her Los Angeles home, quits her job, and moves to the show's titular town ... which she's never heard of before. These events turn out to be the makings of a perfect drama. 
Like "Gilmore Girls," "Virgin River" focuses on complicated romances and the problems that tend to accompany living in a small town — especially when you're coming from a big city. Spoiler alert: Mel's troubles are not all fixed by moving to a remote part of Northern California! In fact, life in a tiny place comes with its own share of unique challenges. But like the titular Gilmore girls, Mel soon discovers she's more than a match for her issues. Watching her grow and change in this memorable setting is a true pleasure.