The Hilarious Reason John Cena Refuses To Tease Peacemaker Season 2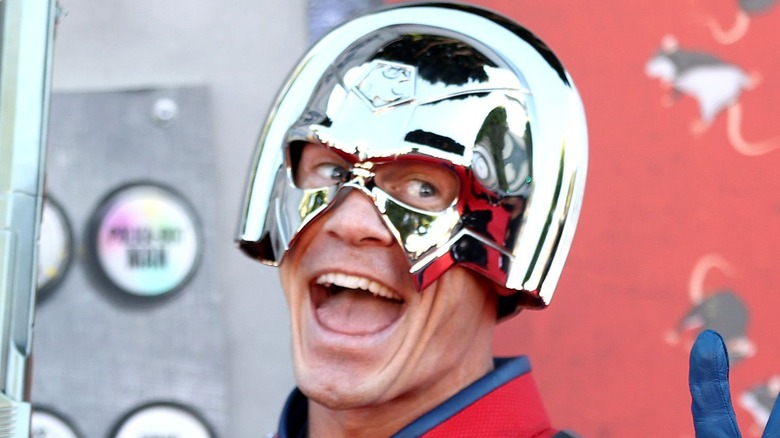 Matt Winkelmeyer/Getty Images
After working some serious magic under the Marvel Studios banner — turning the relative unknowns on the "Guardians of the Galaxy" roster into household names –, James Gunn has done the same in the DC universe. His first foray into the DC Extended Universe came in 2021 for "The Suicide Squad," which offered moviegoers a vastly different take on the titular team compared to director David Ayer's "Suicide Squad" from 2016. Though it struggled financially, the film was a critical hit, resulting in a spinoff series for Gunn to helm that stars one of its breakout fresh faces: Peacemaker.
Played by longtime WWE mainstay John Cena, Christopher "Peacemaker" Smith came across as the most oblivious, egotistical member of the new Suicide Squad lineup. Nevertheless, by the time the credits rolled on his HBO Max series, fans had grown to adore him. Throughout his misadventures with Clemson Murn (Chukwudi Iwuji), Emilia Harcourt (Jennifer Holland), and the rest of Amanda Waller's (Viola Davis) secret team, he confronted his personal demons, made progress in overcoming his childhood trauma, and even saved the world from an alien invasion. Still, his story isn't over yet.
"Peacemaker" Season 2 is already on its way down the pipeline, and fans can't wait to find out what's next for the titular anti-hero. Sadly for them, John Cena is keeping his lips locked on the subject for one hilarious reason.
Cena knows next to nothing about Peacemaker Season 2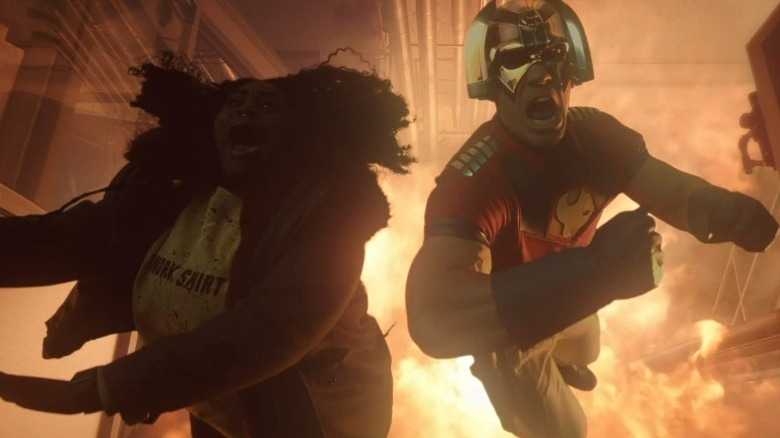 Warner Bros./HBO Max
The finale of "Peacemaker" Season 1 arrived on HBO Max on February 17, 2022, bringing with it no shortage of action, drama, and some legitimately shocking cameos that strengthened its ties to the wider DCEU. Nevertheless, DC fans didn't dwell on it for a moment before they started speculating on what Season 2 could entail. Naturally, this has put John Cena on the hot seat as people try to get even the slightest morsel of information out of him. The only problem is that he's just as clueless about the next chapter in Peacemaker's story as everyone else is.
"I'm not responsible for any of those choices. I don't write the thing. You gotta talk to the madman named James Gunn for that," Cena said in an interview with Yahoo! Entertainment, going on to praise James Gunn for his storytelling ability and citing him as the go-to source for "Peacemaker" Season 2 info. "I think he's very clever in everything he does, and he doesn't waste a sentence...We can talk ourselves in circles about what's gonna happen on Season 2, but it's really up to just one guy."
Considering how recently the second batch of "Peacemaker" episodes received a green light, it'll likely be a while before we learn the specifics about it. As it turns out, despite being the star of the show, John Cena is apparently in a similar position.