The Criminal Minds Episodes You Probably Didn't Know Joe Mantegna Directed
As far as crime procedurals go, CBS' 15 seasons of "Criminal Minds" will forever be remembered as some of the best of the TV genre. The agents working for Quantico's Behavior Analysis Unit (BAU) are just as interesting to watch as the intense crimes they fight, as they deal with the personal and professional turmoils that come with the job. Each BAU member draws viewers in for different reasons, including Senior Agent David Rossi with his love of fine wine, dad jokes, and ensuring every investigation is well done. 
Rossi joined the BAU in Season 3 of "Criminal Minds," first as an outsider with an arrogant attitude. It was later discovered that he is a founder of BAU and is a famous crime writer who returns to the job with the new members of the team. He takes some warming up but eventually becomes one of the most beloved characters thanks to his wealth of knowledge and unwavering loyalty. Legendary actor Joe Mantegna portrayed Rossi from 2007 until the series finale in 2020, making his first appearance in the Season 3 episode "About Face." He's one of the "Criminal Minds" stars with one of the highest episode counts in terms of appearances, showing up in over 250 episodes as Rossi (via IMDb). However, Mantegna has experience working behind the camera on the CBS series, too.
Joe Mantegna directed nine episodes of Criminal Minds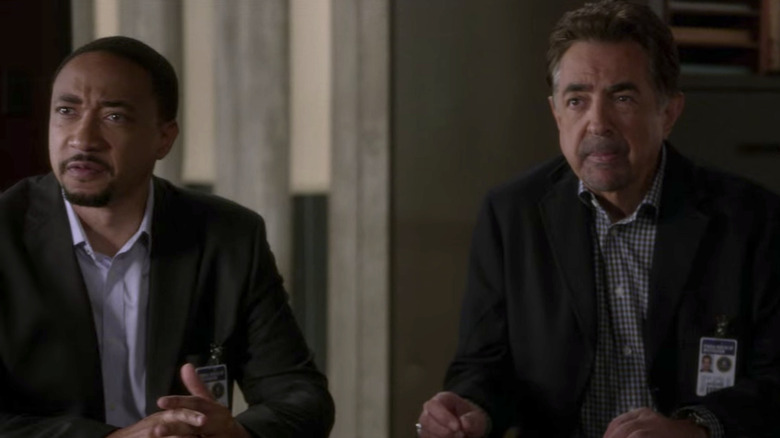 CBS
Mantegna may have spent a majority of his time on "Criminal Minds" playing a key member of the BAU, but he also was an important influence on the series as an episode director. Starting in 2014, he directed nine episodes for CBS, according to his IMDb profile. The first episode he helmed was Season 9's "The Road Home." From that point onward, he directed two episodes a year every year between 2015 and 2018, with his last episode titled "Luke," which aired early in Season 14. Mantegna has other directing credits outside of the CBS drama too, including the 2000 film "Lakeboat" and a few episodes of the 2011 series "QuickBites." He's also a decorated producer but never was listed as producing for "Criminal Minds."
Every episode directed by Mantegna tackles a new case, but he does seem to enjoy exploring the internal turmoil experienced by Rossi that's separate from his job. "The Road Home" features Rossi embarking on a different mission than his BAU colleagues to help his Vietnam War comrade Harrison Scott (Meshach Taylor) fix familial relationships after finding out he's dying of cancer.
The Mantegna-direct Season 10 episode "Anonymous" centers around a serial killer, but the subplot is all about Rossi's friendship with Scott. He is forced to cancel last-minute plans with his daughter when he learns that Scott is, and he must deal with the wave of emotions as a result of the news. The episode is even more heartfelt because Taylor died of cancer in 2014. Mantegna's episode was dedicated to his real-life friend and officially wrapped up Scott's story on "Criminal Minds" (via Entertainment Weekly).