Tom Holland Reveals A Hilarious Costume Detail No One Noticed In Spider-Man: No Way Home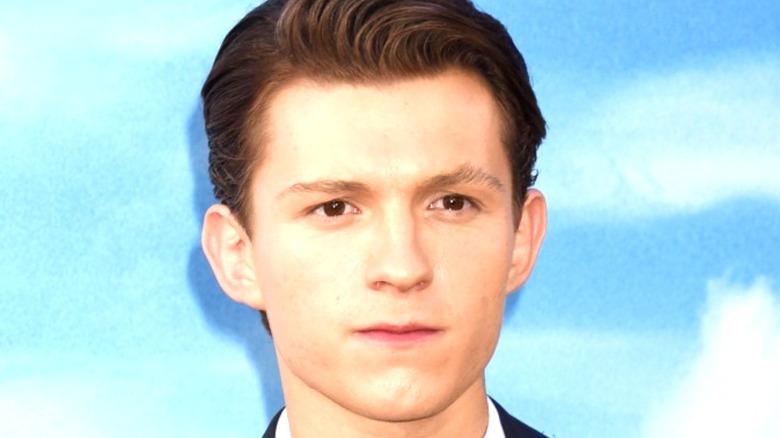 Ga Fullner/Shutterstock
"Spider-Man: No Way Home" gives comic book fans something they've never seen before in a live-action superhero movie: three versions of the same character, all played by different actors, coming together to take down some bad guys. In the case of "No Way Home," the bad guys in question are all villains from Sony's previous "Spider-Man" movies, including Doc Ock (Alfred Molina), Green Goblin (Willem Dafoe), Electro (Jamie Foxx), Sandman (Thomas Haden Church), and The Lizard (Rhys Ifans). Unable to defeat all those villains on his own, the film sees the MCU's Peter Parker (Tom Holland) forced to team up with two variants of himself from alternate realities (played by Tobey Maguire and Andrew Garfield).
That's an undeniably great premise for a superhero movie, but one of the joys of watching "Spider-Man: No Way Home" is seeing how the film actually digs deep into the relationship that exists between Maguire, Garfield, and Holland's Peter Parkers. The three characters bond over their shared traumas, fears, and insecurities, and both Garfield and Maguire's Spider-Men play instrumental roles in stopping Holland's Peter from making the same mistakes they did.
That said, while "No Way Home" is primarily concerned with addressing the similarities between Sony's three live-action Spider-Men, Holland does want fans to know about a costume detail that separates one member of the Spidey trio from the other two.
One of No Way Home's stars gets some extra support from their Spider-Man suit
During an appearance on "Late Night with Seth Meyers," Tom Holland opened up about what it was like working with Andrew Garfield and Tobey Maguire on "Spider-Man: No Way Home." While Holland makes it clear just how much he enjoyed working with his fellow "Spider-Man" actors too, he does reveal in his conversation with Meyers one Easter egg that not even the most keen-eyed of Marvel fans may have spotted in the film. In specific, Holland wants viewers to know that one of the three Peter Parker actors in "No Way Home" wears a Spider-Man costume with a fake butt in it.
"I'll give you a spoiler, and I'm not gonna tell you who, but one of us has a fake a** in their suit," Holland cheekily revealed. The "Spider-Man" actor doesn't go so far in the interview as to name which of the film's stars wears the costume in question, but he does tell viewers that they can "figure out" the person's identity for themselves.
Notably, Holland does imply during the interview that it isn't him who wears the fake butt in "No Way Home." Recalling the moment when he figured out the secret to one of his castmate's Spider-Man costumes, Holland said, "I remember being on set and being like, 'Wow. Oh, hang on a minute. Nah, that's not real.'" Taking that into account, one can probably assume that it's either Garfield or Maguire who wears the suit that comes with a little extra support in "No Way Home."
Marvel fans can feel free to use that information however they see fit.