Barry Will Be Very Different When He Returns To The Flash, Grant Gustin Says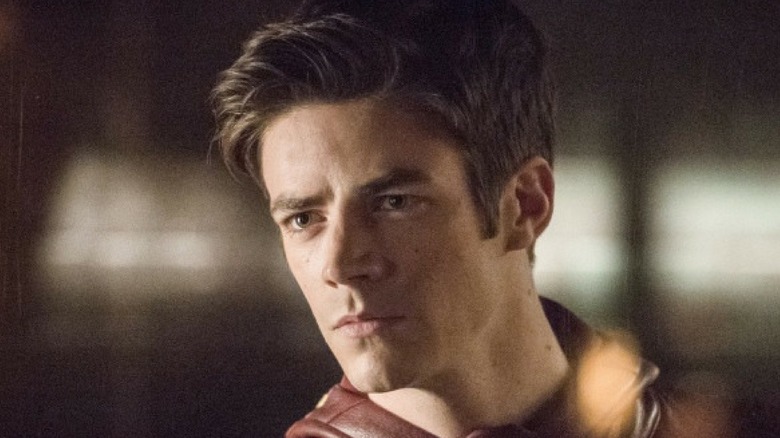 Barry will make a return to Team Flash in season four, but he won't be the same. Grant Gustin and Candice Patton revealed in a recent interview with Entertainment Weekly that the hero will be deeply changed after entering the Speed Force in the season three finale, and his relationship with Iris will suffer as well.
The show will pick up six months after the season three finale. Team Flash has been trying to get Barry back the whole time, but they'll be forced to step up their efforts when the robotic warrior Samuroid attacks Central City. While they will eventually bring the hero back into the fold, they may be getting more than they bargained for.
"The way I see it is, time is non-linear and everything is happening at once in the Speed Force," Gustin said. "In some ways, he's had an awakening and he's had a rebirth. Our first episode is called 'Reborn,' and it is kind of a rebirth for Barry, but he's kind of scrambled too, because he's experienced so much so quick over the course of six months, even though for him it was an eternity. He's not Barry when we see him for the first time."
This, along with Barry's decision to run into the Speed Force in the first place, will put a strain on his relationship with Iris, who has taken over Team Flash during Barry's time away. "Obviously they had a wedding planned," Patton said. "They did defeat Savitar and thought they were going to live happily ever after, but at the last minute Barry decided to go into the Speed Force, so she's really, really going through it."
Patton said that Iris chooses to be strong for as long as she can, listening to Barry's advice that she keeps running. She uses this mantra to push her to lead Team Flash, something which Patton says is "a cool new role for her to play." However, Barry's departure still eats at her, and Patton says it will lead to some "trust issues" for the pair when he returns.
"He left and didn't really ask her or discuss it with her," she said. "He just kind of does things and comes back and says, 'I hope you're okay with that.' They're going to have to really work on their relationship before they actually tie the knot– if and when he comes out. There's going to be some work that needs to be done before they actually put rings on each other's fingers."
The Flash doesn't return to The CW until Oct. 10, so it could be a while before we see the state Barry will be in when he finally does return to the team. For now, see how the cast of the show should really look based on the comics.