The One Photo That Has The Walking Dead Fans Buzzing About Rick's Return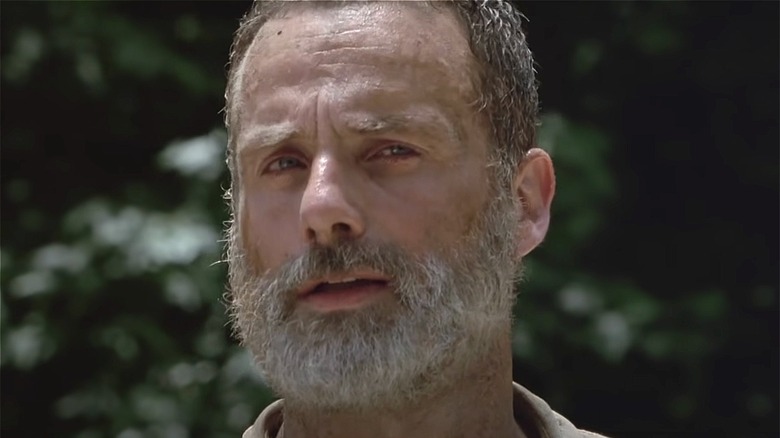 AMC/ YouTube
It looks as though there is a new reason to believe that Rick Grimes may return to "The Walking Dead."
In 2019, the show's 9th season famously showed Rick (Andrew Lincoln) seemingly meeting his maker while destroying a bridge to prevent an assault of walkers. Unbeknownst to his companions, however, Rick was mysteriously rescued and taken away on a helicopter. One season later, Michonne (Danai Gurira) stumbled onto a clue that seemingly confirmed Rick's survival. She has been searching ever since, though so far, nobody has managed to locate the former series star. Even now, in the midst of the series' 11th and final season, fans still don't have an exact idea of what Rick is up to.
However, that may change soon. A recent picture featuring Andrew Lincoln and Norman Reedus on a fan's Instagram is giving viewers hope that Lincoln may return to reprise the character in the coming episodes. Granted, Rick's official fate is still up in the air, but nonetheless, the photo has "The Walking Dead" fans buzzing about Rick's return.
Is Rick slated to appear in Season 11?
The photo itself comes courtesy of @kingsuh1018 on Instagram, who posted a pic on February 20 featuring himself, Andrew Lincoln, and Norman Reedus together. Lincoln and Reedus had apparently just finished dining at the fan's sushi restaurant in Atlanta, Georgia. Coincidentally, this is also where the final season of "The Walking Dead" is being filmed. So, while AMC has not confirmed Rick's return, that hasn't stopped fans from speculating that he might make an appearance in the final season. 
"OMG it will be so great if they brought him back for the season finale," commented Instagram user linda.briscoe.1253. Another fan wrote in to say, "This is awesome... That would be so cool to see him back if only as a flashback." 
However, there is one big clue that indicates that Rick might not be destined for a Season 11 return. The teaser trailer for the upcoming "Walking Dead" movies promises, "Rick Grimes returns only in theaters," indicating that the character won't reappear until the film series. On the flip side, that proclamation was made in 2019, before the COVID-19 pandemic caused some significant changes for a number of film and TV projects. There haven't been many updates about the Rick-centric films recently, so it's possible that AMC has since changed their tune and decided to bring Rick back for the final season of the series, after all. But then there's also the possibility that the movies themselves are merely filming at the same time and the same place as the series. Or perhaps Lincoln was merely in Atlanta unofficially visiting his old work colleagues. 
In short, until fans know more about either the movies or Season 11, they can't be sure of anything involving Rick Grimes.