The Big Problem Fans Have With Raising Dion Season 2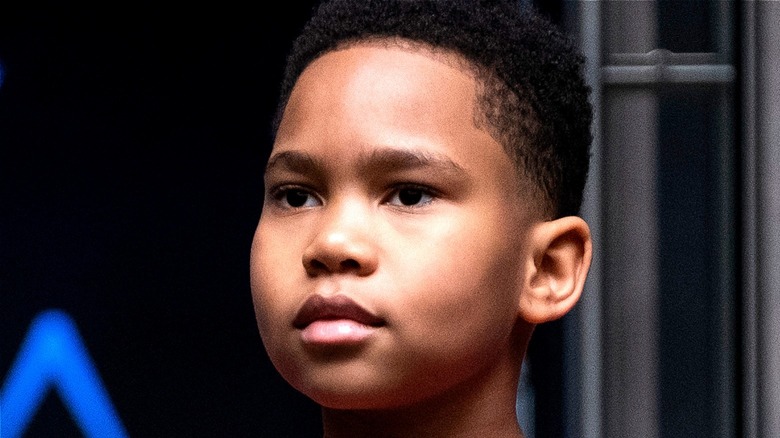 Erika Doss/Netflix
Raising a child as a single parent is hard enough, but when you add in a burgeoning skillset of fantastic powers, it creates an entirely different facet to childhood that few are capable of dealing with. Inspired by the comic book from Dennis Liu, "Raising Dion" follows the young Dion (Ja'Siah Young) who develops varied and incredibly potent abilities like teleportation, energy blasts, and greatly enhanced speed, strength, and reflexes during a mysterious aurora event that bestows several other individuals across the globe amazing superpowers, which tends to create both heroes and villains alike.
Currently in Season 2, "Raising Dion" stars Young, Alisha Wainwright, Michael B. Jordan, and Jason Ritter. Season 2 further expanded on Dion's powers and elaborated about the nature of the aurora and that of the series antagonist, a being known as The Crooked Man. It also dealt with the nature of redemption, considering a former good guy-turned-villain from the first season's return. Now that Season 2 of the Netflix show has been completed, what is the major issue some fans have had?
Fans thought Season 2 of Raising Dion was cheesy
The fan chatter regarding Season 2 of "Raising Dion" has caused several different threads on the popular Reddit website to pop up. Reddit user u/mookerific started one thread by saying, "Season 2 was an absurd mess. The concepts were decent but the show struggled between being a Nickelodeon-level kids show, plausibly intelligent sci-fi, and a soft exploration of Black culture and aesthetic — each laudable things on their own, but none of which was ever woven together well." u/Rae_Regenbogen replied and said that they enjoyed it, but it was ultimately a "cheese fest." 
In a separate thread, Reddit user Aware_Share_4099 stated, "This season was 'fine'. I watched it through but was definitely not on the edge of my seat. The cheesy plant zombies felt like an appeal to younger kids while the emphasized romance between Nicole and Tevin felt like an appeal to adults while I was left in the middle thinking, huh? The characters were great but the plot sucked and was not believable, even for a science fiction show." Reddit user Vonboi70 responded by saying that the quality has diminished, and it feels like a superhero show now. It seems though that most fans didn't particularly enjoy Season 2 of "Raising Dion," which is reflected in the audience scores on Rotten Tomatoes, which has a 70% score for Season 1, and a 37% for Season 2.