Robin Williams' Highest Grossing Movie Might Surprise You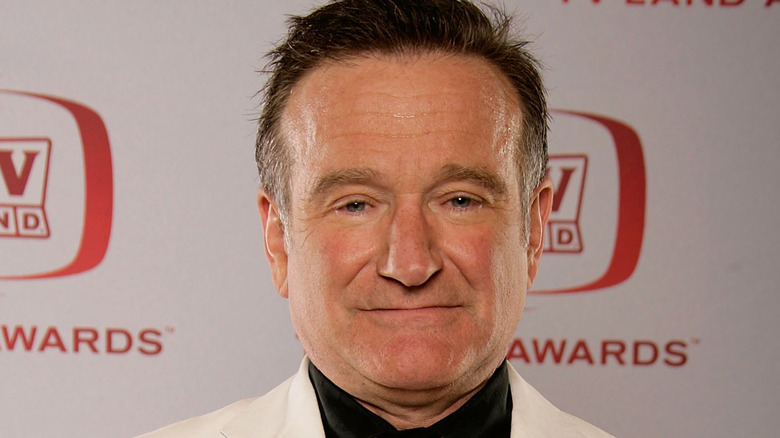 Todd Williamson/Getty Images
In the entertainment world, labels like "legend" and "icon" tend to get tossed around when describing its most noteworthy talents. However, for someone like Robin Williams, such terms don't quite do him justice. For decades, Williams proved himself a master at manipulating emotion, making us laugh, cry, and everything in between. Whether he was performing one of his classic mile-a-minute standup comedy routines or putting out unforgettable performances in the likes of "Aladdin," "Jumanji," or "Dead Poet's Society," he always knew how to leave a lasting impression on those fortunate enough to see him work his magic.
Sadly, Robin Williams' life and career both came to an end in August of 2014 via suicide. Later reports, as well as a particularly heartbreaking article by his then-wife Susan Schneider, revealed that he'd been diagnosed with Lewy body dementia: a disease that diminishes cognitive and physical function. As word of his untimely death and diagnosis spread, Williams' countless fans and admirers came together to not only mourn but honor him and his legacy in ways big and small. As one could imagine, an excellent way to do so was to dig through his extensive backlog of film and television credits to watch him do what he did best.
Throughout his impressive career, Robin Williams took center stage in several famous projects — many of which raked in loads of cash in their time. Here's the film in his vast filmography that made the most of the bunch.
Night at the Museum was serious moneymaker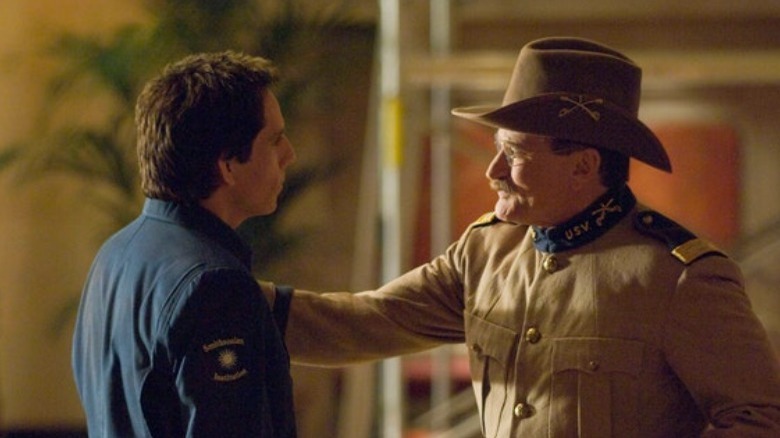 20th Century Studios
"Night at the Museum" by director Shawn Levy hit the big screen in 2006, giving moviegoers a look at what really happens at the museum after-hours. As new nightshift guard Larry Daley (Ben Stiller) soon learns, things get very hectic very quickly. The museum's many display pieces come to life, forcing him to contend with a living T-Rex skeleton, a mischievous little monkey (Crystal), and a chewing gum-loving Easter Island Head (Brad Garrett), among other lively entities. The film took in $579,446,407 by the time it left theaters, which is the most any movie featuring Robin Williams ever made (via The Numbers).
In "Night at the Museum," and its two sequels — "Night at the Museum: Battle of the Smithsonian" and "Night at the Museum: Secret of the Tomb" — Williams confidently portrayed a wax figure of former United States President Theodore Roosevelt. "He was put in power by people who thought he could never do any damage. Then bang! President McKinley was assassinated, and he's one of the great reformers of the early 20th century," Williams told Boston.com in 2006, showcasing his appreciation for the historical figure. In fact, a few years later, he even expressed his interest in playing a non-wax version of Roosevelt in a more serious project (via Cinemablend). 
Unfortunately, Williams never had the chance to helm a Teddy Roosevelt biopic, even though he clearly had what it took. We'll just have to settle for his performances in the cash-cow "Night at the Museum" and its two continuations. Although, that's hardly settling at all.
If you or anyone you know is having suicidal thoughts, please call the National Suicide Prevention Lifeline​ at​ 1-800-273-TALK (8255)​.