Who Voices KVN In Final Space?
"Final Space" ended its run in March 2021, capping off an impressive three-season arc of one of the more interesting adult animated series in recent memory. Beginning its life on TBS, the series shifted to Adult Swim for its second and third seasons. A unique premise unlike much else existing in the medium, "Final Space" is about an astronaut named Gary Goodspeed (Olan Rogers) on a mission to save the universe from an existential threat. Throughout the run of the show, Gary meets numerous alien entities and goes on a quest to uncover the secrets of final space, which is the literal end of outer space.
Much of what makes "Final Space" a successful series stems from its eclectic cast of recurring characters. These characters are voiced by notable actors such as David Tennant, Steven Yeun, and Tom Kenny, among many others. One of the more notable recurring characters in the series is KVN — an energetic and friendly robot companion designed to keep Gary company during a five-year prison sentence. KVN from "Final Space" likely sounds familiar to many fans of the series. That is because he is voiced by an actor with numerous comedy roles, both voiceover and live-action alike.
Fred Armisen is a comedy icon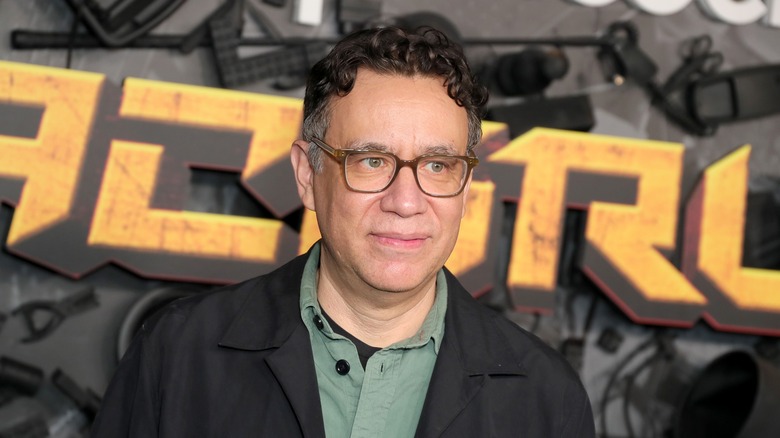 Leon Bennett/Getty Images
KVN in "Final Space" is voiced by none other than 55-year-old Fred Armisen, a writer, actor, comedian, and musician. A definitive comedy voice of the last two decades, Armisen has had a hand in numerous modern comedic masterpieces in film and television. Some of his most notable projects to date include his run as a cast member on "Saturday Night Live," as well as his hit sketch comedy series "Portlandia," which he created alongside Sleater-Kinney band member Carrie Brownstein. Over the course of its run, "Portlandia" was nominated for 22 Emmys, winning 4 (via IMDb). Other notable recent credits for Armisen include roles in "Brooklyn Nine-Nine," "Schmigadoon!", and "Documentary Now!", the last of which he also co-created.
Beyond Armisen's numerous live-action credits, he has many voiceover credits that make him a perfect fit for the role of KVN in "Final Space." These include his recurring role as Elliot Birch in Netflix's "Big Mouth," as well as "Archer," "The LEGO Ninjago Movie," and a one-off voice role in "Star Wars Resistance." Moreover, he provided his vocal chops to other projects on Adult Swim prior to "Final Space," including several roles in "Robot Chicken," voicing notable characters such as Archie Andrews and Maxwell Lord. Now, with his role as KVN in "Final Space" in his rearview, all eyes are on Armisen to see where he will take his unique voice and even more unique brand of humor next.