American Horror Story Season 7 Title Revealed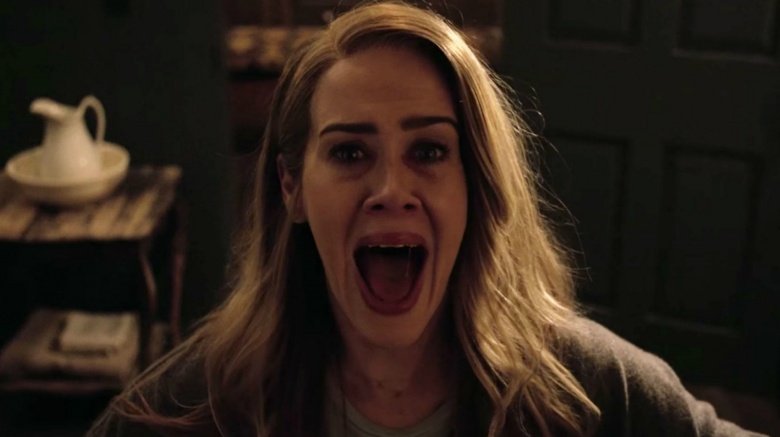 At long last, season seven of American Horror Story has a title.
The upcoming season of the Ryan Murphy and Brad Falchuk-created horror anthology is called American Horror Story: Cult. 
Murphy revealed the news during San Diego Comic-Con, though not at an AHS panel. The series' creatives projected an all-new teaser on the water behind the San Diego Convention Center Thursday night. At the end of the clip, which was posted on Twitter, a website link flashes. Viewers were encouraged to grab their smartphones, tablets, or laptops and visit AHS7.com, where, after viewing yet another video, the official title was unveiled.
The reveal comes after much anticipation and a ton of teasing on Murphy's part. In the past, Murphy has used social media platforms, namely Twitter and Instagram, to hint at what the upcoming season would be all about. 
Beyond the basic premise, and now the title, not much is known about American Horror Story: Cult. It was previously announced that the season's action will kick off on election night and that the focus will be on the political climate in America in the time that follows Donald Trump being chosen as President Elect. The current U.S. president and his former opponent won't be central characters, however, as they'll only be shown "on television" and won't be portrayed by actors. 
Murphy's main goal for the upcoming season is to tell a story that considers all viewpoints. "What I'm interested in doing is not just the obvious, single-minded point of view but rather express all sides of that equation," he explained in a past interview with The Hollywood Reporter. "What needs to happen in our country now is for people to listen to each other—we may not always agree with each other and we may be horrified by what the other side is doing but we have to move toward understanding."
American Horror Story: Cult will star Sarah Paulson, Evan Peters, Billie Lourd, Billy Eichner, Leslie Grossman, Colton Haynes, Adina Porter, Cheyenne Jackson, and Lena Dunham.
A release date for AHS season 7 hasn't yet been set, so until then, find out what connects all the seasons of American Horror Story together.