How Oscar Isaac Really Felt About The Star Wars: The Last Jedi Backlash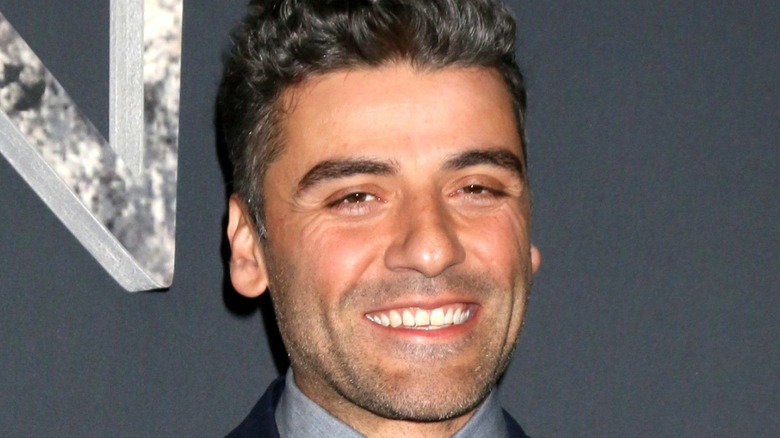 Kathy Hutchins/Shutterstock
The sequel trilogy to the original "Star Wars" franchise is the conclusion to the story of the Skywalker saga. The first two films, 2015's "Star Wars: The Force Awakens" and 2017's "Star Wars: The Last Jedi," received considerably better reviews than the last, "Star Wars: The Rise of Skywalker." In fact, the 2019 film is the second worst-reviewed "Star Wars" movie of all time (via Rotten Tomatoes). However, it wasn't the only movie in the trilogy to receive a fair amount of backlash.
Although most critics were satisfied with "The Last Jedi," director Rian Johnson received some heavy criticism from devoted "Star Wars" fans. Much of it surrounded decisions Johnson made in regards to the continued story and, particularly, the development of Luke Skywalker (Mark Hamill) himself. Johnson even took to Twitter back in December of 2019 to continue defending his decisions for the character (via Los Angeles Times). Johnson would speak on his choices during interviews, noting that he believes it's best to challenge fans, rather than merely trying to appease their desires (via IndieWire).
Johnson was far from the only person involved in the movie to be asked about the backlash. Much of the film's cast, including Poe Dameron actor Oscar Isaac, were given the opportunity to respond at some point or another. Here's how Isaac really felt about the "Star Wars: The Last Jedi" backlash.
Oscar Isaac hopes fans will create their own Star Wars story
During an interview with Yahoo! Entertainment prior to the release of "Star Wars: The Rise of Skywalker," Golden Globe-winning actor and Poe Dameron himself, Oscar Isaac, was asked to give his thoughts and feelings surrounding the criticism of "Star Wars: The Last Jedi." And it appears that the actor is choosing to see the cup half-full in this instance. Isaac said, "What I think is really special about the whole thing ... is that it's often a great inspiration to do your own stuff." 
Obviously, Isaac acknowledged that producing a movie on the scale of a "Star Wars" entry would be "a bit of a tough challenge" for your average fan. However, he did clarify, "at least from a narrative standpoint maybe you make your own thing and then show what you would want. Make what you would want to see."
Isaac has noted how challenging it is to conclude a series as massive as "Star Wars," and so it's certainly probable that it was an immensely difficult task for the entire crew. With the Skywalker saga now supposedly over, it will be interesting to see if or when Isaac's Poe or any of the sequel trilogy characters will show up in future projects.