Kevin Feige Reveals His True Feelings On Disney's New CEO Bob Chapek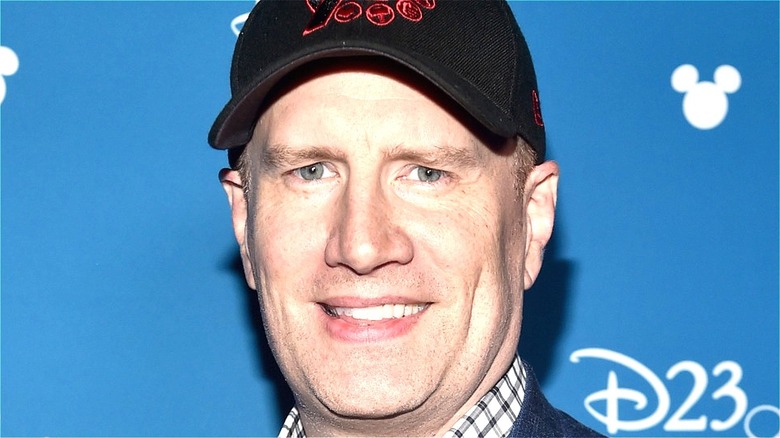 Alberto E. Rodriguez/Getty
In February 2020, the leadership of the Walt Disney Company changed hands. Bob Chapek, who had previously spent three decades at the company holding positions such as Chairman of Disney Parks, Experiences and Products (via The Walt Disney Company), succeeded previous CEO Bob Iger (via Inside the Magic). Being the head of the media behemoth as COVID-19 started becoming a factor did not endear Chapek to Disney fans; the new president reportedly laid off staff but reinstated executive salaries to pre-pandemic levels late that year (via The Hill).
In fact, a Change.org petition to fire Chapek was started in 2021 and has gotten over 100,000 signatures — and it's still gaining traction. The petition cites budget cuts, a misplaced focus on Disney+, and general lower-quality experiences at Disney parks as reasons the CEO has to go. Chapek is up for reelection to the board of directors in March by Disney shareholders (via New York Post), and fans on Reddit have started a campaign to oust him and get someone different in the CEO role.
However, Chapek apparently has some powerful support. Kevin Feige, Marvel's chief creative officer, may be in his corner — even though one of the controversies that happened under Chapek's watch had to do with a lawsuit that involved Marvel, and some say the two are at odds about the future of the Marvel Cinematic Universe.
Feige has positive things to say — but rumors say the two may be feuding about the MCU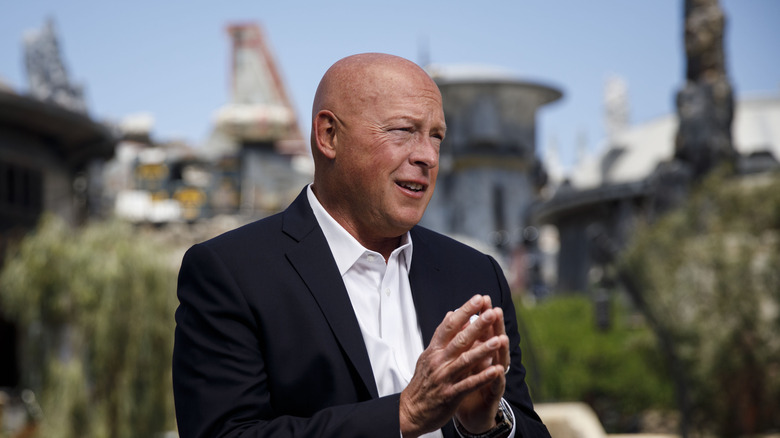 Bloomberg/Getty Images
We're talking, of course, about Scarlett Johansson's attempt to sue Disney over lost income stemming from the release of "Black Widow" on Disney+. When news of the lawsuit came out in mid-2021, a Disney spokesperson criticized the actor's "callous disregard" for the effects of the pandemic (via Deadline). While Kevin Feige hasn't commented publicly on the litigation, which was later settled, he has said positive things about Bob Chapek since. "I think he is a creative guy, a nice guy, a real guy," Feige told The Hollywood Reporter, noting that when viewing early cuts of films, the executive has "just enough of an opinion to give good feedback."
Hopefully, this level of respect gives the two men some common ground to stand after media outlets began reporting that Chapek and Feige are at odds about a vision for Marvel's future. One of Chapek's missteps took place when he called "Shang-Chi and the Legend of the Ten Rings" "an interesting experiment," causing actor Simu Liu to fire back at him in a tweet (via Insider). Later in 2021, not after The Hollywood Reporter reported Feige's words about Chapek, the YouTube account Overlord DVD quoted "a high-level source" in saying that Chapek was unhappy about "the whole wokeness thing" and said the two were basically battling it out over changes to the MCU meant to make it more inclusive. Time will tell which one prevails, if such a conflict actually exists.