Here's When A Game Of Thrones Spinoff Series Could Air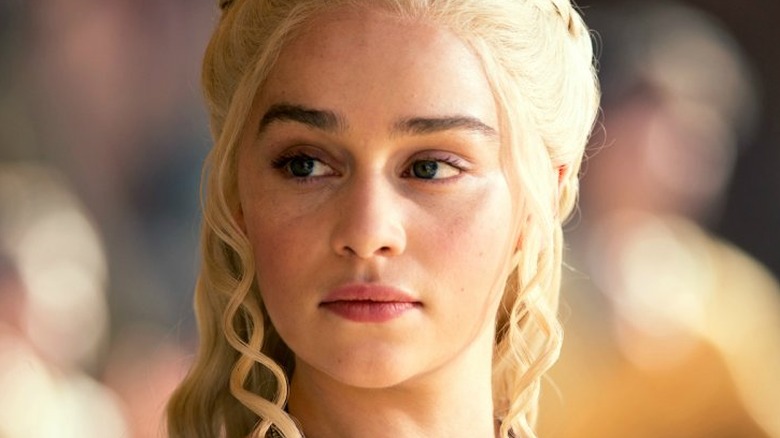 HBO
In the game of thrones, you either wait patiently, or you get disappointed. And when it comes to a potential Game of Thrones spinoff series, you'd do best to stick things out with a smile.
During the Television Critics Association's summer press tour, HBO programming president Casey Bloys stated that a Game of Thrones spinoff wouldn't air until at least a year after the fantasy series wraps its final season. That timeframe comes from a decision not to steal any attention away from the closing season of Game of Thrones, which fans are already looking forward to. 
"The number one priority in all of this is the final season of Game of Thrones. I don't want to do anything with a spinoff or anything that detracts or distracts from that," Bloys told reporters from The Hollywood Reporter, who were in attendance at the tour. "That season will happen, and my guess is it would be at least a year before you saw anything else. What I don't want is the attention to be drawn from the final season, which I think is going to be epic and amazing, and somehow have the distraction of a new Game of Thrones airing right after that. It's best to separate it and that's what we'll do."
Bloys previously told THR that his goal is to see at least one of the four proposed Game of Thrones spinoffs come to fruition. "We'll be lucky to get one that hits and we're hopeful and we'll see," he said.
A few months back, George R.R. Martin, the author of the books Game of Thrones is based on, clarified that any off-shoot series would be prequels rather than spinoffs. Martin also stated that he'd like everyone to stop referring to them as such (but clearly his request hasn't been entirely met). 
"What we're talking about are new stories set in the 'secondary universe' (to borrow Tolkien's term) of Westeros and the world beyond, the world I created for A Song of Ice and Fire. It is a world, and a pretty big one, and if there were eight million stories in the naked city back in the '50s, just think how many more there are in an entire world, and one with thousands of years of recorded history. None of these new shows will be 'spinning off' from Game of Thrones in the traditional sense," Martin said. "We are not talking Joey or AfterMASH or even Frazier or Lou Grant, where characters from one show continue on to another. So all of you who were hoping for the further adventures of Hot Pie are doomed to disappointment."
If one of the prequel series gets the green light with HBO, it would become the first instance in which the network has launched a spinoff from its preexisting program line-up. 
Game of Thrones is currently in its seventh season, with its eighth and final expected to air sometime in the next two years. Until we know more about the future of the beloved series, take a look at how the cast of Game of Thrones should really look.