The CSI: Miami Episode You Probably Didn't Know David Arquette Directed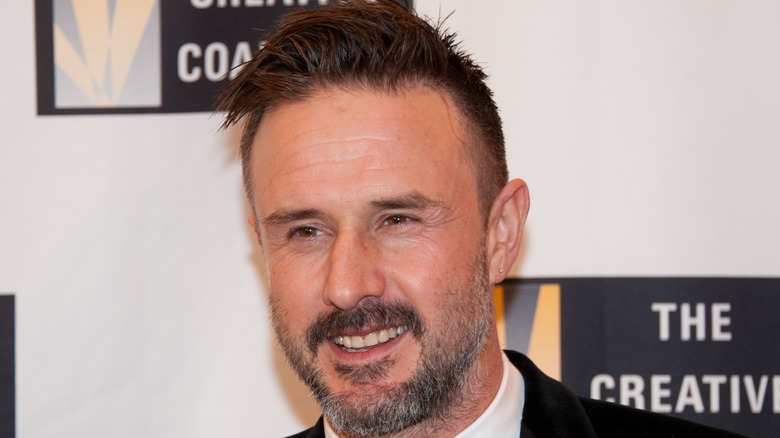 Rena Schild/Shutterstock
This year, David Arquette provided a very bloody swan song to his iconic character Dewey, returning to the "Scream" franchise in a genuinely epic outing. Of all of the various career moves he has undertaken over the years, his awkward appearance as the one switched-on lawman of the recurring crime scene of Woodsboro is one fans have learned to love. However, a quick scan through his back catalog of TV and film credits shows that he's dealt with more killers than just the iconic Ghostface.
In between his time avoiding the body count in Wes Craven's slasher franchise (even if he didn't do too well this time around) and attempting a wrestling career, Arquette also happened to helm an episode of beloved crime series "CSI: Miami." And not only did he direct the episode, but he also went as far as to add one of his family members into the mix.
David Arquette directed the CSI: Miami episode F-T-F
David Arquette directed Season 9, Episode 11 of "CSI: Miami": "F-T-F" (which stands for "face-to-face"). The episode sees Horatio (David Caruso) and his team of constantly crouching, crime-scene scoping specialists hit a major snag and have to re-create a murder after a fire hydrant washes away all the evidence. Upon review, it's discovered that the victims involved were part of an online love triangle that caused severe casualties.
The episode has double the Arquette power — it also includes the addition of Richmond Arquette, David's brother (via Rotten Tomatoes), who plays one of the murder victims in the episode. The family tree doesn't end with this installment of "CSI," of course. Their sister Patricia Arquette starred in "CSI: Cyber" as FBI Deputy Director Avery Ryan, who appeared in all 31 episodes of the spin-off series before it was unfortunately canceled in 2016.