The Chicago P.D. Star You Might Have Missed In A Criminal Minds Episode
The cast of "Chicago P.D." is filled with experienced, talented actors. Jason Beghe, who plays Sergeant Henry "Hank" Voight, is an accomplished actor whose career dates back to the 1980s and has appeared in the likes of "Melrose Place" and "Good Company." Sophia Bush was on the series for its first four seasons, and she was already quite well-known to audiences for her role in "One Tree Hill." And if you want to see more of Adam Ruzek actor Patrick John Flueger, you have plenty on your watchlist to get through. 
He's appeared in a number of movies and TV series over the years, well before landing the coveted role within the "One Chicago" universe. If you want to see a younger version of the actor, you can settle in for a binge-watch of "The 4400." And that's not even getting into his litany of one-off parts, including a role that's bound to interest fans who also happen to watch "Criminal Minds."
Flueger played Paul Westin on a 2013 episode of Criminal Minds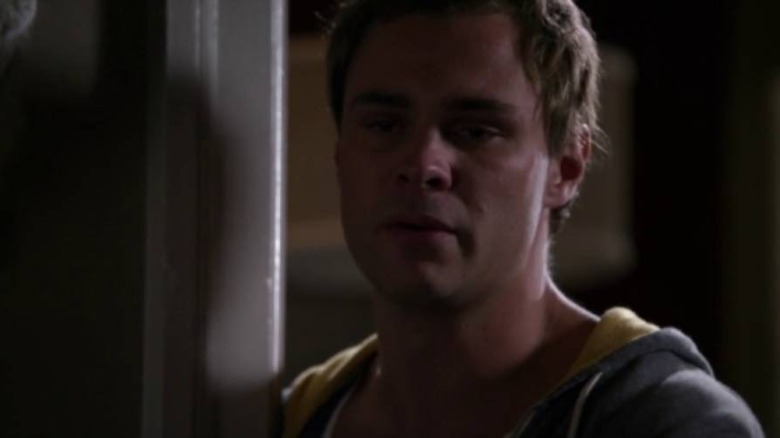 CBS
Patrick John Flueger plays an upstanding citizen of the law on "Chicago P.D." He's the one enforcing the law and ensuring the people of Chicago remain safe. However, he portrayed an entirely different kind of character on "Criminal Minds" as he was on the complete opposite side of the law in the Season 8 episode, "Broken."
Flueger plays serial killer Paul Westin, who lures people away from public spaces in order to seduce and then murder them. He then leaves behind his calling card — a broken watch set for 6:22. The Behavioral Analysis Unit is able to go off the abundance of evidence and track him down, ultimately putting him under arrest. 
A year after his "Criminal Minds" appearance, Patrick John Flueger landed the role of a lifetime as Adam Ruzek on "Chicago P.D." His character has proven to be a popular addition to the franchise, going on to show up in "Chicago Fire" and "Chicago Med," too. But if you want to see the actor like you've never seen him before on "One Chicago," then you need to go back and watch this unforgettable "Criminal Minds" episode.