The Yakuza's Guide To Babysitting - What We Know So Far
Recently, comedy anime shows have taken a major liking to stories about the Yakuza ... though this is not because the life of a Yakuza is one of excitement and action. Rather, manga authors and anime creators have been making light of the Yakuza lifestyle by taking the toughest Japanese mob members and placing them in domestic situations. We see this in the gag anime "Hinamatsuri," where a high-ranking Yakuza member becomes the guardian of a troublesome psychic girl from the future, as well as "The Way of the Househusband," a show about an ex-Yakuza boss who quits his life of crime to take care of the home while his wife is at work.
For a more heartfelt take on the trope, though,you may want to look no further than the upcoming anime "The Yakuza's Guide to Babysitting." Similarly to the previously mentioned examples, this show is also about a rough and tumble Yakuza member who gets softened by a newfound domestic responsibility. However, it seems to emphasize absurdity and comedy much less than its genre cohorts. With a fast-approaching release date, the anime might just be a new and exciting spin on a classic comedy premise.
So, without further ado, here is what we know so far about "The Yakuza's Guide to Babysitting."
Who are the characters in The Yakuza's Guide to Babysitting?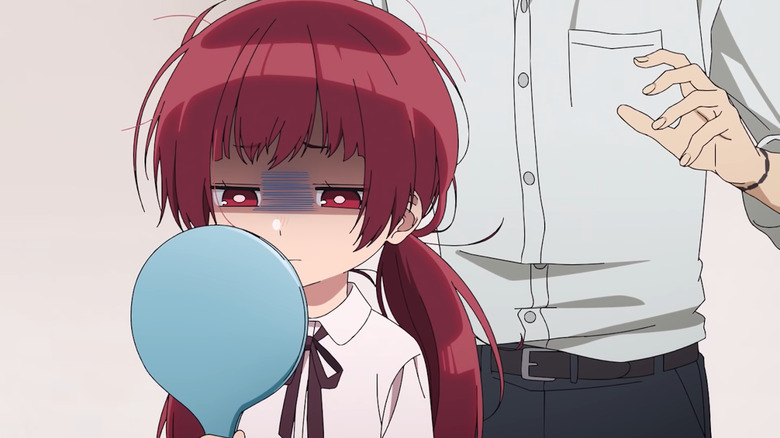 AniTV/YouTube
At the current moment, we don't know much about the extended cast of "The Yakuza's Guide to Babysitting." So far, any and all promotional material for the anime has only gone in depth regarding two characters. Granted, they also happen to be the most important characters in the series. The first is Toru Kirishima, a Yakuza with a major reputation for violence. He is voiced by voice actor Yoshimasa Hosoya. Opposite of Hosoya's Kirishima is another character — and of course, this is the infamous child who Kirishima must babysit. Her name is Yaeka Sakuragi, daughter of the ruthless Sakuragi crime family, and she is voiced by actress Misaki Watada.
Aside from Kirishima and Yaeka, the anime's promotional material does show off two other characters. One official image (via Anime News Network) shows the duo juxtaposed with another pairing, a police officer and another little girl. While very little is known about either of these characters, their designs indicate that they might act as foils for Kirishima and Yaeka. That, however, won't be discovered for certain until the anime's story gets going.
What is the plot of The Yakuza's Guide to Babysitting?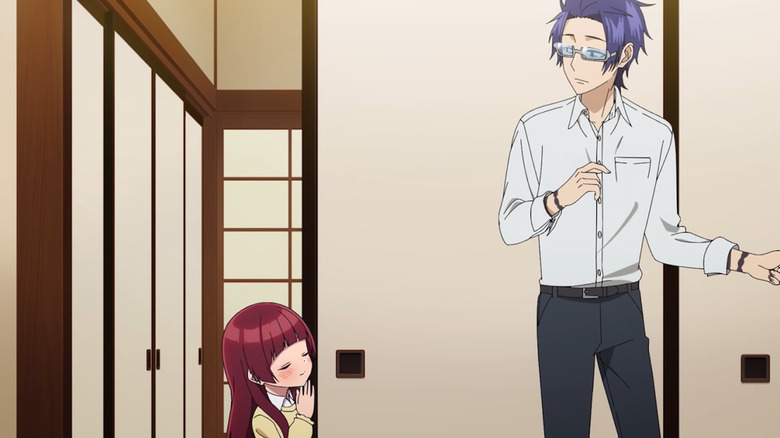 AniTV/YouTube
When we first meet Toru Kirishima, he is exactly what you'd expect a high-ranking Yakuza member to be. Tough and ruthless, Kirishima's proclivity for violence and bloodshed has earned him both a reputation and a nickname, "The Demon of Sakuragi." His violent nature is so out of control, in fact, that even his boss feels that Kirishima needs to be reined in. And thus, Kirishima's boss has assigned him a very special job — taking care of his daughter.
As you might expect, Kirishima is more used to brawls and beatdowns than babysitting. That being said, he's a loyal Yakuza henchman and he does his utmost to care for and protect Yaeka. As we see in the trailer, though their relationship is far from ideal, as the series progresses, the two will develop an affinity for each other. 
Whether Kirishima will be able to fully commit to his new life as a super nanny, however, will be seen when "The Yakuza's Guide to Babysitting" releases this year.