The Iconic Reese Witherspoon Rom-Com Christina Applegate Regrets Passing On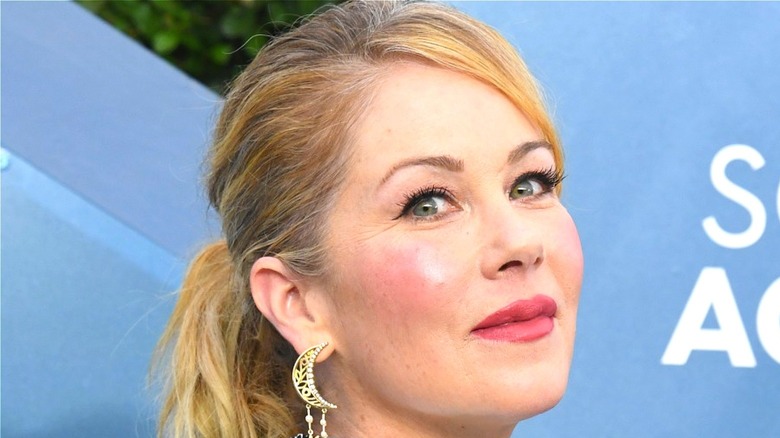 Jon Kopaloff/Getty
Former Channel 4 co-anchor and the best BFF material for just about any rom-com lead, Christina Applegate is a talent that makes anything she appears in just that little bit better. Whether as a leading lady or a scene-stealing supporting player, she has appeared in the likes of "Anchorman," "Bad Moms," and is set to mark her final season in Netflix's "Dead To Me." She's also known for her Emmy-winning guest-starring role as Rachel Green's (Jennifer Aniston) younger sister Amy on "Friends."
While Applegate did play a member of the Green family, she never actually shared the screen with any of them other than Rachel. Famously, Reese Witherspoon also made a notable guest appearance on the series as Rachel's other sister, Jill. And coincidentally, even though they never crossed paths on the show, Witherspoon and Applegate have a connection outside of Central Perk. As revealed in an interview with Entertainment Tonight, Applegate once had the chance to play an iconic role that Witherspoon would eventually make her own.
Applegate could have starred in Legally Blonde
Christina Applegate was actually considered for the role of Elle Woods in the 2001 comedy "Legally Blonde." The movie sees Harvard Law School welcoming a new student who goes against the grain. In a sea of suit-and-tie-wearing wannabe lawyers, Elle is a pink-obsessed, Barbie-looking young woman who also happens to have an uncanny knack for understanding the particularities of the law ("What? Like it's hard?"). During a 2015 red carpet interview with Entertainment Tonight, Applegate admitted that taking on the gig may have been smarter in retrospect, but the fear of being typecast held her back. 
Following her long stint as the comically vapid Kelly Bundy on the sitcom "Married... With Children," Applegate was reluctant to go for a film that would have seen her playing a similar type of character. As Applegate explained, "The script came along my way and it was right after I had just finished 'Married,' and it was, you know, a blonde who was, in that first script, dimwitted but ends up going to Harvard ... I got scared of kind of repeating myself."
In the end, Witherspoon took the part. Not only did the movie become a huge success, creating a franchise with a box-office haul of $267 million (via The Numbers), but Witherspoon received rave reviews and a Golden Globe nomination for her performance. "What a stupid move that was!" Applegate admitted as she looked back on the Elle Woods file she never opened. "That's okay, you know what? Reese deserved that, and she did a much better job than I ever could, so that's her life, that's her path."