This Is Where Downton Abbey Was Actually Filmed
Whether you're a die-hard fan, a casual viewer, or just happened to catch the episode of "Bob's Burgers" wherein Bob and Linda engage in some aggressive "Downton Abbey" LARPing, you're no doubt familiar with the fact that the abbey itself, as the title suggests, is an integral part of the narrative. The series, written and created by Julian Fellowes, is set in early 1900s England, and follows the lives of the wealthy Crawley family and their veritable village of servants as they navigate day-to-day life in the story's titular home. 
But where exactly is that home, and how did it come to represent both the immense class disparity and abundance of aristocratic wealth in turn of the century England? Like many a period piece, the series is filmed on location — in Hampshire, England to be exact — and the sprawling location around which the series revolves is a real-life castle with a history and narrative all its own.  
Highclere Castle has a history as rich and compelling as its fictional counterpart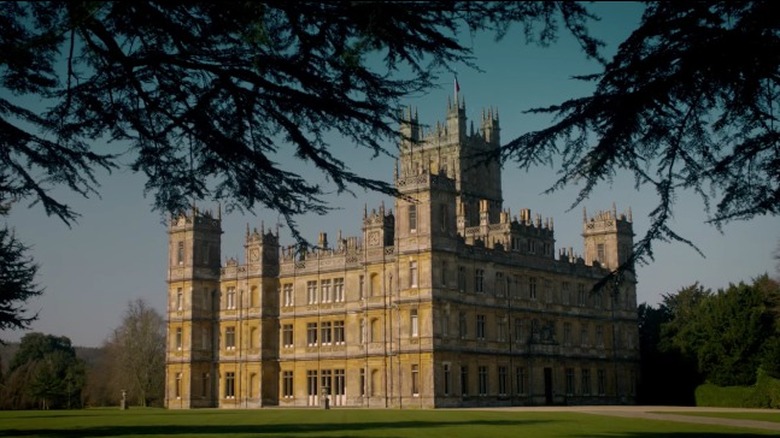 ITV/ Netflix
"Downton Abbey" is filmed at Highclere Castle, an immense construction that boasts over two-hundred rooms, sits on over one-thousand acres of land, and has a history dating back to the 8th century (via Brittanica). Originally gifted by the medieval monarchy to the Bishops of Winchester and adorned with a palace by Bishop William of Wykeham, the estate would pass through a number of hands — particularly during and after The Reformation, as Brittanica reports — before eventually coming under ownership of the Earls of Carnarvon. 
In 1679, Wykeham's castle was reimagined as Highclere Place House by Sir Robert Sawyer, and in 1842, the designer of the Houses of Parliament, Sir Charles Barry, turned the palace into the masterpiece that "Downton Abbey" audiences know it as today. Prior to gaining fame as the home of the fictional Crawleys, the palace served as both a hospital in WWI, and a safe haven for children who'd been forced to flee London in WWII (via Highclere Castle). 
Nowadays, fans of the series (or of architecture in general) can tour the estate, or they can stay overnight in either its Grotto or London Lodges. The current Countess of Carnarvon, Lady Fiona, runs a popular blog about daily life at Highclere (which she and her husband have been running since 2001), and has written a number of books on the subject for viewers interested in learning more about the series' storied location (via Lady Carnarvon).