Johnny Knoxville Will Make Another Jackass Under One Condition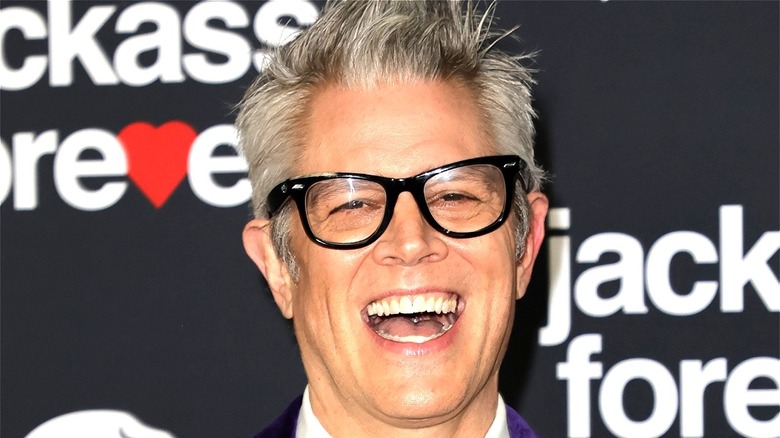 Kevin Winter/Getty
It's safe to say that the return of "Jackass" to the big screen was a resounding success. The infamous, often-injured stunt team reunited to create "Jackass: Forever," and despite the 12-year gap between "Jackass 3D" and "Forever," it seems like the public's opinion on the "Jackass" crew has only gotten better with age. The film was a critical and commercial success, dominating the box office on its opening weekend and currently holding down an impressive 86% on Rotten Tomatoes (a record high for the series as a whole).
As fun as it was to see "Jackass" icons like Steve-O, Chris Pontius, and Johnny Knoxville risk their health and safety for our amusement once again, the team definitely seems to be showing their age in the new film. Steve-O ends up in a neck brace after a relatively minor scene involving a trombone and a treadmill, and one particularly brutal stunt left Knoxville with a brain hemorrhage and several broken bones after he was flipped upside down by a bull. These injuries left many fans wondering whether or not "Jackass: Forever" would be the last film in the series, as the cast continues to age and the risk of injury becomes greater.
Still, Knoxville hasn't fully committed to stepping away from the franchise once and for all, a fact he made all too clear in his recent interview with Rolling Stone.
Knoxville will only make another Jackass if he doesn't have to perform any stunts
During the interview with Rolling Stone, Johnny Knoxville explained his hesitancy to return to "Jackass" in the future, saying that if he were to do so, he would most likely not perform any stunts himself. 
"I can't take anymore concussions," Knoxville stated. "I'd probably try to sit behind the camera with Jeff [Tremaine] and let some other people take over." He also revealed that part of the reason it took so long to make "Jackass: Forever" was his own desire to move on with his career, claiming that he didn't have "the 'Jackass' feeling," and didn't want to make another movie if his heart wasn't in it.
Knoxville went on to explain that, while the team did indeed film "Jackass: Forever" as though it might be their last project together, they're not ruling out the possibility of another film in the future. "We could make another one, sure. There are so many great ideas we never even got to film." At this point, it seems that Knoxville would only consider returning to the series if he could take on a role behind the camera and take fewer hits — and considering how brutal his injuries were in the latest film, who can really blame him?