The Demon Slayer: Entertainment District Arc Moment Fans Couldn't Help But Love
This article contains spoilers for "Demon Slayer: Kimetsu no Yaiba – Entertainment District Arc"
The "Entertainment District Arc" of "Demon Slayer" is officially at an end. Yesterday's episode, titled "No Matter How Many Lives," acts as the final chapter of the arc, as well as the de-facto finale of "Demon Slayer" Season 2 — and what a finale it was.
The episode picks up in the aftermath of Tanjiro and Tengen's battle with the Upper Rank Demon Gyutaro, and gives fans a glimpse of what the future holds for Tanjiro, Zenitsu, and Inosuke, as well as an in-depth look at Gyutaro's backstory. After six episodes of non-stop, nail-biting action, the finale is an abrupt change of pace that allows the series to slow down and really flex its writing prowess, especially in the heartbreaking backstory of Gyutaro and his sister Daki. As captivating as their story may be, that's not to say that every part of the episode is dark and serious.
Indeed, this shift in pace also allowed for some much needed levity to return to the series as well, and there's one hilarious moment early on in the episode that many fans absolutely loved.
The animators recreated a fan-favorite panel from the manga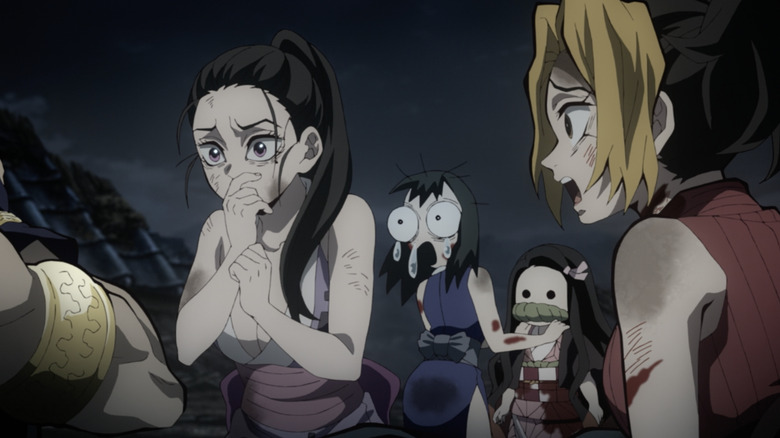 Fuji TV/Funimation
After his battle with Gyutaro, Tengen is gravely wounded and minutes from death, having been poisoned by one of Gyutaro's demon blood sickels. Nezuko arrives to save the day by burning the poison away from his body using her blood demon art, curing him completely. The thing is, when she burns away the poison, his entire body is engulfed in flames, leading to screams of terror from his three wives — and leading one of the wives (Suma) to wring Nezuko's neck in anger. 
When Tengen realizes the poison is gone, his wives are all understandably shocked, but none as much as Suma — who is so taken aback that she actually changes animation styles. Suma makes a hilariously comic face of shock that is pulled directly from the manga, and fans were incredibly happy to see the animators included the face despite how goofy it looks. "YESS!" wrote u/AddictShazi in their Reddit post about the scene. "I was so hoping Ufotable would keep Suma's expression from this panel. LMAO."
"The goofy faces are the best," u/aarreetuli agreed. "Ufotable is just so good." Another fan named u/KingParsley1234 wrote, "I laughed for a good 10 minutes when I first read it, and I laughed for another 10 minutes today when I watched it."
It's clear that fans loved this small detail, and the contrast between Suma's face and the highly detailed faces of the other two wives is nothing short of hysterical.