The Super Bowl's Epic Halftime Show Has The Whole World Buzzing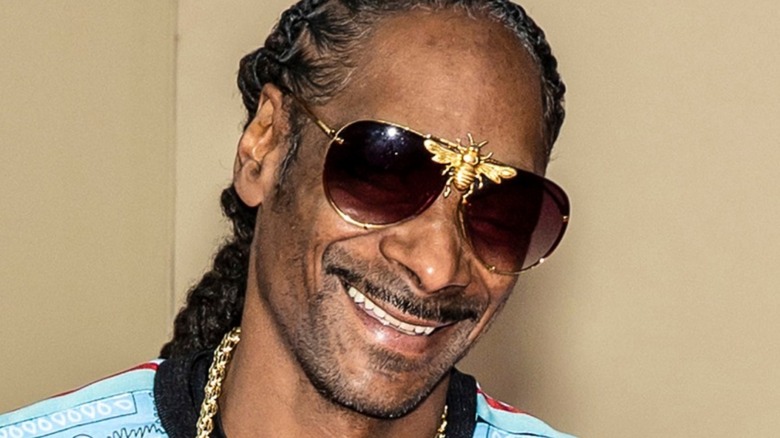 Sterling Munksgard & Ovidiu Hrubaru/Shutterstock
The Super Bowl has come, gone, and seemingly rocked our world with a halftime show for the ages. In between the Los Angeles Rams beating the Cincinnati Bengals, Twitter proceeded to lose themselves after Dr. Dre, Snoop Dogg, Eminem, Kendrick Lamar, and Mary J. Blige took to the field with a guest appearance from 50 Cent, who was just hanging out. It was a team effort that had the SoFi Stadium on its feet, amazed at a group of icons performing staple songs of their collective careers and bringing the whole house down. The show truly ramped up the energy and excitement for the event, getting fans pumped to watch the rest of the big game. 
Causing jaws to drop beyond the arena, fans around the world chimed in to credit the creative effort that was crammed with impressive reveals, incredible choreography, and more flair than mere mortals knew what to do with. As the show went on and hits like "The Next Episode," "Family Affair," and Eminem's Oscar-winning "Lose Yourself" arrived, those who sat at home were quick to make the bold call that this year's halftime show wasn't just a great one, but could easily be the best that's ever been. Here's how football fans, music fans, and celebrities all reacted to the jam-packed performance at 2022's Super Bowl halftime show. 
Icons assembled at this year's halftime show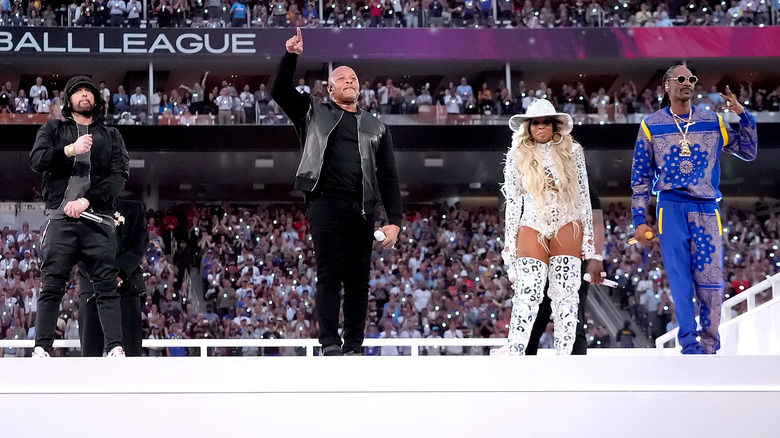 Kevin Mazur/Getty Images
Anticipation was already off the charts following the reveal of who would be picking up a mic to perform. Even Lady Gaga, who performed herself in 2017, was eager to see what was in-store, saying, "I'm so excited about the Super Bowl LVI halftime show. I feel like we're about to witness history." She wasn't the only one to think so. With so many big names in music coming together on the field, expectations were high, and Snoop Dogg, Kendrick Lamar, and everyone else delivered.
With the culmination of talent on display and bringing a predominantly '90s and early '00s jolt of nostalgia, fans were in awe of how well Dr. Dre and co. delivered hit after hit. Along with previously mentioned songs, Lamar performed "Alright," Mary J. Blige sang "No More Drama," and Dr. Dre and Snoop Dogg performed an updated version of Tupac Shakur's hit "California Love." The grouping of greats was quickly compared to another that produced super results. Fan @mikeschaffer took to Twitter with a shot of all the performers on stage, saying, "I'm telling my kids this is the Avengers." It's not a bad comparison, as all of them seemed like they "could do this all day."
Other fans were quick to give their verdict, with @Agent_Kibi tweeting, "I don't care what anybody says, this half time show was epic!", while @Kwame_UTD said, "Naaaa this Super Bowl halftime performance was lit." The performance clearly meant a lot to those watching, with @ZaeLaraa tweeting, "I'm convinced that this Era of Rap was my motivation that got me through my days and still is. One of the best halftime shows." 
Celebs gave their score on one incredible performance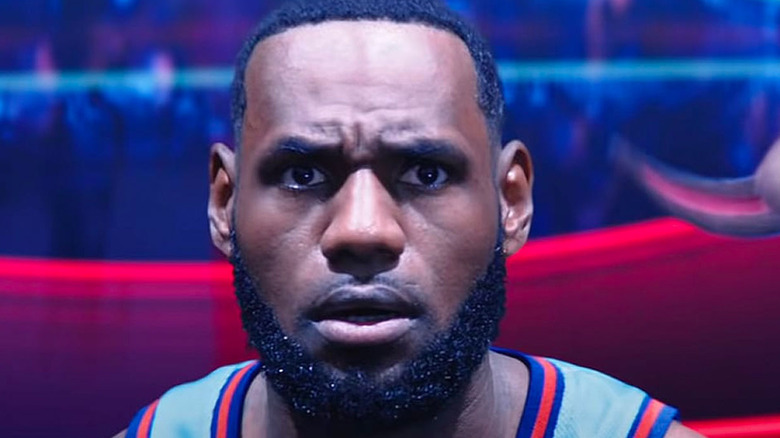 Warner Bros
It seemed that fans, even immensely famous ones, were quick to add their thoughts on how this iconic ensemble handled the halftime show, and it was an unanimous dose of praise. Following her anticipation, Lady Gaga updated, saying, "THAT WAS A BOMB OF RADICAL LOVE THANK YOU #SuperBowl HALFTIME SHOW!! Incredible!!" Kate Hudson appeared to have a dream come true, taking to Instagram while filming, noting that she's "been waiting for this moment since middle school."
Ice T also chimed in after the performance, highlighting the value of what was in the show, saying, "If you don't understand how Great a moment this was for HipHop, ask somebody. Unbelievable 12mins! I'm so proud of my homies. Y'all did the damn thing! RESPECT to all of you!" One bold statement came from sports journalist Skip Bayless who said, "I've always said Prince was the greatest Super Bowl halftime show ever, playing 'Purple Rain' in the rain at Miami. But what I just witnessed rivaled Prince." 
Nearby talent was even caught up on their feet in the crowd, with Kanye West calling 50 Cent's performance of his hit song "In Da Club" "legendary" on Instagram, and he was seen at the arena clearly loving what was on show. LeBron James was also spotted watching and enjoying every minute, later taking to Twitter saying, "WOW WOW WOW!!!!!!!! THE GREATEST HALFTIME SHOW IVE EVER SEEN!!!" No pressure for anyone who gets it next year, then?