The Funniest Moment In Blue Bloods Season 7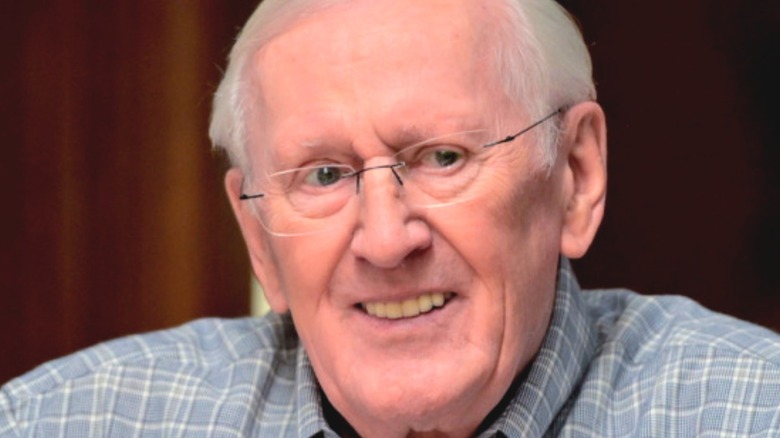 John Paul Filo/CBS
Most police procedural series like "Blue Bloods" and "NCIS" aren't exactly known for their penchant for humor. Though we have no reason to doubt the "Blue Bloods" cast (and the "NCIS" cast, for that matter) could deliver plenty of hearty laughs, comedy simply isn't the most flexed muscle on these types of series. Most of the time, any jokes written for "Blue Bloods" are saved for the weekly Reagan family dinners and only reference prior events, rather than initiate new stories. Instead, the long-running CBS series is better known for its dedication to ethical dilemmas and moral quandaries. 
Despite this fact, there have been a handful of occasions over the years where the writers have decided to inject a few modest fits of laughter to simply lighten the mood a bit. In one episode of Season 7, Jamie Reagan (Will Estes) and his partner (also, his future wife), Eddie Janko (Vanessa Ray), engage in a covert, off-the-books team-building exercise that surely led to plenty of laughs among "Blue Bloods" fans.
A fight over a jelly donut led to a prank war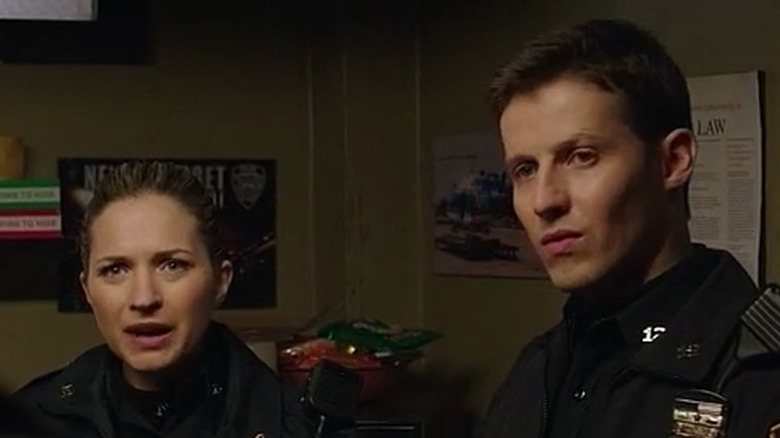 CBS
In Season 7, Episode 18 ("A Deep Blue Goodbye") (via IMDb), Jamie and Eddie become embroiled in a prank war with two fellow officers. The ensuing incidents between the two couples lead to uncharacteristically funny results.
In their first scene in the episode, Jamie and Eddie hit the break room with a handful of other uniformed officers. As she prepares her coffee, Eddie spots another officer moving in on the last jelly donut of the day. Though Eddie claims to have called dibs on the tasty pastry, Officer Tim Welch (Brad Fleischer) ignores her pleas and tauntingly sticks the donut in his mouth. However, Welch quickly regrets this decision when he realizes the jelly has been intentionally replaced with shaving cream, courtesy of Jamie and Eddie. Still gagging at the taste, Welch declares, "This means war!"  
Shortly afterward, Jamie proposes offering a truce, but the damage has already been done. As payback, Welch and his partner, a rookie named Officer Brenda Patimkin (Sarah Mezzanotte), volunteer Jamie and Eddie to work on the NYPD Green Vehicle pilot program, forcing Jamie and Eddie to drive their patrols in a miniaturized smart car, rather than their standard squad vehicle. While Jamie and Eddie subsequently offer a reluctant truce, neither group seems especially eager to accept such humiliation without further retaliation.
Two vs Two turns into Three vs One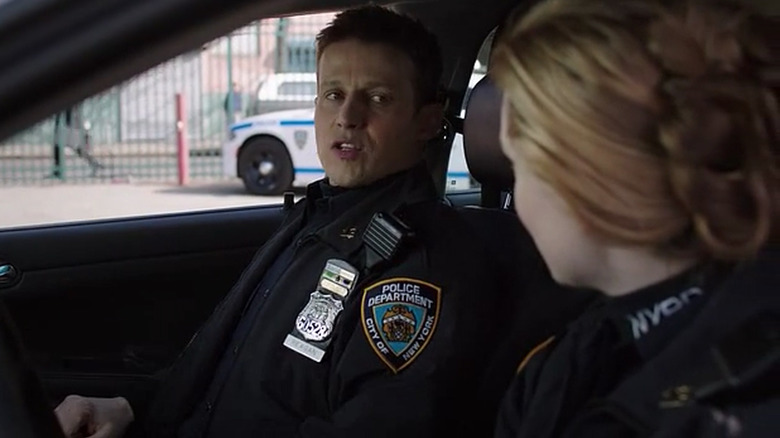 CBS
Unfortunately, word of the feud quickly gets to a superior officer, who reams the entire group for their childish actions. As punishment, Jamie and Welch are forced to swap partners for a whole month. However, the superior officer's targeted rebuke leads Jamie, Eddie, and Welch to determine that Patimkin is likely the one who ratted them out to internal affairs. In response, the three team up to earn a little payback, in spite of the agreed-upon truce. As they walk down a hallway, one of them (it's unclear which) quietly plants a "toxic" label on Patimkin's back. While Welch's time in this feud is over after this scene, Patimkin's troubles are only just getting started.
In Season 7, Episode 19 ("Love Lost") (via IMDb), Jamie and Eddie are still forced to work with their alternative partners. Eddie is on patrols with Welch, while Jamie is sharing a (regular-sized) squad car with Patimkin. As revenge for her by-the-book report to internal affairs, Jamie insists that Patimkin follow the exact letter of police protocol, including closely inspecting every piece of their vehicle before departing the precinct. Though Patimkin is visibly annoyed, she ultimately accedes to the senior officer's instructions. As she examines under the hood of the vehicle, Jamie triggers the siren, causing Patimkin to jump and hit her head. Though he claims he was simply testing it, it certainly seems obvious that Jamie had ulterior motives with this specific order.
While it's not exactly clear what Welch and Patimkin are up to now (they have not appeared in the series since these two episodes), we have to hope they've got the pranks out of their system at this point.