Captain Cold, Damien Darhk Returning To Legends Of Tomorrow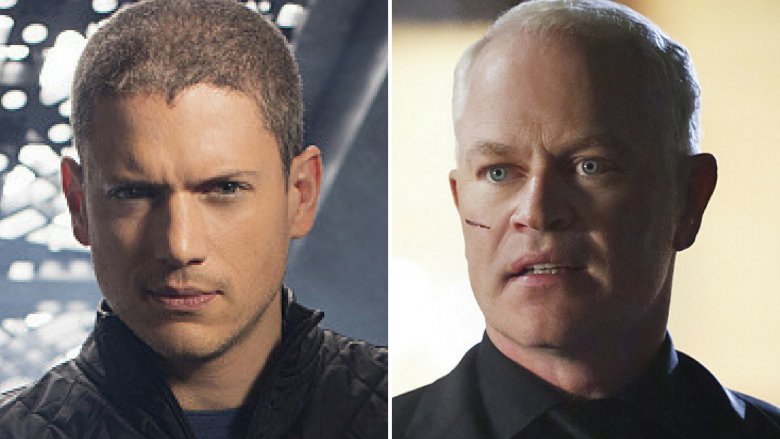 The Legends of Tomorrow will have to contend with some familiar faces in the show's upcoming third season. According to Entertainment Weekly, Wentworth Miller's Captain Cold and Neal McDonough's Damien Darhk are both set to return to the superhero series, with Miller recurring and McDonough joining as a series regular. 
Miller has had a few different roles as Captain Cold on the show. The first version of the character was killed off at the end of season one; he later came back as an earlier version of the character who was a member of the Legion of Doom. This take on the character won't bring back either of those portrayals, with executive producer Phil Klemmer teasing that Mick Rory (Dominic Purcell) won't get "the version of his pal that he remembers."
"We're obviously really excited to bring Wentworth back on the show for a few episodes, but a different iteration of Mr. Snart," added executive producer Marc Guggenheim. "Chaos and merriment will ensue." 
As for McDonough, the series will see him playing a new version of Darhk, one who Klemmer says is "a little less silly, a little more formidable." There is no word yet on how he will come back into the fold of the show, with the former Legend of Doom member currently sitting pretty in 1987. However, with Legends' time traveling antics, there are lots of ways he could come across the team.
The show's San Diego Comic-Con panel also saw a confirmation for Arthur Darvill's return as Rip Hunter, with the actor set to recur as the head of the Time Bureau. "Last season, the Legends were the only game in town," Klemmer said. "Now they're competing with the best and brightest. Rip Hunter has reconstituted what the Time Masters were, so the existential question for the Legends is where do we fit into this universe?"
The Legends will have to face off against the villain Kuasa, the sister of Megalyn E.K.'s Vixen. Luckily, they will get some extra help from a new hero, Zari Adrianna Tomaz (Tala Ashe), a "grey hat hacktivist" from the year 2030. "She's seen the fallout from 2017 and in this dystopian future, they're going to butt heads at first," Ashe said, adding that her character may be a bit of a pessimist. "It'll be interesting to see how that unfolds and becomes a part of the team."
Legends of Tomorrow returns for season three on Oct. 10 on The CW. Brandon Routh, Victor Garber, Caity Lotz, Franz Drameh, Nick Zano, Amy Pemberton, Matt Letscher, and Maisie Richardson-Sellers also star in the show, which comes from Greg Berlanti. While we wait for the third season to premiere, see why Legends is a must-watch series.