Hal Jordan, John Stewart Reportedly Confirmed For Green Lantern Corps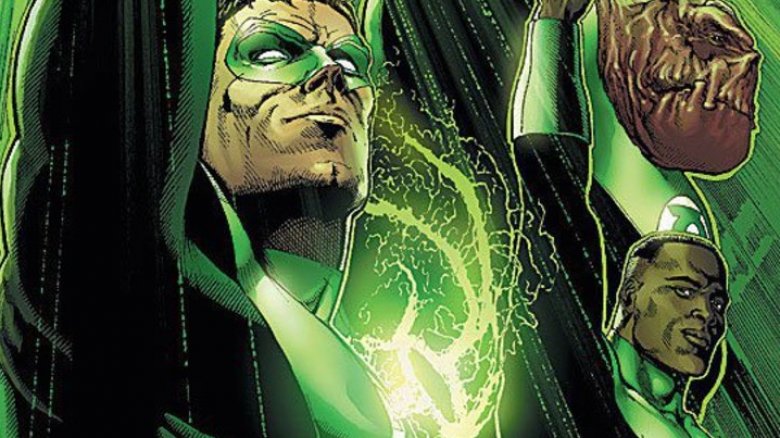 DC Comics
DC Comics legends Hal Jordan and John Stewart have officially been confirmed for the forthcoming Green Lantern Corps movie, ScreenRant reports. 
Warner Bros. made the announcement quite subtly during its Comic-Con panel on Saturday. The studio reportedly confirmed Green Lantern Corps for release in 2020, meaning that it will join the blossoming DC Extended Universe after James Wan's Aquaman is released in December 2018 and David F. Sandberg's Shazam! is launched in April 2019. 
Following that reveal, Warner Bros. showed off multiple logos for the new DCEU slate, which includes films like Wonder Woman 2 and Flashpoint, and showcased the entire DC Comics heroes lineup in a single image. And which two characters were amongst the world-saving DC faves? Hal Jordan, the second Lantern, and John Stewart, the fourth Lantern. Based on their in inclusion in the lineup snap, both Jordan and Stewart will appear in Green Lantern Corps. 
It's certainly exciting to know that the forthcoming flick will feature not one but two beloved heroes, but one important question still remains: who will play each Lantern? Ryan Reynolds previously portrayed the glow-fisted guy in 2011 for Green Lantern, but he's currently filling the role of the Merc with the Mouth in the Deadpool franchise with Marvel, so he's likely out of the question. The Social Network actor Armie Hammer has been rumored to play Jordan; however, the actor has said time and again that Warner Bros. hasn't reached out to him about the project. 
As far as Stewart is concerned, names like Idris Elba (The Dark Tower) and Sterling K. Brown (The Predator) have been tossed around, and are the most likely to actually land the role. Still, actors such as Common and Tyrese Gibson have been actively campaigning for the part. Gibson even admitted that he's met with Warner Bros. a few times. Unfortunately, he wasn't able to speak on his involvement with Green Lantern Corps at that time. 
"I would love to [play John Stewart]. You know, I had a couple meetings at Warner about it," Gibson told Syfy Wire. "I just think that they're still trying to figure out what the move is. I would love to officially confirm, but I can't. And if they go in a different direction, I think they know what's best for the movie, but the fans started this campaign, and all I've done is made use of my social media to let folks know I'm interested."
Green Lantern Corps joins seven other DCEU films announced at Comic-Con 2017. 
While we wait to learn more about the upcoming movie, especially who will play the second and fourth Lanterns, check out the actors who were almost heroes.