Why Morgan Freeman Almost Didn't Get The Driving Miss Daisy Role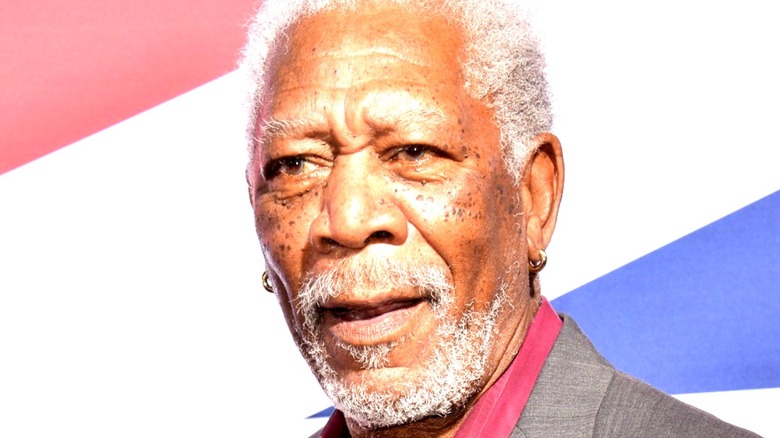 Jaguar PS/Shutterstock
Stories of unlikely friendships are pretty touching to watch as two individuals hailing from drastically different backgrounds form an unexpected bond. "Driving Miss Daisy," which was released in 1989, is one such example. Set in 1948 in Atlanta, Georgia, an elderly, rich, Jewish woman named Daisy Werthan (Jessica Tandy) crashes her car, leading her son Boolie (Dan Aykroyd) to hire African American personal chauffeur Hoke Colburn (Morgan Freeman) to drive her around.
At first, there's much tension between the two. Daisy, who according to her son is very "high strung," is fiercely opposed to this arrangement, especially given the era in which "Driving Miss Daisy" takes place. For instance, Hoke is not permitted to eat meals with Daisy. Instead, he and Daisy's African American cook Idella (Ester Rolle) must dine in a separate room. Regardless, Hoke sticks with the job, and, slowly but surely, he and Daisy grow to respect one another. Hoke even learns how to read thanks to Daisy, a former teacher. By the end of the movie, several decades have passed and Daisy refers to Hoke as her "best friend."
For Freeman, portraying the calm and determined character of Hoke was second nature. Prior to the release of the award-winning film, he starred at Hoke on stage in Alfred Uhry's play of the same name (via Broadway World). Despite his familiarity with the chauffeur, he almost wasn't cast in the big-screen adaptation.
Freeman almost didn't get the role because of his age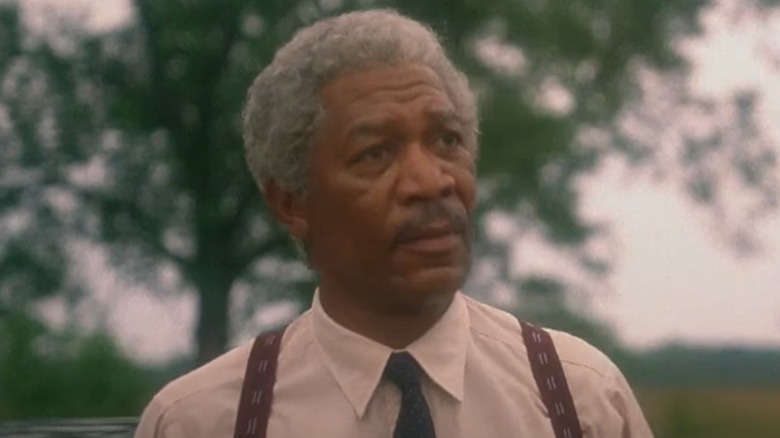 Warner Bros./YouTube
In both the stage and screen versions of "Driving Miss Daisy," Hoke is said to be 60 years old and Daisy 72 (via Backstage). Tandy, who was suggested by film producer Richard Zanuck, was at the perfect age, unlike some younger actresses like Lauren Bacall who wanted the role. As for Freeman, he was only 52 at the time, leading director Bruce Beresford to have some hesitation (via The Hollywood Reporter).
"When I first met Bruce, it was backstage at the play, and I remember saying, 'Do I get the part?' He said, 'You're a little young for it.' I thought, 'OK, so much for that,'" reflected Freeman. "Traditionally, stage actors don't get the part when it's turned into a movie."
However, Freeman defied the odds and landed one of his first major roles in what would be a lengthy film career. Though the character of Hoke and his many years spent driving around a wealthy white woman remains a hot-button racial topic, Freeman doesn't see anything controversial about it. In fact, he named Hoke as one of his favorite characters to ever play. "It's about a relationship between a man and a woman over a long period of time," he said. "It kind of reminds me of these French movies about love. It was literally a love story. I maintain it was one of the best jobs I ever had in the movies. I think [the controversy] was ridiculous."