The First Thor: Love And Thunder Trailer Is As Entrancing And Electric As Its Subtitle Suggests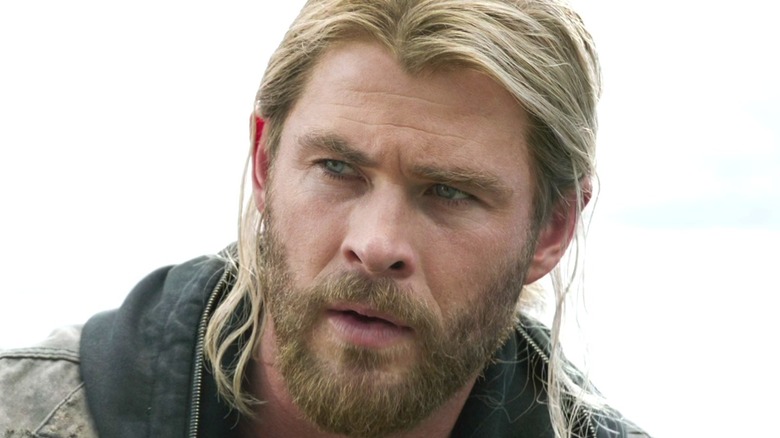 Marvel Studios/Disney
Phase Four of the Marvel Cinematic Universe is in full swing. With the breakout success of "Shang-Chi and the Legend of the Ten Rings" — not to mention the popularity of original shows on Disney+ like "Loki" and "What If...?" — Marvel fans have plenty of fodder to satisfy their craving for comic book goodness. They'd better save some room, however, because there is still plenty more to come.
Director Taika Waititi made a huge impact in the MCU with his 2017 hit, "Thor: Ragnarok," thanks to his use of quirky improvisational humor and creative homages to classic Jack Kirby artwork from the original Marvel comics. It was a welcome return to form for the Norse God of Thunder after his second solo outing, "Thor: The Dark World," fell a little flat for many fans and critics. 
Considering his success, Waititi's return as director and co-writer for "Thor: Love and Thunder" was a no-brainer for Disney and Marvel Studios. Now, finally, the official trailer for the fourth installment of the "Thor" sub-franchise has arrived, and it is everything that fans could ever hope for.
Thor 4 is Jane Foster's triumphant return to the MCU
"Thor: Love and Thunder" will hail the return of more than just Waititi as director. Plenty of the previous cast members have come back, too, including Chris Hemsworth, Tessa Thompson, and Jeff Goldblum. The movie will also have Natalie Portman, who reprises her role as Jane Foster after taking "Ragnarok" off. "Guardians of the Galaxy" alumni Dave Bautista, Karen Gillan, and Vin Diesel will be making appearances, as well. Joining the MCU for the first time are A-listers Russell Crowe and Christian Bale, as Zeus and Gorr the God Butcher, respectively.
The premise for "Thor: Love and Thunder" is inspired by the "Mighty Thor" line of comics, in which Jane Foster takes up the hammer to become the new God of Thunder. Although it seemed that Portman had finished with the role after portraying Jane in both "Thor" and "Thor: Dark World," she was coerced back into the franchise after sitting down with Waititi. 
Fans are doubtless excited for Jane Foster's return, and the movie's first trailer makes her reappearance all the more intriguing.