The Ending Of After Life Season 3 Explained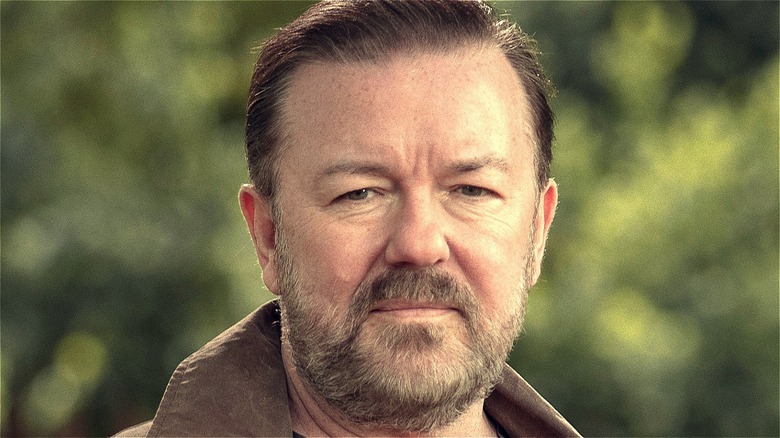 Natalie Seery/Netflix
With the third season of "After Life" dropping on Netflix in January, it appears that Ricky Gervais has brought his poignant and darkly comic story of widower Tony to a close. While critics received Season 3 of "After Life" with less enthusiasm than the previous two seasons, the show remains hugely popular with audiences (via Rotten Tomatoes). Unlike much of Gervais' previous TV output, including "The Office (U.K.)," "Extras," "An Idiot Abroad," and "Derek," "After Life" mixes his characteristically dry wit with deeper and more existential themes of grief, love, and loneliness.
The show follows recent widower Tony as he tries, and usually fails, to process the loss of his beloved wife Lisa (Kerry Godliman) to cancer. For three seasons, audiences have followed Tony as he cycles between despair, defiance, and at times downright cruelty after his decision to simply not care about life and to exercise his "super power" of being able to say whatever he wants, whenever he wants to. Through his work at small town newspaper the Tambury Gazette, Tony interviews the quirky Tambury townsfolk while his friends and colleagues tolerate his bad behavior and try to help him move on with life.
In an interview with Radio Times, Gervais recently stated that he would not be making a fourth season of "After Life," which leaves audiences puzzling over the mysterious Season 3 ending to find meaning and resolution to Tony's story. 
After Life Season 3 ends on a mysterious note
"After Life" Season 3 reiterates on a macro level the overall story arc of the series. Tony is still in grief, perpetually dwelling on memories of Lisa and trying to process the loss. He still drinks too much, torments and taunts his co-workers, and exercises his "super power" with unfiltered outbursts at strangers. Tony does make efforts, often at the behest of his brother-in-law Matt (Tom Basden), to participate more constructively in life — and those efforts often result in failure. While this could be seen as repetitive, as some critics have pointed out, perhaps that's the whole point of "After Life." Gervais forces us to experience and empathize with Tony's purgatorial paralysis.
But, season-by-season, Tony does move falteringly forward, and in Season 3 he progresses further than he could manage previously. Supported by the generosity and patience of Matt, Emma (Ashley Jensen), and Anne (Penelope Wilton), Tony finally reaches the conclusion that the real "super power" is not a refusal to care about the consequences of his actions. The real super power is caring and kindness, and this realization is symbolized by Tony's decision to cash out Lisa's life insurance and use it to help others.
In Season 3's final scene at the Tambury Fair, we see Tony leave and walk into the distance accompanied by Lisa and their dog Brandy. First Lisa, then Brandy, then Tony gradually fade away and disappear, leaving an empty field. In a recent interview, Gervais explains the meaning of the mysterious ending.
Gervais wanted Season 3 to be life-affirming
Unlike the Season 2 ending, which Gervais has stated was deliberately intended to be open-ended, it seems that with the Season 3 finale, he had a very clear and relatively simple explanation in mind.
In an interview with DigitalSpy, Gervais, alongside his fellow cast members Diane Morgan and Jo Hartley, went on the record regarding the season's final scene. Morgan, who plays Kath, confessed that she felt audiences might be upset by the show's ending: "I think some people will find it devastating," adding that viewers may say to themselves, "Oh, God, what does that mean?" Hartley, who plays June, added that the ending may be open to some interpretation: "It's very subtle, and it could mean different things and depending on where you are yourself, but I'm undecided."
Gervais, however, was crystal clear on the message he intended to deliver with that final mystical moment at the Tambury Fair. He told DigitalSpy, "It's just that life goes on, you know? When we're all dead and buried, that field's still there, the Tambury Fair is still going, that tree is still there." Gervais summarized his final take-home for the series as: "That's what the ending is saying. 'We all die, but not today'... Enjoy it while you can, life is so finite."
It seems that even with a clear-cut explanation of its conclusion, with "After Life," Gervais has delivered a show with sufficient complexity that individual viewers can walk away with their own interpretations.