Jimmy Kimmel Blasts The Oscars Over Spider-Man: No Way Home's Snub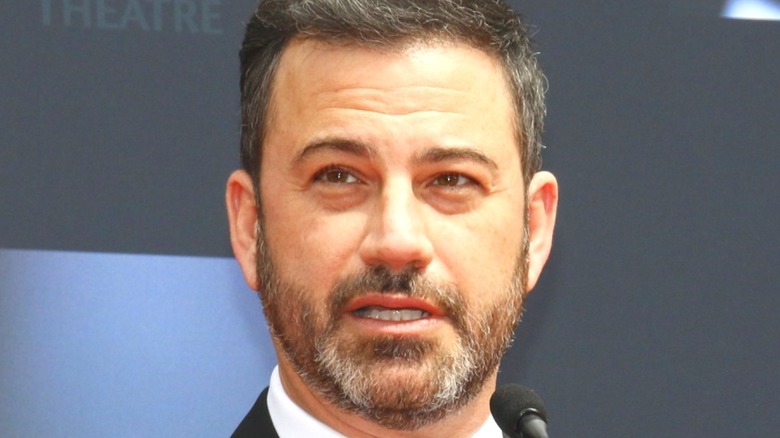 Tinseltown/Shutterstock
The 2022 Academy Award nominations are officially out, with a total of 10 films being nominated for the biggest award of the night, Best Picture. The nominated films include "Belfast," "Coda," "Don't Look Up," "Drive My Car," "Dune," "King Richard," "Licorice Pizza," "Nightmare Alley," "The Power of the Dog" and "West Side Story" (via ABC). As "Spider-Man" fans have likely noticed, 2021's "Spider-Man: No Way Home" is not included on this list. While it may not have nabbed a spot in the top category, "No Way Home" did receive a nod for Best Visual Effects.
The Best Picture snub comes after weeks of fans speculating as to whether "No Way Home" might just land a Best Picture nomination despite the Academy Awards often overlooking superhero films. After all, the film became a box office phenomenon — so far, it's made over $1.7 billion worldwide, as reported by Box Office Mojo — and has received critical praise up and down the board. The film's star, Tom Holland, was even asked in recent interviews if he thought "No Way Home" had a chance at landing a Best Picture nod. He told FOX it would be "amazing" if it happened, but that he was "so proud of what [director] Jon Watts has achieved" regardless.
However, one person who is not happy with the snub is late night host Jimmy Kimmel. Earlier this week, Kimmel reacted to the announcement of the Academy Award nominations and expressed his gripe that "Spider-Man: No Way Home" was left out of the Best Picture race.
Kimmel called the No Way Home snub an 'unforgivable omission'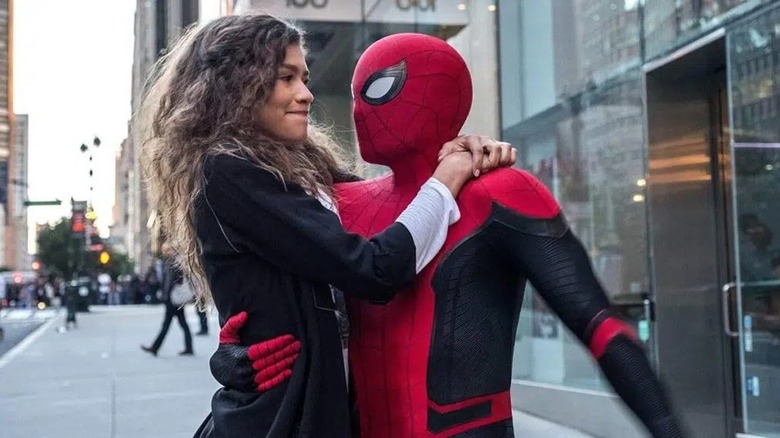 Sony Pictures/Marvel
After bringing up the Oscar nominations, Jimmy Kimmel told his audience that he is "angry" about "the unforgivable omission of 'Spider-Man: No Way Home'" (via The Independent). "Forget the fact that the movie made $750 million [in the U.S.] and is still going," Kimmel continued. "This was a great movie. It wasn't in the top 10 best movies of the year? There were three Spider-Men in it. You're telling me 'Don't Look Up' was better than 'Spider-Man?' It most certainly was not."
Kimmel then brought up that, according to Rotten Tomatoes, critics favored "Spider-Man: No Way Home" over "Don't Look Up" by quite a wide margin — at the time of writing, "No Way Home" holds a 93% Tomatometer score while Adam McKay's "Don't Look Up" holds just a 56% Tomatometer rating. Kimmel elaborated, "Why do Best Picture nominees have to be serious? When did that become a prerequisite for getting nominated for an Academy Award?"
The late night host continued to make his point by speculating as to why "Don't Look Up" even got a nomination to begin with. He concluded, "You want to know what happened? Voters looked at the list and saw the names Leonardo DiCaprio and Meryl Streep and they checked the box and then they put their kids in the car and went to see the movie 'Spider-Man.' And they loved it! But they didn't vote for it."