Sharknado 5 Trailer Takes It Back To The Beginning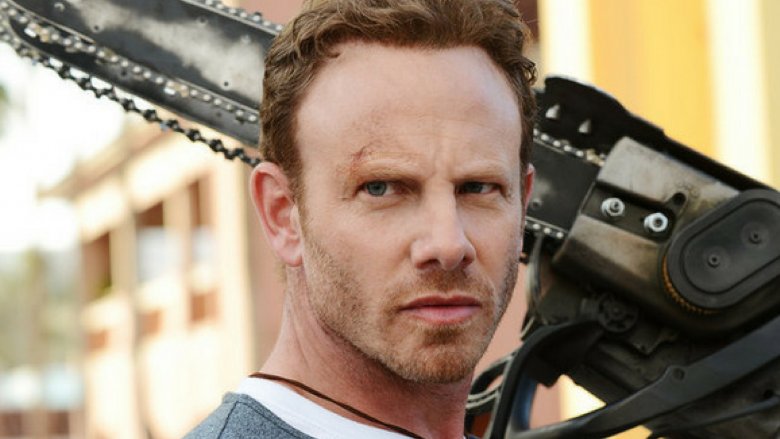 Why does it always gotta be sharks? That's the question at the center of the new trailer for Syfy's upcoming Sharknado 5: Global Swarming, which will see Fin (Ian Ziering) and April (Tara Reid) rushing to get their young son back after he is caught up in a traveling Sharknado and transported all over the world, from London to Toyko to Rome to Amsterdam. The pair, desperate to rescue their child, have to recruit the help of royals, scholars, Olympians, news talking heads, and more in their quest to get him back. 
The new trailer, which you can watch at the bottom of this article, doesn't focus on any of these people, though, instead sticking with Fin, April, and some pretty ominous voiceovers. "These storms have happened in the past, all around the planet," the characters say. "We need to anticipate the next evolution." It's unclear what this next evolution will be, but it's clearly pretty dramatic, with Fin noting that he doesn't care what it takes and he doesn't care what he has to do– he's going to go back to where this all started.
Like previous installments, the movie has recruited quite the cast of guest stars to assist. Romance novel model Fabio will play the pope, while famed singer Charo will be the Queen of England and comedian Chris Kattan will play the English prime minister. Other notable guest stars include Olivia Newton-John and her daughter Chloe Lattanzi as two brilliant Australian scientists; Tony Hawk as a masterful weapons operative strategist; Clay Aiken as a cutting-edge tech genius; and Bret Michaels as a musician who gets hit by a bus and continues to play guitar, even in his new part as a bus hood ornament. 
Other already announced guest stars include Margaret Cho, Dolph Lundgren, Porsha Williams, Greg Louganis, Ross Mullan, Al Roker, Kathie Lee Gifford, Hoda Kotb, Tom Daley, Gus Kenworthy, Jeff Rossen, Cat Greenleaf, and Dan Fogler. Newly announced additions to the cast at San Diego Comic-Con include Star Trek's Nichelle Nicholas as a NATO secretary; Geraldo Rivera as Dr. Angel; Bai Ling as a character called Mira; Downtown Julie Brown as a consigliere for the Pope; and Samantha Fox, John Hennigan, Sasha Cohen, Jai Rodriguez, and Benjy Bronk in unspecified roles.
The fifth installment in the franchise, which is advertising itself with the politically-relevant tagline "Make America Bait Again," was directed by Anthony C. Ferrante, who has directed all of the previous installments, based off a script from Scotty Mullen (King Arthur and the Knights of the Round Table). The movie will air on Aug. 6 at 8 p.m. on SyFy. In the meantime, see some of the other bad movies you should watch just once.