Jared Leto's Bizarre Response To Whether He'll Play The Joker In Suicide Squad 2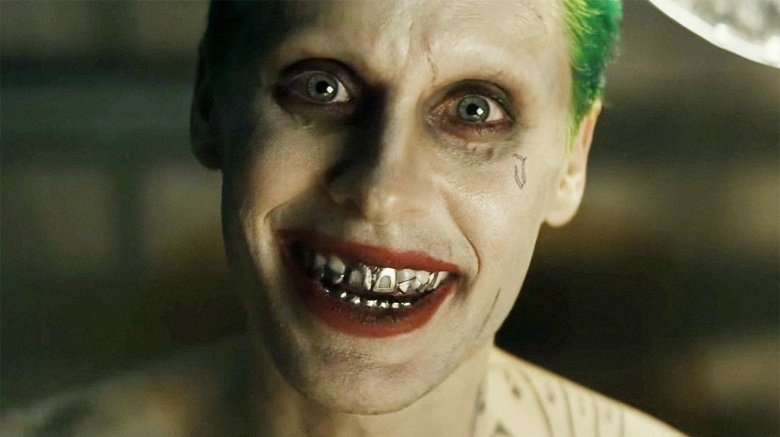 Warner Bros.
We're not sure why we expected more out of Jared Leto. 
In an interview with Entertainment Tonight Canada, Leto, who donned bright green hair and a set of fake gold teeth to play Joker in Suicide Squad, discussed whether he'll reprise the role for the follow-up film. But perhaps "discussed" is too forgiving a word for what Leto did during the conversation. When asked about stepping back into the character, Leto gave a bizarre response that mentioned an unseemly act involving male anatomy. 
"Talking about Joker is like talking about Fight Club: unless you want to gargle your testicles, it's probably better to leave it," Leto said. "He's liable to jump out of the cupboard and just start having fun."
Though Leto did give a laugh while making that quip, it's still one of the stranger things the actor has said during an interview. But given Leto's less-than-dazzling reputation amongst the actors of the DC Extended Universe (his relentless tormenting of the Suicide Squad cast saw him left out of press junkets and group promo shoots), we can't say we're too surprised. 
Leto seemed to balance his odd comment with some sincerity about his upcoming turn in Blade Runner 2049, which stars Harrison Ford and Ryan Gosling. "Making Blade Runner was incredible, it was a dream," gushed Leto. "For me, Blade Runner is one of the best films of all time."
While Leto has been tight-lipped about returning for Suicide Squad 2, it was recently revealed that Warner Bros. and DC are teaming up to bring a spinoff flick titled Harley Quinn vs. The Joker to the big screen, with Leto in the title role. 
Only time will tell us where Leto's Joker will end up, so until that moment comes, find out how the classic DC character became so sick and twisted.