Why Anna From Inventing Anna Looks So Familiar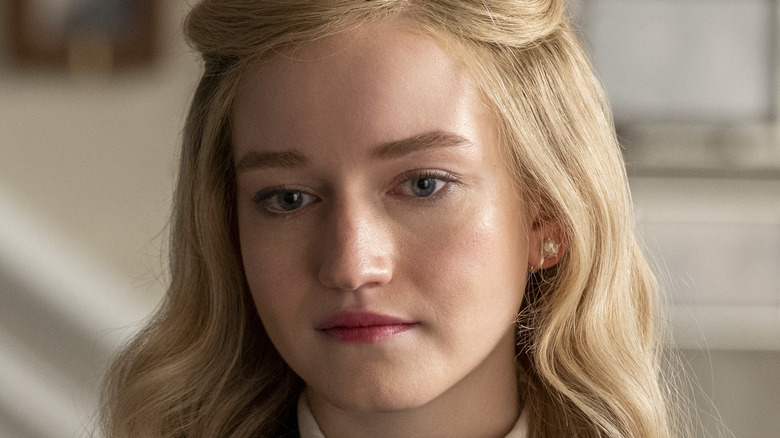 David Giesbrecht/Netflix
Netflix's newest limited series is based on the true story of Anna Sorokin. She used the surname of Delvey while conning people in New York's social scene and conned friends, banks, and others out of tens of thousands of dollars. Sorokin was the ultimate con artist, and her story is being brought to the small screen thanks to Shonda Rhimes.
The new series boasts some pretty incredible talent, including Anna Chlumsky, Laverne Cox, Arian Moayed, Katie Lowes, and Jeff Perry. Most of those on the roster for "Inventing Anna" portray real people who interacted with Sorokin after she moved to New York City in 2013
Sorokin herself is played by Julia Garner — one of the biggest young stars in the industry. Despite starting her acting career in 2010, Garner really launched to stardom in the last several years, thanks to another Netflix hit. Here's where you've probably seen Garner before.
Julia Garner landed a big role in 2013's We Are What We Are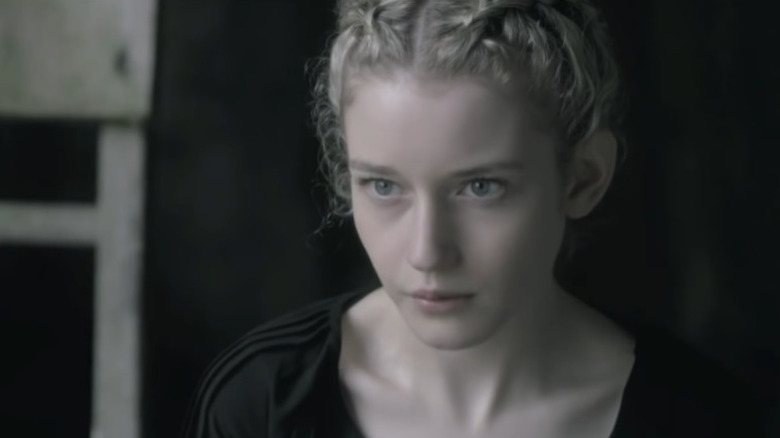 Entertainment One
One of Julia Garner's first major roles was in the 2013 gothic horror flick "We Are What We Are." The film follows a religious cannibalistic family who suddenly finds itself without a matriarch. Frank (Bill Sage), the widower and father of three children, forces his kids to kill and butcher a victim, who they later eat. Garner's Iris is one of those children who abides by her father's rules until she's had enough.
Along with her sister Iris (Ambyr Childers), Rose decides to leave town while her father is sleeping. At dinner before their planned escape, Frank poisons everyone's dishes to fulfill a murder-suicide plot. After escaping the house, their father pulls them back in, but the girls attack him and eat at him until he dies. It's a gruesome film if you can make your way through it, but it happens to be the movie that jumpstarted Garner's career.
In 2018, Garner was a fighter in Dirty John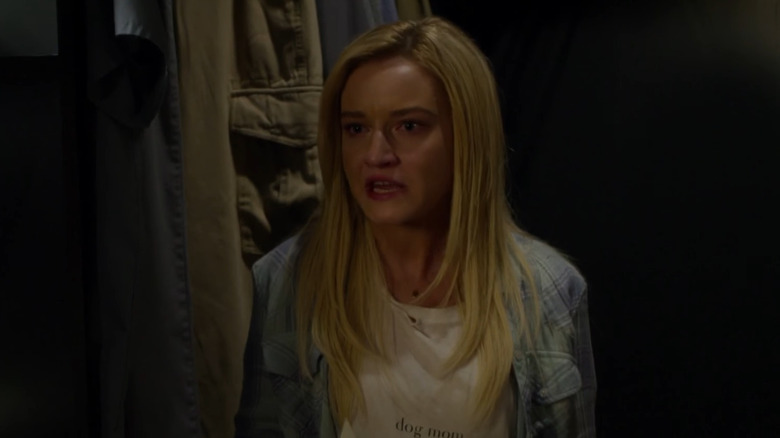 Bravo
"Inventing Anna" isn't Julia Garner's first limited series gig based on a true story. In 2018, Garner starred in Bravo's "Dirty John" — an adaptation of the vastly popular true-crime podcast of the same name. The story follows the life of John Meehan (Eric Bana) and one of the women he successfully cons. Connie Britton plays Debra Newell, a successful interior designer who would be the last woman John would ever scam.
Garner plays Debra's daughter, Terra Newell. Terra was uncomfortable with John from the get-go but wasn't as vocal about her concerns as Debra's older daughter, Veronica Newell (Juno Temple). When John moved in with her mom so quickly, Terra's concerns grew, and she had a blowout with the man himself. John and Debra eventually marry, and after some time, he becomes stalker-ish with her children. He attempts to kill Terra in a parking lot in the light of day, but she is able to defend herself. Terra manages to get the knife from her assailant and stabs him 13 times. Several days later, John is declared brain dead in the hospital and is subsequently taken off life support.
2019 saw Julia Garner as the lead in The Assistant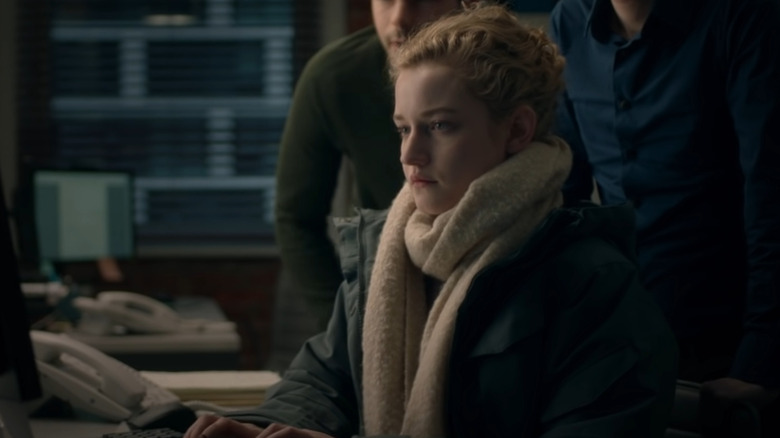 Bleecker Street
One of Julia Garner's first starring roles was in 2019's "The Assistant" as Jane, a junior assistant at a film production company. Jane's boss is a known sexual predator and has young women in and out of his office all the time. Sexual harassment is accepted around the workplace, and when Jane considers filing a complaint, she's threatened. Afraid of losing her job, Jane opts not to file a complaint against her boss, which she finds would go unnoticed even if she did.
When her boss finds out that she was thinking of filing the complaint with HR, he requests she write him a formal apology, and she obliges. A new production assistant is brought into the film company, and while Jane tries to warn her, it's to no avail. She sees the silhouettes of her boss and the new girl through his office window when she leaves the building that evening, and it's evident what they're doing.
The whole film takes place within one day, and we never get to see the boss's face. The film came in the wake of the #MeToo movement, with Garner explaining to InStyle, "This isn't a strictly Weinstein movie. [Director] Kitty Green interviewed a lot of people about different cases of abuse — people who were in the industry, people who were not in the industry — and all the stories were the same. She picked the film industry for this movie because she's in the film industry, so that spoke to her the most. That's why I think it was important to not show the boss's face: Bad men have had enough screen time."
Garner also appeared in Amazon's Modern Love in 2019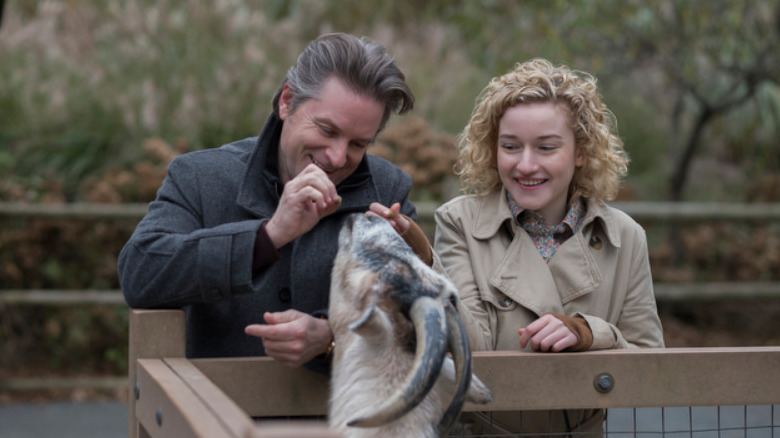 Amazon Studios
Also, in 2019, Julia Garner appeared in an episode of Amazon's "Modern Love" anthology series. In Episode 6 ("So He Looked Like Dad. It Was Just Dinner, Right?"), Garner plays Maddy, a young woman with daddy issues. She befriends an older man at work, Peter (Shea Whigham), and the duo starts hanging out pretty frequently. Eventually, Peter goes in for a kiss, and Maddy is somewhat disturbed because she never looked at him romantically. She only wants an older man in her life to be her father figure. Eventually, Peter tells Maddy that she's a wonderful daughter which gives her some closure with her deceased father.
The episode is a far cry from the others in the season. It caused quite a bit of controversy, but director Emmy Rossum defended it fiercely. "It was a subject matter that was close to my heart, my father having not been in my life for the majority of it," Rossum told People. "I was immediately struck by the complexity of the male-female relationship, the awkwardness, and the inability to express what you're really looking for."
Julia Garner is still going strong on Ozark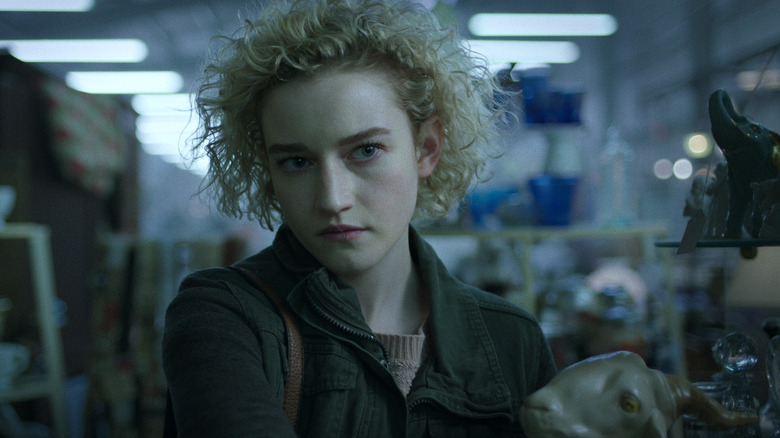 Netflix
Perhaps what Julia Garner is best known for these days is her work on Netflix fan-favorite series "Ozark." The show debuted in 2017 on the streamer and turned out to be the role of a lifetime for Garner, who has nabbed two Emmys for her performance as Ruth Langmore. Ruth is a member of a local crime family in Missouri, who meets Marty Langford (Jason Bateman) and his wife Wendy (Laura Linney) when they relocate to Lake of the Ozarks for a money-laundering scheme.
It looks like Garner might get her third Emmy for her performance as Ruth if her fans have anything to say about it, that is (via Cosmopolitan). The Hollywood Reporter dubbed Garner a "scene stealer" in the series. How does she do it? Garner admits she throws all she's got into a scene and doesn't want to remember any of it. "I never like the feeling of remembering a scene, because that means that I wasn't present," she says. "If you're hearing yourself talk, you're not listening. It's the same thing when you're acting. If I remember what I did on a take, I ask to do it again."