The One Rule Rachel Wolfson Had For Herself On The Set Of Jackass Forever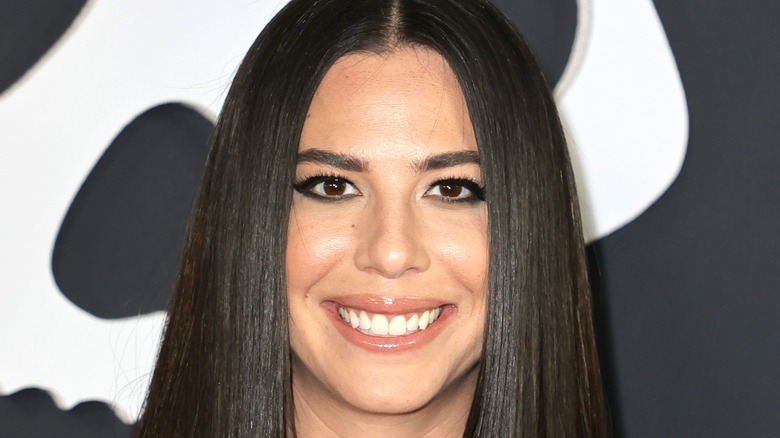 Kevin Winter/Getty
"Jackass Forever" proves you're never too old to enjoy someone getting slammed in the face with a projectile. The fourth "Jackass" movie has done exceptionally well for itself since it came out on February 4, beating out the likes of "Moonfall" with an opening weekend gross of $23.5 million. In today's climate, some people want pure escapism where they don't have to worry about things like plot and character development and instead indulge in watching Johnny Knoxville somehow avoid certain death once again.
However, similar to other highly anticipated sequels like "Avengers: Endgame" and "Star Wars: Episode VII — The Force Awakens," "Jackass Forever" functions as a passing of the torch of sorts. Steve-O, Wee Man, Chris Pontius, and the rest get to perform all kinds of insane stunts with newcomers like Sean "Poopies" McInerney, Jasper Dolphin, and Rachel Wolfson, the last of which Knoxville found on Instagram.
While the opportunity to appear in a "Jackass" film comes with immense expectations, Wolfson made the experience even harder on herself by following a strict rule she wanted to see through until the end.
Rachel Wolfson didn't want to cry in front of the boys
Rachel Wolfson had a lot riding on making a big impression on "Jackass Forever." As she stated in an interview with IndieWire, "My role in the movie evolved over time, for many reasons: COVID, I'm a woman, and I think initially they didn't necessarily know what to do with me but they were like, 'Let's just see what happens.'" Indeed, Wolfson is the first female member of the "Jackass" crew, and she gave herself some extra boundaries so that she could really make an impression on both the veterans and newcomers alike. 
She describes that when she had the opportunity to lick a taser, she told herself, "I always kept in mind, 'I don't ever want to cry on the set of 'Jackass.' As long as I'm not the one crying, I'm fine.'" The gambit seems to have worked to her advantage; she goes on to say, "I just went up and did it. And the reaction that the guys gave me, it was like, 'Oh wow, I am earning their trust.' They were cheering me on; they were clapping. They were so excited."
When you watch Wolfson lick a taser, you may just cheer her on right alongside everyone else.