The Twilight Movie That Made The Least Money In Theaters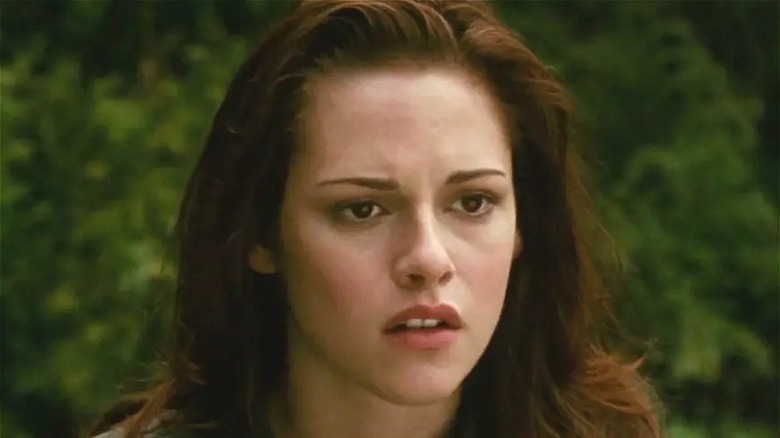 Summit Entertainment
It's been almost 15 years since "Twilight" arrived to Twee-up movie houses across the globe, and it's safe to say the vampire genre still hasn't completely recovered. Adapted from Stephenie Meyer's best-selling young adult novel of the same name, "Twilight" told the tale of an average high school girl named Bella Swan (Kristen Stewart), whose life is forever changed when she falls for Edward Cullen (Robert Pattinson), a sparkly-skinned vampire hottie almost 100 years her senior.
"Twilight" would go on to become a legit cultural touchstone, scoring big at the box office while making superstars of its young leads. It was, of course, merely the opening film in what became known as "The Twilight Saga," with four more feature films following in its blockbuster footsteps over the ensuing four-year stretch. As their dodgy Rotten Tomatoes scores clearly dictate, not all of those "Twilight" sequels were created equally. While critics scoffed at the lot of them, all five films in "The Twilight Saga" still proved abundantly fruitful at the box office. But you might be surprised to learn which "Twilight" flick made the least money during its theatrical run.
The first Twilight film is surprisingly the least lucrative of the franchise
By "abundantly fruitful," we mean, "holy smokes, the 'Twilight' movies made how much money in theaters?" The answer to that question, according to The Numbers, is a mind-boggling $3.3 billion and change. It'll likely come as no surprise that 2012's franchise closer "Breaking Dawn — Part 2," which rode a tidal wave of anticipation to a nearly $830 million box office haul. As for the "Twilight" film that earned the least amount at the box office, it's actually the movie that started the Twi-hard madness, 2008's "Twilight." 
To be clear, "Twilight" didn't exactly underwhelm at the box office, clearing north of $400 million in worldwide ticket sales (per Box Office Mojo). That fact is made all the more impressive because the film had, at best, a relatively niche built-in audience. And while Stewart and Pattinson have become two of the biggest stars of their generation, their stars were still very much on the rise when "Twilight" made its way to the multiplex. Ditto for the likes of Anna Kendrick, Taylor Lautner, and the rest of the film's young cast.
Despite making considerably less than the films which followed it, "Twilight" proved a relatively fresh, if wildly melodramatic take on the vampire genre. And yes, the buzz around "Twilight" and its stars also set the table for the success of the ensuing sequels, elevating the "Saga" from tween hit to global sensation.