The All Of Us Are Dead Character That Died Too Soon According To Fans
The horror genre is partly defined by its willingness to kill off characters more frequently and viciously than most other genres. That's especially true of zombie films and TV shows, which take place in worlds overrun by undead beings that are hungry for human flesh. In that way, zombie stories exist, much like slasher movies, in a horror subgenre in which death, blood, and gore are all key parts of their very identity. As a result, it didn't come as much of a surprise to viewers when "All of Us Are Dead" turned out to be a particularly brutal Netflix original series.
The South Korean drama takes place in a world in which a zombie apocalypse breaks out a high school — putting the lives of the school's students and faculty members, as well as those who try rescuing them, in constant danger. Across its 12 episodes, many of the show's characters are killed off in typically bloody fashion, and their deaths only further make the safety of the series' remaining survivors feel that much more tenuous.
But of all the character deaths in "All of Us Are Dead," there's one that fans of the series think happened a bit too quickly.
All of Us Are Dead fans wanted more of Park Hee-su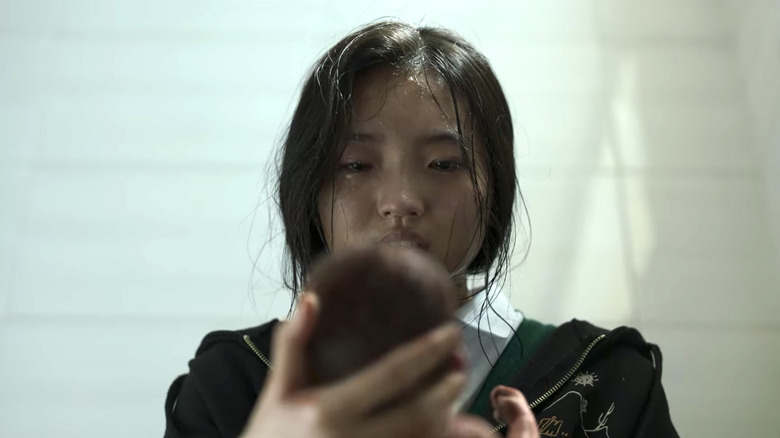 Netflix
In Episode 3 of "All of Us Are Dead," Park Hee-su (Lee Chae-eun) secretly gives birth in a public bathroom to a baby. She initially leaves the baby behind in the hopes that someone else will claim the child, but goes back for it when she sees the growing havoc caused by the spreading zombie apocalypse. However, she tragically gets bitten by one of the zombies, and — knowing that she'll only be a threat to the child after she's turned — locks herself and her baby in a restaurant. She then ties herself to the restaurant's doors, ensuring that she won't harm her baby even after her zombie transformation is complete. It's a moving and brave decision, and it looks like it made a lasting impression on many of the show's viewers.
On the official "All of Us Are Dead" subreddit, u/dyplomat created an entire post dedicated to Park Hee-su and called her an "underrated character." The post inspired many responses from the show's fans, with u/halonone commenting that they think Park Hee-su "died too soon." Elsewhere, u/KittenWithaWhip68 commented that they were worried the ribbon Park Hee-su used to tie herself to the restaurant doors "wouldn't hold," but ultimately thinks the character was "very brave and thoughtful to do that, especially when all her bones and joints were cracking and she was clearly fighting through her agony to get it done."
When discussing the character's overall importance to the series, u/HistoricalInspector6 also wrote that Park Hee-su's storyline "added to [the show's] constant theme of a parent's love." In other words, while her death was undeniably tragic, it's clear that Park Hee-su's final scene made enough of a mark on viewers for many of them to wish she had been in the show longer than she ultimately was.