The Worst Injury Rachel Wolfson Suffered While Filming Jackass Forever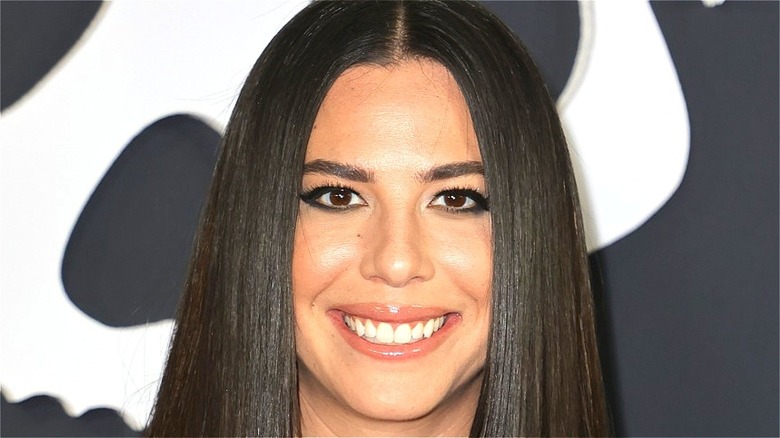 Kevin Winter/Getty
It seems insane that anyone would willingly sign up for the torture that comes with being a member of the "Jackass" crew. Yet the core cast consisting of Johnny Knoxville, Steve-O, Wee Man, Chris Pontius, and more continually find ways to up themselves. While the original TV series may have ended a long time ago, they've reunited over the years to put their bodies through tests once more, culminating in the most recent "Jackass Forever." 
Amazingly, that core cast isn't the only one subjecting themselves to all sorts of pain. They have numerous guest stars stop by to get hurt, including Eric Andre and Machine Gun Kelly. Plus, there are new "Jackass" recruits. The gang invited a slew of young faces to carry the "Jackass" torch to the next generation, and one of the most delightful additions to the cast is comedian Rachel Wolfson. She proved she could hang with the best of them to the point Johnny Knoxville himself said she was the toughest cast member they had on the movie. But that doesn't mean she's impervious to pain, and she recently revealed the worst injury she had on set.
A scorpion bite was the toughest stunt Rachel Wolfson had to do
If you're planning on appearing in a "Jackass" movie, you should be ready to get hurt. Rachel Wolfson likely knew that going in, but during an appearance on The Kelly Clarkson Show while being interviewed by Jay Leno, she revealed the worst pain she experienced filming the movie. She explained, "I would have to say my worst injury was probably when I got bit in the face by a scorpion."
Scorpions are par the course for "Jackass" shenanigans, and Wolfson actually showed a clip of the injury while saying, "I'm fine now. It was on my lip; it was cheaper than lip injections." She doesn't really express how painful the experience was. Instead, she shared that with The Las Vegas Review-Journal. She stated, "It was by far one of the most painful things I've ever experienced. I wouldn't have known that until I tried it. I can say scorpion botox is cheaper than real botox. I also wouldn't have known if I was allergic, and was willing to find that out, as well."
That wasn't the only painful stunt she had in the movie. She also got tasered on the tongue without crying. She proved her mettle time and time again in the film, and hopefully, it's not her last time appearing in something under the "Jackass" banner.