The Hannah Montana Episode You Likely Forgot Larry David Starred In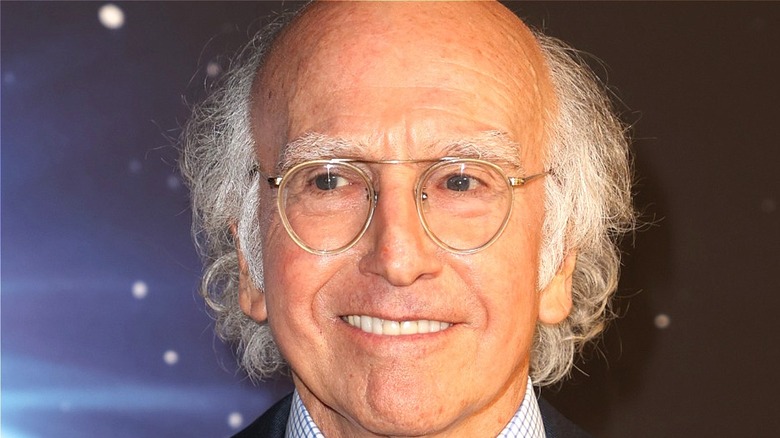 Kevin Winter/Getty
Larry David, co-creator of "Seinfeld" and creator, writer, and star of the HBO comedy favorite "Curb Your Enthusiasm," is not exactly known for his friendly, cheerful, Disney-ready demeanor. This, as well as a general shortage of projects that he didn't write himself on his filmography, has mostly kept him away from films and television shows within the Disney universe.
But avid fans of the Social Assassin know that he did make at least one sojourn into TV Disneyland for an episode of, believe it or not, "Hannah Montana." The Disney Channel sitcom starred Miley Cyrus (along with her real-life dad Billy Ray Cyrus) as a pop star who maintains a secret identity as a normal high school student. And in one memorable episode, the series also featured a cameo appearance by none other than David himself.
If you're a fan of "Curb," you might imagine that it was a series of humorous misunderstandings that led to David's IMDb page having such an unexpected credit. But, when looking at the actual cameo itself, it seems likely that it was just David trying to do something his fictional counterpart never would: something nice for his daughters.
Larry David was in a 2007 episode of Hannah Montana with his two daughters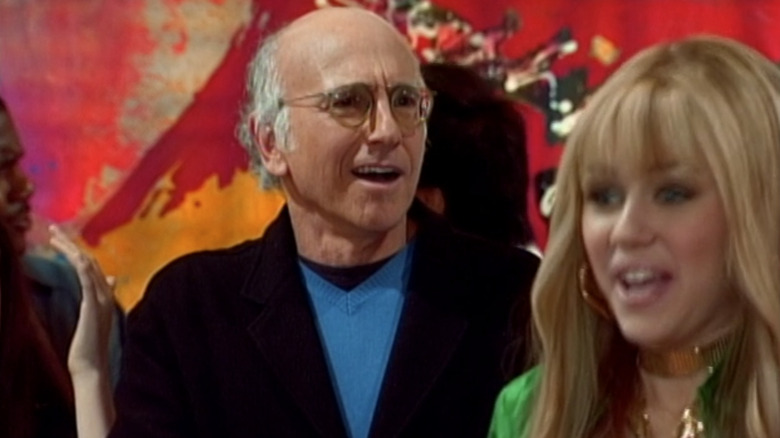 Disney Channel
There isn't anything in the way of official record as to why Larry David made an appearance on the Season 2 episode of "Hannah Montana" titled "My Best Friend's Boyfriend." But, if you take a look at the scene itself, you can get the gist of how it probably ended up happening.
The scene has Larry (playing himself, naturally) along with his two daughters, Cazzie and Romy, attempting to get a table at a busy restaurant. The maître d' isn't impressed by Larry, but when Hannah Montana shows up, he lets her right in, much to Larry's displeasure. The scene has a lot of the energy of a typical "Curb Your Enthusiasm" set-piece, albeit without the copious swearing. Considering the appearance of Larry's daughters also playing themselves, it seems possible that the entire cameo was something of a father-daughter bonding experience. 
Whatever the story behind it, the sequence is a slightly surreal melding of sensibilities between the kid-friendly laugh track sitcom antics of "Hannah Montana" and the more refined comedy of Larry David. It's also an enjoyable footnote in TV comedy history.