Why Obi-Wan's Disney+ Release Date Means More Than You Think
20th Century Fox
The "Star Wars" franchise has expanded in unimaginable ways since "Star Wars: Episode IV – A New Hope" premiered in theaters back in 1977 and become an unexpected hit, grossing $775 million worldwide (per Box Office Mojo). When Disney purchased the rights to "Star Wars" in 2012, the fictional universe became larger than ever with a sequel trilogy and various spin-off productions. The latest, "The Book of Boba Fett," just finished its first season on Disney+, but fans hoping for more "Star Wars" this year will not be disappointed.
The next installment of the franchise, "Obi-Wan Kenobi," will focus on the legendary eponymous character and will once again be portrayed by Ewan McGregor. Joining him will be Hayden Christensen also returning as Anakin Skywalker aka Darth Vader. The limited series will premiere on Disney+ on May 25, 2022.
While this may seem like a random date, the release day in question actually has a lot of significance to the history of "Star Wars."
The original Star Wars released on the same day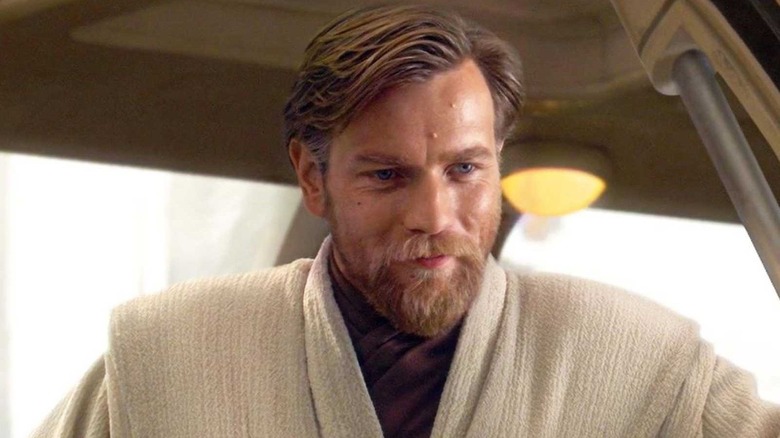 20th Century Fox
While it may have initially appeared that the release date for "Obi-Wan Kenobi" was just a randomly selected date by Disney, some observant fans may have noticed that May 25 is the same exact day that the original film, "Star Wars: Episode IV – A New Hope," released in theaters. It's also important to note that this will make the "Obi-Wan Kenobi" premiere coincide with the 45th anniversary of "A New Hope." That film saw the introduction of the Obi-Wan character, who was originally played by Alec Guinness.
To add to this, the first six films in the "Star Wars" franchise were also released in May, and the month has become heavily associated with the series — especially May 4, which is often called "Star Wars Day" (per Star Wars). While it's hard to say for certain if Disney's intention was to align the "Obi-Wan Kenobi" premiere with the 45th anniversary of the inaugural film in the franchise, it would certainly be the mother of all coincidences if not.
Either way, soon enough fans will be able to experience the highly anticipated continuation of one of the most recognizable characters in all of "Star Wars."