The Worst Family Dinner Scene In Blue Bloods Season 5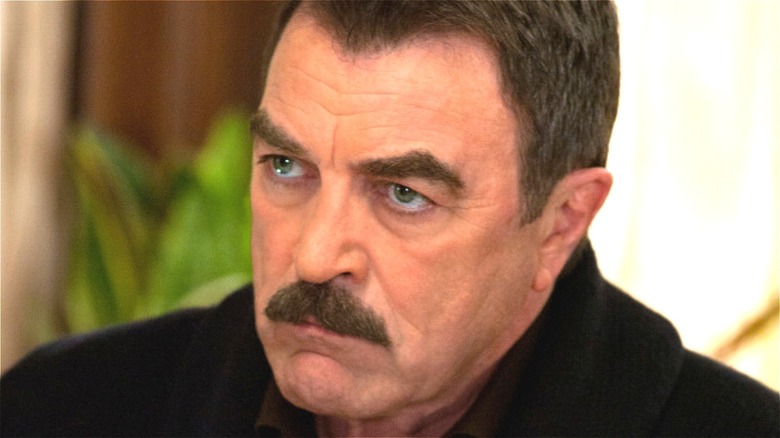 Jojo Whilden/CBS
There is no more cherished time throughout the week than family dinner for the Reagan crew of "Blue Bloods." Every week, Frank Reagan (Tom Selleck) and his nearest and dearest, including his father, Henry (Len Cariou), his three children, and their families sit down to bond over a meal. Danny (Donnie Wahlberg) can usually be counted on to make a sarcastic quip or two. At the same time, Erin (Bridget Moynahan) and Jamie (Will Estes) typically bring a more progressive viewpoint to the old-school blue-blooded mentality.
Season 5 of "Blue Bloods" has its share of poignant moments at the dinner table. Some of these moments are moving, like in Episode 13, "Love Stories," when Danny gives his father his Medal of Valor, an award he's passed over for because of his last name. Then there are the less-than-stellar moments. The premiere episode of Season 5 sees Frank comment that he thought they didn't talk shop at the table, a curious statement after four seasons of shoptalk ending with him asking someone to pass the potatoes.
However, one family dinner scene is arguably less interesting than the rest. Here is the worst family dinner scene in Season 5 of "Blue Bloods."
It's more of the same between Danny and Erin
Danny and Erin are a constant powder keg, ready to explode with any conflict. Season 5, Episode 21, "New Rules," displays this relationship again for the audience. Their argument takes its usual course as it sours the family dinner with conflict and raised voices.
Season 5 sees the murder of Frank's colleague Deputy Chief Don Kent (Dennis Haysbert of "24" and Allstate commercials). As Kent was the NYPD gang division leader, Reagan immediately assumes that his murder is a gang hit to send a message. After interrogating a witness, Danny arrests the leader of the Warrior Kings, Mario Hunt (Method Man). But as there is no solid evidence to hold Hunt, Erin is forced to let him go. The resulting argument at the dinner table is one "Blue Bloods" fans are familiar with, as it happens multiple times a season. 
Every time Danny skirts the edges of solid police work and Erin avoids Fourth Amendment rights violation by letting them walk, viewers get the same angry banter between them. Redditor u/SuitOfArmor37 highlights this in their post as they list out the series template for the episodes, "Sunday dinner scene. Erin and Danny argue and go at it, rude as hell to one another, and the family picks sides. Frank butters his dinner roll for the entirety of the meal, and Pop says something about the good old days." 
While writers can occasionally swap most of the templates out with differing storylines, this particular trope is definitely tired in the 110th episode of the series, and fans know it. Instead of feeling the tension intended for the scene, especially so close to the finale, there is more of a "here we go again" feeling. Overall, it's arguably the least exciting dinner season of "Blue Bloods" Season 5.