Why Dr. Grace Confalone From NCIS Looks So Familiar
Before leaving the series in 2021 prior to its nineteenth season, Mark Harmon starred in hundreds of episodes of "NCIS" as Major Case Response Team leader Leroy Jethro Gibbs. Over the course of such an extensive run, Gibbs, naturally, goes through his fair share of hardships, including sustaining a gunshot wound. In Season 13 Episode 16, titled "Loose Canons," Gibbs' surgeon Dr. Cyril Taft (Jon Cryer) recommends that he see a therapist to work through his gunshot wound and other difficulties he's experienced during his tumultuous military work.
At first, the typically masculine Gibbs is resistant, but after talking through the idea, he decides that therapy is in his best interest. Cyril thus recommends Gibbs see a doctor named Grace Confalone. She then appears sporadically throughout the series moving forward.
If Dr. Grace looks familiar, it's because actor Laura San Giacomo appeared in a number of notable works across both film and TV in the years prior to her "NCIS" tenure.
San Giacomo portrayed Cynthia in Sex, Lies, and Videotape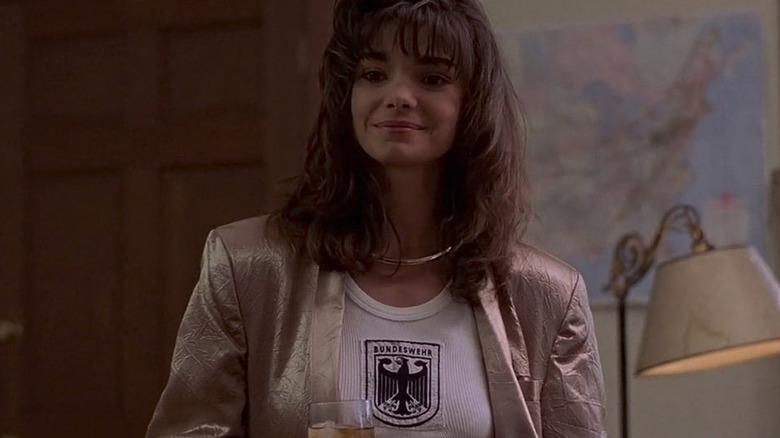 Miramax
One of Laura San Giacomo's very first acting jobs (via IMDb), and easily among her most recognizable, is her role as Cynthia in Steven Soderbergh's directorial debut "Sex, Lies, and Videotape," which premiered in 1989.
The film is primarily concerned with a messy romantic web, involving a married couple, a friend of the husband's, and the wife's sister. San Giacomo portrays Cynthia Patrice Bishop, sister to Ann Bishop Mullany (Andie MacDowell).
Cynthia serves as something of an agent of chaos throughout the movie. On one hand, she's actively having an affair with Ann's husband, John Mullany (Peter Gallagher). Ann eventually discovers this, prompting her to divorce John. All the while, Cynthia also serves as a close confidant to Ann, complicating her presence in each of their lives. For her role as Cynthia, San Giacomo was nominated for a Golden Globe award for Best Supporting Actress.
Laura San Giacomo was Kit de Luca in Pretty Woman
Just one year after her acclaimed role in "Sex, Lies, and Videotape," Laura San Giacomo appeared as a memorable supporting character in "Pretty Woman." The film is a romantic comedy, in which powerful businessman Edward Lewis (Richard Gere) falls for Vivian Ward (a young Julia Roberts), a woman he initially meets when hiring her as a sex worker. As its story progresses, Edward's cutthroat business instincts soften while Vivian struggles to fit in with his lifestyle.
San Giacomo, meanwhile, portrays Kit De Luca, another prostitute who rooms with Vivian and acts as a sort of mentor to her. Whereas Edward and Vivian's storyline is marked by some requisite relationship drama, Kit serves as a comedic counterweight, her two most prominent characteristics being her wit and her heavy Italian accent. Though she isn't central to its story, the comic relief she provides injects some necessary levity into the movie.
San Giacomo starred in Just Shoot Me!
Whereas Laura San Giacomo played supporting roles in "NCIS," "Sex, Lies, and Videotape," and "Pretty Woman," she was a TV series lead during the time NBC sitcom "Just Shoot Me!" was on the air in the late 90s and into the early 2000s. San Giacomo portrays a character named Maya Gallo, daughter of businessman Jack Gallo (George Segal), who owns and operates a fashion magazine called Blush.
When Maya begins working at Blush herself, she looks to shake things up at her job, hoping to lead the magazine away from its surface-level portrayals of women, toward depicting its subjects as complex and three-dimensional. She approaches this goal with a brash attitude that sometimes conflicts with the company's glamorous facade. Her role as Maya earned San Giacomo the second Golden Globe nomination of her career for Best Television Actress in a Musical or Comedy Series.
San Giacomo was Rhetta Rodriguez in Saving Grace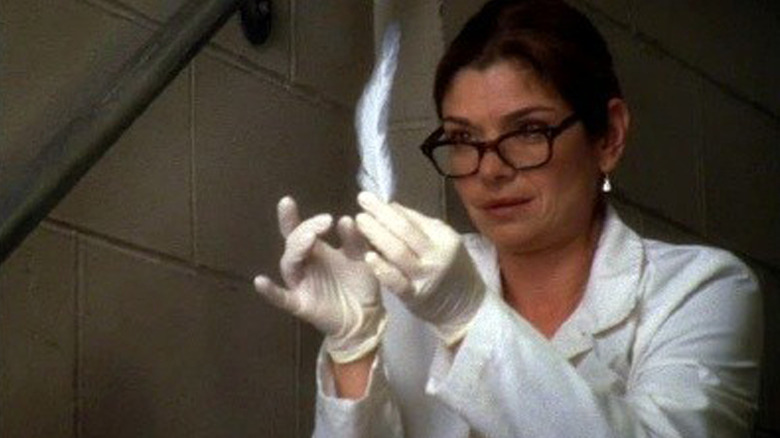 TNT
Between "Just Shoot Me!" and her "NCIS" debut in 2016, San Giacomo appeared in a decent number of noteworthy movies and TV series. One of her more recognizable TV roles during that time is her portrayal of Rhetta Rodriguez in supernatural detective drama "Saving Grace," which aired between the years of 2007 and 2010. Early on in the series, the titular Grace (Holly Hunter) meets an angel named Earl (Leon Rippy), complicating what might otherwise be a somewhat typical crime show.
Rhetta, meanwhile, is Grace's longtime best friend, and supports Grace's detective work as a forensic scientist. As both a friend and a co-worker, Rhetta is one of Grace's closest confidants for much of the series. Grace even tells Rhetta about Earl, trusting her good friend with her paranormal experience. San Giacomo remained a part of the principal cast of "Saving Grace" for its entire three season run.