How Freddy Dodge Really Feels About Gold Rush's Todd Hoffman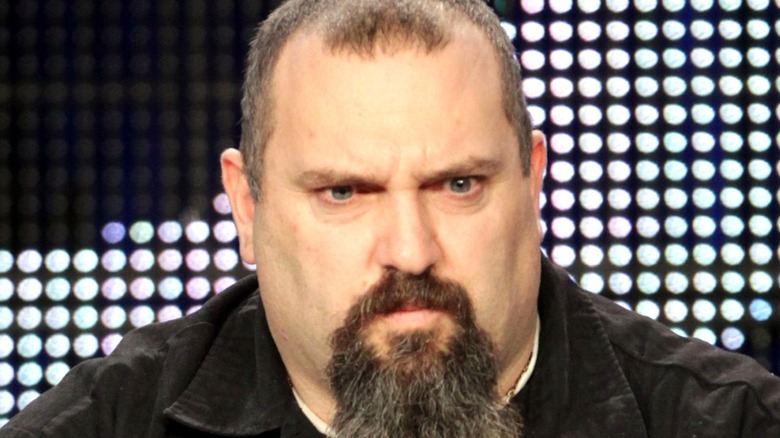 Frederick M. Brown/Getty
One of the first things you'll learn when you start watching Discovery's "Gold Rush" is that gold mining isn't for everyone. Gold mining is a brutal, unforgiving business that will spit you out and leave you penniless if you're not willing to give it everything you have. Even if you do strike gold, the mining itself is a long, arduous process that not everyone is willing to commit to. Series veteran Parker Schnabel claims it's normal for his workers to spend 75 hours a week driving rock trucks. Considering the conditions they have to endure and the fact that they are working way out in the wilderness, for many, the job simply isn't worth it, no matter the pay. 
One of the most prominent members of the show who called it quits was none other than Todd Hoffman, one of the "Gold Rush" stars for the show's first 8 seasons. Hoffman left the series to pursue new business ventures outside of gold mining. During a Season 8 episode that reflected back on Hoffman's run on the series, one of his co-stars, fellow "Gold Rush" original cast member Freddy Dodge, said of Hoffman, "My first impression of Todd as a gold miner is, he wasn't a gold miner" (per The Oregonian).
In 2021, Dodge sat down for an interview where he was asked to expand on that statement and share more of his thoughts on his one-time colleague.
Dodge has opened up about his feelings toward Hoffman
During a 2021 interview with Monsters & Critics, Dodge was asked about the time he said that Hoffman "wasn't a gold miner." While Dodge didn't seem to remember his exact comment, he stuck by the statement nonetheless. "I probably did, I said a lot of things," Dodge told the interviewer. "Todd's a dreamer right? Todd's not the guy to get his hands dirty on a daily basis." 
Dodge also said about Hoffman's departure from the show, "[B]ut maybe, you know, at that stage of his life, gold mining wasn't for him at that moment anymore." Dodge did, however, clarify that he genuinely likes Hoffman and even stated that he's "a good guy."
Despite Dodge's 2021 assessment, it does appear that Hoffman has decided that gold mining actually is right for him at this moment. In 2022, Hoffman is set to return to Discovery with a new show titled "Hoffman Family Gold." Perhaps his new venture will give Hoffman the opportunity to prove that he is, indeed, a gold miner after all.