The Hilarious Scene That Was Cut From Breaking Bad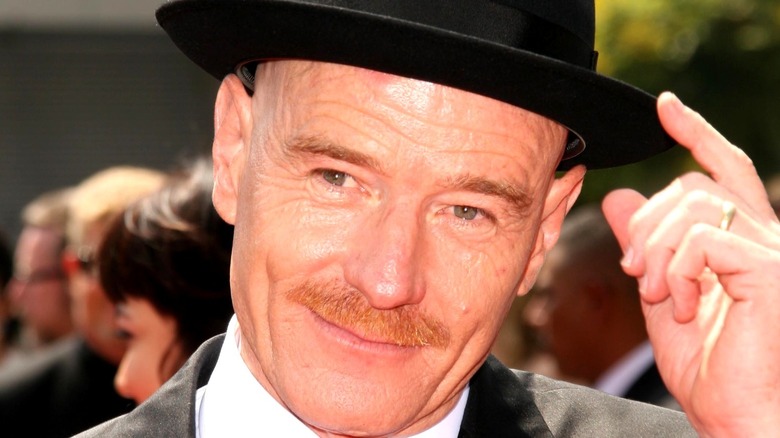 S. Bukley/Shutterstock
AMC's hit drama "Breaking Bad" is best known for its heart-pounding violence and intense character work as it depicts the meth trade in and around Albuquerque, New Mexico. As odd as it sounds, the show did start as a genuine black comedy. This tone is best established in Season 1 as Walter White (Bryan Cranston) initially receives his cancer diagnosis and winds up producing and selling crystal meth with his former high school chemistry student, Jesse Pinkman (Aaron Paul).
One of the more comedic characters on "Breaking Bad" is Hank Schrader, Walt's brother-in-law who also just happens to be a law enforcement officer with the Drug Enforcement Agency. Hank was portrayed by Dean Norris, who acknowledged in an interview with AMC TV in 2012 that both he and Steven Michael Quezada, who plays Hank's colleague Steven Gomez, have backgrounds in comedy.
Norris said in the interview that he purposefully approached playing Hank as a funny character in his auditions for the show, and that certainly comes across in the series pilot. "When I auditioned for the role, I was sitting in the room waiting to audition and Betsy Brandt [who played Marie Schrader] was there," Norris said. "I didn't know her at the time, but we were sitting there. I said to her, 'This is funny, isn't it?' She said, 'Yeah I think it's funny, right?'"
One particularly funny bit that would have served as the viewers' first introduction to Hank got the boot and was ultimately cut from the first episode of "Breaking Bad."
Hank Schrader's arrival at Walter White's birthday party was cut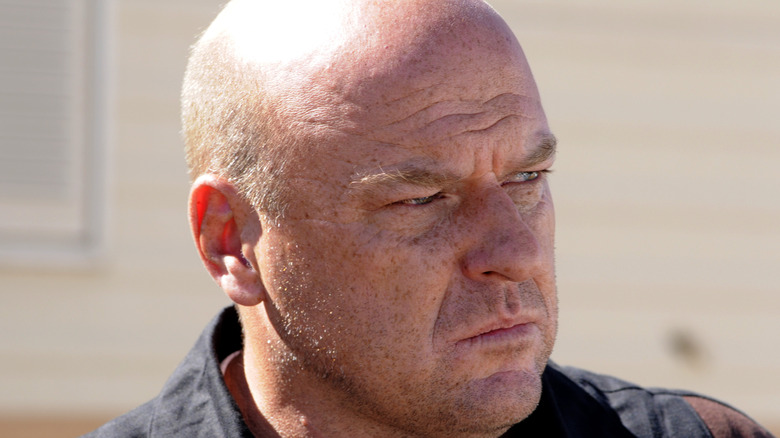 AMC Networks
Dean Norris shared a clip from a deleted scene in the "Breaking Bad" pilot that he says would have been Hank's very first appearance on the show. In the clip, posted to Instagram, a sunglasses-wearing Hank exits a car in the White family driveway, holding two full handles of liquor.
"Hey!" he says, raising his hands in the air. "Happy birthday, you swinging d*ck. Let's get this party started!" The clip ends with Hank's wife, Marie, gently knocking his arm aside as she passes him. "Okay, tough guy," she chides.
Fortunately for Hank fanatics, cutting this moment from the episode doesn't delay Hank's first appearance for long. Hank's first official scene comes after Walt's birthday party starts, as he shows off his police service pistol to Walt Jr. (RJ Mitte) and other attendees.
Why was this Hank clip axed from the version of the episode that actually aired on AMC? It's hard to say. Hank's character is established early in the series as a loud, life-of-the-party type who is also a very capable law enforcement officer. Perhaps Vince Gilligan and the "Breaking Bad" team thought the deleted scene gave off one too many "party animal" vibes from Hank, or maybe it was cut down simply to save time in the 58-minute, 20-second-long episode. Either way, the new clip has fans wanting more from Hank. Only time will tell whether Dean Norris makes another appearance in Albuquerque as Hank in the final season of "Better Call Saul."